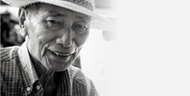 By Giyeon Kim
Dr. Mark Smith is a geriatric psychiatrist practicing in an outpatient clinic in Philadelphia. Several of his older adult Asian patients suffer from depression and anxiety. There is Mr. Chen, a 69-year-old Chinese immigrant who has lived in the United States for 36 years and speaks broken English; Mr. Yamamoto, a 74-year-old American-born Japanese who speaks only English; Mrs. Park, a 76-year-old Korean immigrant who has lived in the United States for 18 years but can't speak English well; and Mrs. Nguyen, a 67-year-old Vietnamese refugee who has lived in the United States for 37 years and is not fluent in English.
Even with his best efforts, Smith finds that his limited knowledge of diverse Asian cultures, plus an inability to communicate with his limited English–proficient patients, curtails how well he can provide culturally competent care.
Asian Americans are one of the fastest growing racial-ethnic minority population groups in the United States. According to the 2010 U.S. Census, the Asian American older adult population has increased by 145 percent between 2000 and 2010, compared with a 59 percent increase among non-Hispanic white elders. Currently, there are more than 20 Asian American subgroups in the United States, with the largest older Asian American subgroups being Chinese, Filipino, Indian, Japanese, Korean and Vietnamese.
Dr. Mark Smith is an invented character, used here to demonstrate the depth of diversity among Asian American patients. But many healthcare practitioners face the complexities of the above scenario—one that is common in clinical practices in modern-day America.
What Do We Know About Asian American Mental Health?
The best available scientific contribution on the mental health of ethnic minorities is the 2012 U.S.
Surgeon General's report, Mental Health: Culture, Race, and Ethni-city. Although this report addressed Asian American mental health issues, due to a lack of available research, older Asian Americans' mental health issues were not extensively discussed.
A general consensus on older Asian American mental health research has been that Asian American elders tend to have lower prevalence rates of mental disorders compared to other racial-ethnic groups. A 2012 study in the International Journal of Geriatric Psychiatry (27(10): 1070–77) reported the lowest prevalence of serious psychological distress in the Asian group compared to other racial-ethnic elderly groups.
Another 2011 study comparing four racial-ethnic groups (non-Hispanic whites, African Americans, Latinos and Asians), published in the American Journal of Geriatric Psychiatry (19(5): 416–22), also reported Asians' lowest prevalence rates of mood and anxiety disorders from the Diagnostic and Statistical Manual of Mental Disorders, fourth edition (DSM-IV). While comparative studies provide useful information for understanding the current state of older Asian American mental health relative to other racial-ethnic groups, Asian ethnic subgroup differences are not considered.
Deconstructing Asian Subgroup Mental Health Status
There have been some recent efforts to deconstruct the mental health status of older Asian American subgroups. The limited existing studies consistently report significant variations in mental health status by ethnicity, but results are mixed. Using data drawn from the 2010 California Health Interview Survey, a study published in the Journal of the American Geriatrics Society (58(10): 2003–08) compared five Asian American groups of elders (Chinese, Filipino, Japanese, Korean and Vietnamese) and found that Korean elders had the highest percentage of serious psychological distress (4.5 percent) and Japanese had the lowest percentage (0.3 percent) among the five subgroups.
Using data collected in New York, Asian American Elders in the Twenty-First Century (New York: Columbia University Press; 2008), also reported significant variations in mental health status among older Asian Americans. Older Japanese and Vietnamese were found to have higher levels of depressive symptoms, and older Filipinos and Koreans had lower levels of depressive symptoms. Previous studies by Kuo and Leong and Lau reported older Koreans had a higher level of depressive symptoms and more psychotic symptoms. Such inconsistent findings may be due in part to the use of different mental health−screening tools and varied geographical study locations, which suggests further research is needed.
Causes and Correlates ofPsychological Distress
In our recent analysis on psychological distress and its correlates among older Asian Americans, we found evidence that older Asian Americans' psychological distress differed significantly across five subgroups (Chinese, Filipino, Japanese, Korean and Vietnamese). Koreans had the highest level of serious psychological distress (7.9 percent) compared to Chinese (3.1 percent), Filipinos (4.2 percent), Japanese (1.2 percent) and Vietnamese (3.5 percent). We also found ethnic-specific correlates of psychological distress in older adult Asian American subgroups.
Disability was commonly connected to psychological distress in all five Asian American subgroups. But other correlates between ethnicity and psychological distress varied widely. For Chinese, higher educational attainment and lower income corresponded to psychological distress. For Filipinos, it was lower educational attainment and being a non-immigrant; for Koreans, lower educational attainment and a greater number of chronic diseases; and for Vietnamese, younger age, higher educational attainment and lower income. There were no ethnic-specific correlates found among older Japanese. Further investigation would help to understand the relation between potential confounding factors and psychological distress among diverse Asian American subgroups. 
There is great heterogeneity of mental health status within the older Asian American groups. Researchers, clinicians and practitioners working with or serving older Asian Americans should understand that "Asian American" is a very diverse term—diverse in ethnicity, language, immigration history and culture. Each group needs to be treated separately, rather than as a single racial group, which can be misleading for decision-making in clinical practice and health policy. Clinicians may not be able to diagnose their elder Asian patients' diseases accurately if they don't understand their ethnic subgroup differences. 
Clinicians can better serve older Asian patients if they have an accurate picture of the burden of mental health in specific Asian subgroups, as well as by providing culturally and linguistically appropriate services.
---
Giyeon Kim, Ph.D., is an assistant professor at the Center for Mental Health and Aging and the Department of Psychology at the University of Alabama, Tuscaloosa, Ala.
Editor's Note: This article appears in the January/February 2013 issue of Aging Today, ASA's bi-monthly newspaper covering issues in aging research, practice and policy nationwide. ASA members receive Aging Today as a member benefit; non-members may purchase subscriptions at our online store.