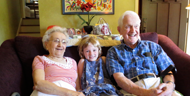 By Meika Loe
When I met Elizabeth, a former teacher and Navy WAVE veteran, she was in her late 80s and living alone in a suburban neighborhood in New York. Elizabeth didn't love to ask for help. In fact, she made it known to children and friends that she wanted to be independent until the end.
During Hurricane Irene, Elizabeth went to check her flooded basement and drowned. Her neighbor found her a few days later.
Elizabeth's story is tragic and heartbreaking—one that highlights the trade-offs associated with valuing independence above all else. But I'm not sure she would have wanted it any other way. She repeated many times that she wanted to die with her boots on, and she did.
Elizabeth was a member of the "Greatest Generation," many of whom learned adversity, perseverance and resilience as they came of age during the Depression and two world wars. The "oldest old" from this generation are survivors; many, like Elizabeth, are living alone and practicing self-care.
American Expectations at Odds with Reality
Despite what we see in our own families, we, as a culture, expect elders to be nonproductive, dependent and diseased. Our culture's age-based expectations and rules overlap with expectations regarding gender, social and physical location and aging in place.
But Americans also are trained at an early age to be independent. We associate autonomy with dignity, and dependency with moral weakness. However, the value we place on being a solitary problem-solver is challenged at life's vulnerable moments when we must depend upon others to survive. As we age and lose loved ones, learning how to ask for help becomes imperative.
For three years I shadowed elders like Elizabeth, wanting to know what, if anything, moved this generation to lean toward interdependence. Somewhere along the way, most learned to ask for assistance and even embrace new forms of interconnection. Maybe it was through knowing someone like Elizabeth, or maybe after a health scare. Whatever the cause, these elders became creative problem-solvers as they aged.
I watched as they learned to scale back; ask for assistance; interview, hire and fire aides; tour care facilities and weigh the options; or mobilize a wide array of resources for support (many of them free), including family and friends. Ironically, this newfound "safety net" generally enabled them to retain autonomy and control and, in most cases, increased their quality of life.
Rose and Alice, two nonagenarians living alone, both got to a point where they needed regular transportation. Rose's creative approach was to ask a newly widowed friend at church if she could "adopt" her as a sister, and in exchange for emotional support, her new "sister" would transport Rose to church. Alice, who still had a car and some discretionary income, hired a local retiree to drive her and a friend to the grocery store.
Glenn, Juana and Shana, also solo-dwelling nonagenarians, were each looking for companionship as well as privacy. Glenn decided to open part of his home to a boarder to cut down on loneliness and isolation. Juana moved into a duplex next to her daughter for companionship, but had the benefit of independent living space. And Shana provided a dog-sitting service to her grandson, who dropped his pet off on his way to work.
Rose, Alice, Glenn, Juana and Shana came to depend on others in a variety of ways. This not only made their daily lives easier and more comfortable, but also presented new opportunities for growth, purpose and meaning.
This Generation Healthier than the Next
These nonagenarians exemplify how aging is changing. We are no longer a society with a mostly functionally impaired older generation alongside a fit, active younger population. The 2009 MacArthur Foundation Research Network's "Aging in America in the Twenty-first Century" (Millbank Quarterly, 87:4; doi: 10.1111/j.1468-0009.2009.00581.x) found the trend is the opposite—toward a more active and healthier older population, and a less healthy younger and middle-aged population.
While disability rates have increased among those younger than 65 because of substantial increases in asthma, obesity and diabetes, the health and functional status of elders have been improving steadily since the early 1980s, mainly thanks to improvements in medical care. But with longer lives come more time to live and cope with chronic illness and disability.
Perhaps the most profound, even ironic, lesson from their stories is this: asking for help enables autonomy and control—as long as it is on the elder's terms. While diverse in their approaches and guiding principles, all of these elders were instrumental in creating and maintaining their homes and quality of life.
In this excerpt of a letter to a future boarder, Glenn describes how leaning toward interdependence does not preclude autonomy and control: "I have lived for five years, alone, after the death of my second wife. I … find myself 'thinking out loud' and even laughing at my own, remembered jokes … and it set me thinking that, hey, I might become a recluse if I did not challenge and counteract that tendency. … I really needed more human contact and a more structured lifestyle. And that is where I … will benefit tremendously from having someone sharing my home, rent-free …"
Working at continuity, comfort, connections and a balance of autonomy and dependency are crucial at all stages of human development. These elders' stories remind us to actively pursue creating lives worth living and to reflect on interconnection more often. Their experiences and challenges highlight grassroots and policy opportunities for supporting the millions who are aging and will age at home.
---
Meika Loe is an associate professor of sociology and women's studies, director of the Women's Studies Program at Colgate University in Hamilton, New York, and author of Aging Our Way: Independent Elders, Interdependent Lives (Oxford University Press, 2011). You can follow her blog.
Editor's Note: This article appears in the July/August 2013 issue of Aging Today, ASA's bi-monthly newspaper covering issues in aging research, practice and policy. ASA members receive Aging Today as a member benefit; non-members may purchase subscriptions at our online store.
Image courtesy of Meika Loe: Mary (94), Levi (5), and Glenn (95) celebrate their birthdays together every August. Glenn and Mary were both part of author Meika Loe's study; Levi is her daughter.