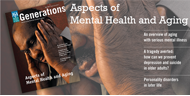 Fall 2014 Generations addresses the complex topic of mental illness and substance use in older adults. Elders now transitioning from middle to later life are expected to use and misuse psychoactive medications, as well as alcohol and illicit drugs, more than did other generations. Also mood disorders and other serious mental illnesses do not necessarily fade with old age. 
As the world's population of older adults rapidly increases, more and more in this age group will seek mental health care. In Amanda Leggett and Steven Zarit's article in this issue, we see that prevention—in in the form of psychotherapy, psychosocial interventions and pharmacotherapy—is a promising approach to lower overall disease burden.
Stephen J. Bartels, Renee Pepin, and Lydia E. Gill elucidate the burgeoning issue of mental illness combined with an alarming rise in incidence of Alzheimer's Disease and other dementias, which means an urgent need for a trained professional workforce with expertise in treating geriatric mental disorders. But there are fewer than one geriatric psychiatrist for every 6,000 elders with mental health and substance use disorders. Between the ACA, innovative strategies to create a new type of workforce, and technology, we have a chance to redesign healthcare to adequately address physical and mental health.
The Affordable Care Act is part of that redesign in that it includes a variety of provisions to affect the biggest expansion of mental health and substance abuse services in a generation, according to an article by Robyn Golden and Matthew Vail. Provisions include new opportunities to access health insurance, expanded mental health parity, and greater care coordination and integration. These reforms provide an opportunity to bolster a broken mental health system that disproportionately ignores the needs of older adults. But further advocacy is required to ensure that the most promising initiatives of the ACA are fully funded and implemented. 
ASA is pleased to offer this latest issue of Generations, which will be reaching ASA members and subscribers in December. Single copies can also be purchased from our website.
In this issue...
Mental Illness in Later Life
The Paradox of Scarcity in a Land of Plenty: Meeting the Needs of Older Adults with Mental Health and Substance Use Disorders
By Stephen J. Bartels, Renee Pepin, and Lydia E. Gill
read on AgeBlog
Aging with Serious Mental Illness: An Overview and Implications for Service Delivery
By Rayan K. Al Jurdi, Soham Rej, and Martha Sajatovic
Suicide and Depression in Older Adults: Greater Awareness Can Prevent Tragedy
By Kathy Greenlee and Pamela S. Hyde
A San Francisco-Based Center Reaches Out with Supportive Services for Mid-Life and Older Adults at Risk for Depression and Suicide
By Patrick Arbore
Exploring the Will to Live and Distinguishing Depression at End of Life
By JoAnn Damron-Rodriguez and Sara Carmel
Personality Disorders in Later Life
By Erlene Rosowsky and Victor Molinari
Prevention of Mental Disorders in Older Adults: Recent Innovations and Future Directions
By Amanda Leggett and Steven H. Zarit
read on AgeBlog
Substance Abuse, Elder Abuse and Neglect, and Dementia in Older Adults
Substance Misuse and Abuse in Older Adults: What Do We Need to Know to Help?
By Frederic C. Blow and Kristen L. Barry
New Hampshire REAPs Results: Tailored Outreach Program Assists Older Adults at Risk for Mental Health Conditions and Substance Misuse
By Renee Pepin, Jessica Hoyt, Lucille Karatzas, and Stephen J. Bartels
Where Mental Health and Elder Abuse Intersect
By Anita L. Rosen
An Improved Approach to Treating Elder Self-Neglect: The Self-Care Framework
By Eloise Rathbone-McCuan
The Time Is Now to Address Behavioral Symptoms of Dementia
By Helen C. Kales, Laura N. Gitlin, and Constantine G. Lyketsos
Mental Health and Aging: Policy Reform and a Practical Model
The Implications of the Affordable Care Act for Mental Health Care
By Robyn L. Golden and Matthew R. Vail
read on AgeBlog
AIMing High to Improve Patient Outcomes: The Ambulatory Integration of the Medical and Social (AIMS) Model at Rush Medical Center
By Kate Krajci and Gayle Shier