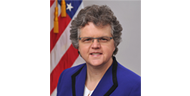 In late June, Kathy Greenlee announced she will leave her post at the end of July as Administrator of the Administration on Community Living (ACL) and Assistant Secretary for Aging, U.S. Department of Health and Human Services. Deputy Assistant Secretary for Aging Edwin Walker will become Acting Administrator of ACL and Acting Assistant Secretary of Aging.
Of this transition, Greenlee said, "This kind of announcement is really hard. On one hand, it's no surprise to anyone. It's an election year, and new administrations mean new administrators. This is how the system works—and it's good that it does. It's good to get a fresh perspective and new energy."
Appointed by President Obama as the fourth Assistant Secretary for Aging and confirmed by the Senate in 2009, Greenlee has worked closely with ASA during her tenure at Health and Human Services. A passionate advocate for elders who is not shy of sharing her very personal vantage point as a granddaughter of someone with Alzheimer's, Greenlee was always more than happy to provide her extensive expertise at multiple General Sessions and National Forums at ASA's Aging in America Conference (AiA), and played a key teaching role in the ASA Leadership Institute.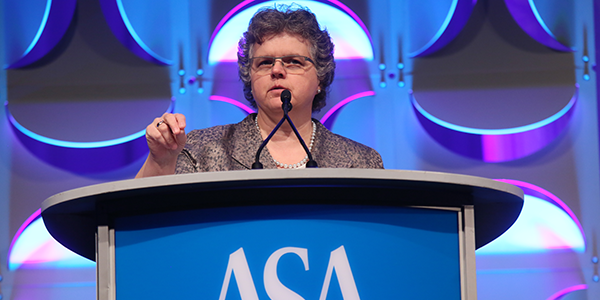 Kathy Greenlee speaking at the 2016 ASA Aging in America Conference
At the Institute, she lent her wise counsel to participants seeking an edge on what lies ahead in the aging services sector as well as inspiration from a trusted thought leader in the field. She not only advocated for older adults and people with disabilities, but also for women hoping to break through the glass ceiling, and for young employees hoping to foment change from within. Her honest, pragmatic approach to her work has always been refreshing and inspiring to AiA attendees.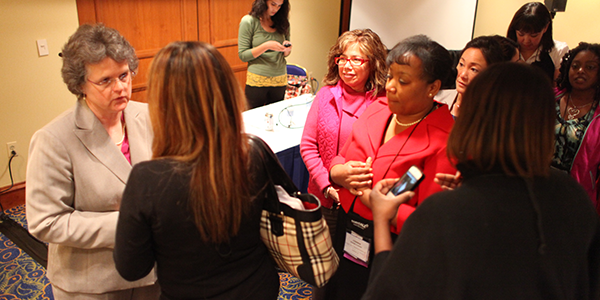 Kathy Greenlee meeting with emerging leaders at the 2012 ASA Aging in America Conference
Greenlee served as a panelist on an Elder Justice Forum at AiA, stressing the importance of the federal fight to prevent and solve issues surrounding elder abuse, and on ASA's Diversity Summit panels, too, as an advocate for older people of color and LGBT elders. The Generations journal and Aging Today newspaper benefitted from her expertise and personal take in multiple pieces she wrote on topics ranging from suicide to elder abuse to Alzheimer's. Just this past March, Greenlee wrote about community-based organizations adapting to the relatively new world of managed care.

Kathy Greenlee speaking at the National Forum on Elder Justice during the 2014 ASA Aging in America Conference
As Assistant Secretary, Greenlee also oversaw what could have been a rocky transition combining aging services with disability rights into the Administration for Community Living, but was able to articulate clearly why this new entity made sense and would work toward the betterment of all. Greenlee firmly believes that older adults and people with disabilities should have every chance at remaining at home in community for as long as possible.
In her transition announcement Greenlee addressed the difficulty of this transition, "Consolidating aging and disability work in one place raised some eyebrows. These seemed like very different groups of people. And they are. But there are a lot of similarities in the services and supports people need in order to live independently. So it made sense to bring the federal efforts to support community living together under one umbrella."
Greenlee got her start in Kansas, in serving in such positions as Kansas State Long Term Care Ombudsman, General Counsel of the Kansas Insurance Department and Chief of Staff and Chief of Operations for then-Governor Kathleen Sebelius. Just prior to her appointment as Assistant Secretary, Greenlee served as Secretary of Aging in Kansas.
"As I told the ACL team, I am proud of what we have done together. We have brought our communities together in a way that gives us a larger voice and more influence, and ultimately makes us more successful as advocates."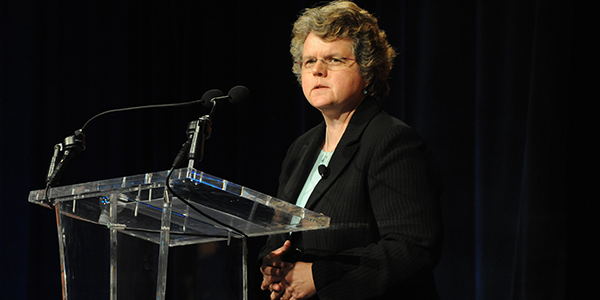 Kathy Greenlee speaking at the 2011 ASA Aging in America Conference