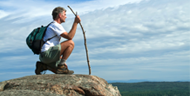 By Catherine Collinson
People of the Baby Boom Generation (1946 to 1964) were born to be wild and their retirement promises to be even wilder when compared to their parents' generation. Gone are the halcyon days of the so-called gold watch retirement that was ushered in with an office party, followed by a life of full-time leisure and, ironically, never having to set the alarm clock again. 
In its 15th Annual Transamerica Retirement Survey of workers, the nonprofit Transamerica Center for Retirement Studies (TCRS) finds that baby boomers are trailblazing a new model for retirement and relatively few have intentions of retiring any time soon. The survey also uncovered opportunities and steps baby boomers can take to improve their long-term retirement outlook.
The 15th Annual Transamerica Retirement Survey
Harris Poll, on behalf of the Transamerica Center for Retirement Studies, conducted this online survey between February 21 and March 17, 2014, in the United States. It surveyed a nationally representative sample of 4,143 full-time and part-time workers, including 1,805 baby boomers. Respondents were all U.S. residents, ages 18 or older, full-time workers or part-time workers in for-profit companies, with an employer size of 10 or more. Results were weighted to account for differences between the population available via the Internet versus by telephone, and to ensure that each quota group had a representative sample based on the number of employees at companies in each employee size range. No estimates of theoretical sampling error can be calculated.
—Catherine Collinson
Underprepared and Overly Optimistic
The Great Recession has been a detrimental setback for baby boomers' retirement preparations. Although economists report the recession lasting from 2007 to 2009, most in this cohort are still feeling its effects. According to the survey, 14 percent say they were laid off during the recession and 27 percent say that they either had their work hours or salary reduced. Many more reported declines in their home values and investments. Only 13 percent say they have fully financially recovered from the recession. Just as many (13 percent) feel that they may never recover from it.
Only 13 percent of baby boomers are very confident that they will be able to fully retire with a comfortable lifestyle, while 49 percent are somewhat confident. Forty-one percent expect that their standard of living will decrease when they retire. Almost one in five (18 percent) expects to financially support family members (excluding their spouse or partner) when they retire. For many, it will be difficult to make ends meet. The estimated median of baby boomers' total household retirement savings is just $127,000, a nest egg they will need to make last for the rest of their lives.
Working longer, retiring at an older age and continuing to work in retirement are practical ways to earn income and help bridge savings shortfalls—and offer the benefits of staying active and involved. By abandoning obsolete notions of their parents' generation, baby boomers are reinventing retirement to include time to enjoy life, while continuing to work in some capacity beyond the traditional retirement age of 65.
Sixty-five percent of baby boomers now plan to work past age 65, and the majority plans to continue working at least part time in retirement. Among those who plan to work in retirement, most want to do so for income or for benefits. Only 21 percent plan to stop working immediately when they retire.
However, the survey also found that this generation needs to be more proactive to help ensure their continued employment. Just 54 percent say they are focused on performing well at their current job as a way to remain employable, 41 percent are keeping their skills up-to-date and only 14 percent are scoping out the employment market and opportunities available.
This cohort's expectations of transitioning into retirement also may be out of sync with their current employer's business practices. While many boomers envision shifting from full-time to part-time work, only one in five says that their employer has a program in place to accommodate this shift. Even fewer say that their employers enable retiring employees to downshift into positions that are less demanding or stressful. It's critical that baby boomers do their homework and find out if their employer will accommodate them. If not, then they will need to seek opportunities elsewhere or consider something more entrepreneurial.
Strategies to Improve the Retirement Outlook
What more can baby boomers do to improve their retirement outlook? They can do a financial health check and formulate a retirement income strategy. By assessing their current situation, quantifying needs and shortfalls, they can make informed decisions to improve their outcomes. Sixty-one percent of baby boomers have a retirement strategy; yet only 14 percent have one that is written down.
Putting a strategy in writing is an important form of personal commitment, a tool to help ensure the necessary factors are covered, and a gauge to track progress along the way. A strategy needs to take into account many factors, but a few to get baby boomers started include lifestyle expectations, savings and sources of income, Social Security benefits and health and long-termcare expenses. It should also consider contingency plans if people are forced into retirement sooner than expected for reasons such as ill health, job loss or family obligations. If needed, a professional financial advisor should be consulted.
Many baby boomers (36 percent) expect Social Security to be their primary source of income when they retire. However, only 17 percent say they know "a great deal" about their benefits. Getting educated about Social Security benefits and claiming strategies can greatly influence decisions about both when to retire and how to maximize benefits in retirement. 
With the encouragement, expertise and assistance from industry professionals, policymakers and others dedicated to solv-ing the issues of aging, this generation can realize their vision and meaningfully improve their long-term financial prospects, while creating a new model of retirement for future generations to follow.
---
Catherine Collinson is president of the Transamerica Institute and the Trans-america Center for Retirement Studies in Los Angeles, Calif.
Editor's Note: This article appears in the September/October 2014 issue of Aging Today, ASA's bi-monthly newspaper covering issues in aging research, practice and policy. ASA members receive Aging Today as a member benefit; non-members may purchase subscriptions at our online store or Join ASA.
I am one of those baby boomers.  I worked in manufacturing for 30+ years.  Over that time i saw how various "free" trade agreements, NAFTA etc. freed jobs from the US to overseas.  Manufacturing a product from raw materials is how real wealth is / was created.  Maybe I didn't see the big picture, but it never made sense to me.  Just about everything we buy nowadays is made somewhere else. 
I joke with my kids "Don't go into manufacturing.  learn how to say "Need a shine?"" in Chinese. 
It is truly hard to imagine that the stock market will go up forever as they never do and seem to do what will hurt the most people the most.  How much do your stocks need to appreciate or pay just to keep up with inflation.  Maybe that $100 you invested ten years ago is $200 now, but the $100 ten years ago still buys you more, so in effect you lost purchasing power and the numerical quantity is somewhat of an illusion.  Same goes for social security....