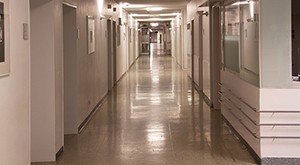 By Toby S. Edelman
In 2018, Skyline Healthcare collapsed. The New Jersey–based company had owned and managed a handful of nursing facilities until 2016 or 2017, when it rapidly expanded and began to manage facilities across the country. Primarily these were facilities that large nursing home chains, including Golden Living and ManorCare, had decided not to operate any longer.
In a period of little more than a year, Skyline was operating between 100 and 120 facilities in at least eight U.S. states. Then, within an equally short time period, it stopped meeting payroll or pay­ing vendors, and abandoned the facilities, their residents and staff. States went to court to obtain authority to take control of the facilities in order to en­sure that residents received care, food, medicine and supplies, and that staff were paid.
Collapse Unprecedented in Scale
While other such companies had gone into bankruptcy before and other owners had abandoned facilities, there had never been such a large collapse, affecting so many states, so many facilities and so many residents and staff. The unprecedented scale of Skyline's collapse brought attention to the long-standing (but generally ignored) issue of who owns and who manages facilities and whether they are qualified and competent to do so. Sky­line's failure was the most visible and vivid example of the problem of allowing companies without adequate financial resources and management skills to take over nursing facilities.
The Philadelphia Inquirer described changes in the nursing home industry that led to this crisis for residents and states: "The nursing home industry in recent years has been engulfed in whole­sale changes in operators as Golden Living and other large companies, often under regulatory and financial pressure, abandon the business and lease bunches of facilities over to firms that emerge from nowhere."
At present, ownership and management of nursing facilities appear to shift with little public information and inadequate and ineffective oversight. States have largely rubber-stamped corpo­rations' business decisions to buy and sell facilities, not looking closely—or sometimes at all (tinyurl.com/wbcfphu)—into whether "firms that emerge from nowhere" have either the capacity to provide care to residents or the commitment to do so. States' legal authority to make such deter­minations is ignored, if it exists at all.
Perhaps worse, the Centers for Medicare & Medicaid Services (CMS), which pays for most of the care in nursing facilities through the Medicare and Medicaid programs, pays even less atten­tion than states to companies' ability to provide care to residents. CMS defers to states' licensure decisions and grants certification—the authority to receive federal payments in return for providing care—to all facilities that want it, once they are given state licenses.
The problem of such limited public oversight is exacerbated by the role of private equity firms, which too often act by cannibalizing companies they take over. For example, as reported by The Wash­ington Post, in 2007, the Carlyle Group, a private equity group, purchased HCR ManorCare for $6.1 billion.
Four years later, Carlyle sold the real estate to HCP, a real estate investment company, for essen­tially the same amount. HCR ManorCare had to pay ever increasing rent payments to HCP under the sale-leaseback arrangement, which eventually led to its bankruptcy. As described by The Post, Carlyle benefited financially from its action: Carlyle recouped its invest­ment in ManorCare by selling its real estate, received at least $80 million in various fees (including a transaction fee of $61 million for buying ManorCare) and from 2007 to 2015 received an annual "advisory fee" of $3 million from ManorCare (described by The Post as essentially "pay[ing] itself to manage the companies it owns").
The Post describes the sale of ManorCare' real estate as "constrain[ing] company finances. … Short­ly after the maneuver, the company announced hundreds of layoffs. In a little over a year, some nursing homes were not making enough to pay rent. Over the next several years, cost-cutting programs fol­lowed, according to financial statements obtained by The Post."
The Post's analysis found that between 2013 and 2017, healthcare deficiencies at the nursing home chain's 230 nursing facilities increased by 26 percent, with immediate jeopardy and actual harm defi­ciencies (categories applied to less than 5 percent of deficiencies nationwide and which reflected the most serious problems) increasing by 29 percent. The facilities' nurse staffing levels were 10 percent below national averages.
Some States Take Action
After their experience with Skyline, a few states have begun to act. In 2019, Kansas enacted legisla­tion to strengthen rules for licensure by requiring a detailed, projected and certified budget for the first 12 months of operation showing sufficient working capital, a list of all current and previously licensed facilities nationwide and "affirmative evidence of the applicant's ability to comply" with states rules and standards.
A legislatively mandated Task Force in Massachusetts includes, among multiple recommendations to address nursing home issues, "strengthen[ing] and streamlin[ing] suitability review standards for nursing homes" and providing the state with "more explicit statutory authority to revoke the licenses of chronic underperformers in quality and occupancy."
Meaningful state and federal standards of ownership and management are critical and these stan­dards must be fully enforced.
Owners with records of poor care or other behavior demonstrating limited commitment to providing good care to residents should not be allowed to assume ownership or management responsibilities for new and additional facilities. The states and CMS cannot allow "firms that emerge from nowhere" to operate nursing facilities without greater screening and moni­toring. Though these principles may seem obvious, they are, unfortunately, largely honored only in the breach.
Moreover, although better controls over ownership and management are critical, they are un­likely, by themselves, to deter abuse.
Additional statutory provisions are needed to assure that owners and managers spend public financing on care, administration and overhead, not profits. A meaningfully enforced medical loss ratio provision, requiring owners and managers to use a desig­nated percentage of the public reimbursement they receive on resident care, would both help to ensure that reimbursement is spent on care and discourage individuals and corporations from buying or managing facilities when the sole motivation is profit.
Toby S. Edelman, J.D., is a senior policy attorney at the Center for Medicare Advocacy, in Washing­ton, D.C.