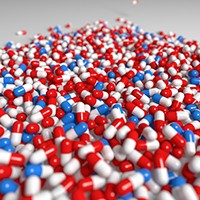 By Raca Banerjee
Mary is a 55-year old patient with terminal breast cancer. She suffers from severe pain and her doctor suggests that she consider using a fentanyl transdermal patch to help allevi­ate her symptoms. In response, she exclaims: "Fentanyl? The stuff that killed Prince? No thank you!"
Current Prescribing Perilous
This anecdote reflects society's changing attitude toward opioids, but brings up another impor­tant point. How, while our nation battles an opioid epidemic, do we ensure that patients are open to taking narcotics when needed, or have ac­­cess to pain medication? It is difficult to manage opi­oid prescribing in a way that prevents abuse while meeting patients' needs. This becomes twice as hard when prescribing for the aging population, including older adults who have ad­­vanced-stage illness or who are at the end of life.
Barriers that limit access to appropriate opioid treatment include patient fear, physician reluc­tance to prescribe and strict pharmacy controls or insurer preauthorization restrictions. While these last three issues are important to curbing the opioid epidemic, they may inadvertently lead to under-treatment of pain.
In 2016, the Centers for Disease Control and Prevention (CDC) published national guidelines on opioid prescribing for chronic pain, but stated that the recommendations were not geared to­ward patients receiving active cancer treatment, palliative care or end-of-life care.
Following this release, the hospice community expressed their concerns regarding the practical application of these prescribing guidelines to patients. According to the American Academy of Hos­pice and Palliative Medicine, the guidelines do not address the situations of patients who have seri­ous illness, such as early-stage cancer, but do not have a terminal prognosis or are not receiving palliative care. Would they still be subject to the guideline's opioid prescription limit? The Academy asked the CDC to emphasize that each patient be treated using a personalized approach to pain management.
Separately, the National Hospice and Palliative Care Organization echoed this sentiment in a 2018 letter to the Senate Finance Committee urging policymakers to remember that an individualized ap­proach to prescribing opioids is the best way to ensure that patients' needs are met.
While federal regulations and guidelines are important first steps toward curbing the opioid epidemic, they may not address or fully consider the unique needs of patients with terminal or serious illness.
Under-Treating a Real Fear
There are serious repercussions for under-treating patients suffering from pain. Patients may ex­perience depression or anxiety if they are unable to find a provider who can manage their pain. Providers, including primary care physicians, should be better educated on pain management practices. Patients should also be made aware of the benefits and risks of taking opioids to manage severe or chronic pain. While stories about the opioid epidemic have been brought to national at­tention, limited coverage has been given to the importance of appropriate pain treatment. Situa­tions such as Mary's should not become the norm.
Also, some patients transition from chronic illness to serious illness quickly and require pallia­tive care services. Given stricter pharmacy and payer controls over pharmacy prescriptions, are patients able to access opioid dosages in time? This requires speedy and effective care coordina­tion, an issue with which our healthcare system struggles. What if a patient's disease quickly wors­ens from chronic illness to serious illness and the patient cannot access higher opioid dosages due to process controls and restrictions?
The key may be to develop a person-centered approach to treating patients with serious illness or those who are at the end of life, without dictating arbitrary controls or restrictions on opioid treatment limits. Telehealth may be a solution. Providers who have experience prescribing pain medications to patients with a particular serious illness can share their expertise with other physicians through vid­eo chats or remote consultations. This would aid physicians, especially primary care physicians who are hesitant to prescribe opioids because they are not properly trained in prescription dosages or limits for certain illnesses.
Also, we should begin a national dialogue on how to ensure proper care coordination for a pa­tient moving between pain specialists. How do we ensure the person has access to the same level of opioid treatment as before? Also, patients with advanced illness tend to see multiple specialists within a given period of time. All members of a patient's care team should be aware of the patient's opioid dosage and play an active role in helping him or her manage pain. One option is to ensure that all care team members can fully comprehend a patient's pain management plan and commu­nicate it to another physician's office. 
There is no easy way to balance the pendulum of opioid prescription, especially for those with seri­ous illness. But, as we try to help patients manage pain, it is important to keep in mind Hippocrates' words about the practice of medicine: "Cure sometimes, treat often, comfort always." n
Raca Banerjee is a healthcare consultant in Washington, D.C., where she has served clients on topics such as Medicare reform, aging issues, telehealth technologies and healthcare delivery innovations.