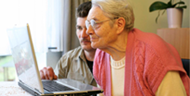 By Katy Thomas Fike
Health & Technology Blog Series
Click below to read additional articles in this series from the Healthcare & Aging Network and Network on Environtments, Services and Technologies for Maximizing Independence..
Emerging Technologies for Our Aging Society
By David Lindeman
Unusual Café Helps Elders Jump the Digital Divide
By Gabrielle Canon
Technology Can Take a Weight off Long-Distance Caregivers
By Julie Menack and Cathy Jo Cress
Smart Homes for an Aging Society
By Kinsuk Maitra and Veronica Vasquez
HAN Network News
By Debra Cherry
Useful sites for older adult tech adoption
Online Education
Google Teach Parents Tech Videos
EADL Resources
Communication: Gmail.com, Facebook.com, Skype.com (video chatting)
Shopping: Amazon.com, Drugstore.com, Freshdirect.com, Netgrocer.com
Financial Management: Mint.com, BankofAmerica.com
Medication Management: Cvs.com, Walgreens.com
Service Providers: Angie's List (angieslist.com), Care.com, Task Rabbit (taskrabbit.com)
Instrumental Activities of Daily Living (IADL) refer to the set of activities that enable individuals to live independently in the community. These activities include using communication devices, managing finances, handling transportation, shopping, managing medications, preparing meals and basic housekeeping. In today's high-tech world, many of these activities can now be done online, and are referred to as Electronic Activities of Daily Living (eADLs).
The primary hurdles to using such technology remain access and education, and today's mainstream smart phones, tablets, netbooks and computers provide a relatively inexpensive and straightforward way for elders to access the useful websites.
Senior centers, libraries and universities continue to provide technology education for older adults, but there are numerous other offline and online resources available. For example, Apple stores offer face-to-face training on Apple products, and Best Buy's Geek Squad provides comprehensive in-home technology support services. Alternatively, online resources such as Google's Teach Parents Tech initiative and Grovo's online training videos provide free, introductory information about a wide range of technology topics.
Access to the Internet and basic knowledge of how to search the Web opens up a new world of connections, information, and services that enable older adults to accomplish eADLs, and thereby maintain their independence. Email, Facebook and video chatting open lines of electronic communication, and e-commerce sites make it easy to shop online for and take delivery of virtually anything (even groceries). All major banks and pharmacies now offer online tools that enable customers to manage finances or prescriptions online. And websites such as Angie's List, Care.com and Task Rabbit help users find service providers or assistance with tasks such as housekeeping, home maintenance and transportation.
Internet access and technology fluency are becoming increasingly important for managing one's independence and relationships into later life. It is important to help technology novices understand the range of tasks and activities that can be accomplished online and the independence and quality of life benefits of learning to do so. 
---
Katy Thomas Fike, Ph.D., is a gerontologist and managing partner at Innovate50, an innovation-consulting firm focused on the 50+ market, and founder and editor of Tech Savvy Daughter, a blog dedicated to helping older adults use technology.
This article is brought to you by the editorial board of ASA's Healthcare & Aging Network (HAN).