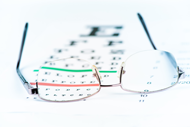 By Priscilla Rogers
According to the American Community Survey, about 1 in 50 Americans experiences "serious trouble seeing, even when wearing glasses or contacts." For Americans over age 55, the rate of vision difficulty is 1 in 20, and for those over age 85, the rate approaches 1 in 5 (U.S. Census Bureau, 2015).
Older people with vision loss experience the same life transitions, loss, physical issues, and changes of social roles as other older people. However, vision loss may bring these changes about more swiftly or exacerbate their effect(s) and can reduce self-control. Vision loss may expedite retirement or create difficulties for older people seeking or maintaining even part-time employment. Furthermore, losing vision affects every aspect of everyday life and often requires the help of trained professionals to cope with the loss of independence and depression that can accompany vision loss.
Despite the need for these services, less than 2% of individuals nationwide who are eligible for services through the federally-funded and nationwide Independent Living Services for Older Individuals Who Are Blind (OIB) program actually receive services. There are several reasons for this sad state of affairs:
The program is vastly underfunded and understaffed so that there are long waiting lists in many states.
Older people are often unaware of services—eye doctors have not proven to be a source of referral for services despite major efforts to educate them.
Service providers in the aging community may not be aware of services.
Services for older people with vision loss vary widely throughout the country.
Older people with vision loss often refuse help due to lack of understanding and motivation.
As people age and begin to lose vision due to age-related eye conditions, they may lose their connectedness to social institutions. As they lose vision, they may lose their "voice." They often have no way of finding out about critical services that can help them deal with vision loss, much less continue social participation. Even if they do venture out and seek involvement, if the program is not welcoming and adaptable, then the program itself may exacerbate feelings of loneliness and isolation.
Service providers in the aging network often are not sure how to help older people experiencing vision problems. Visual requirements and the rehabilitation services provided differ in each state.
I invite you to review my poster presentation during ASA's 2017 Aging in America Conference, where you will obtain basic information that will help you know what to do when faced with assisting an older person with vision loss cope and maintain or regain personal independence. You will learn how to find and access vision rehabilitation services in your local area or state. You will also find out about resources that are available to help older persons with vision loss to cope.
As you think about serving older persons with vision loss in your program, consider these important questions:
How are you currently handling referrals to vision rehabilitation services for older persons with vision problems?
What concerns do you have about serving older persons with vision problems who request your services?
How do you assess types of services needed to maximize the independence and safety of the older person with vision loss?
What steps do you currently take to integrate older persons with vision loss into settings such as senior centers and adult day care?
Priscilla Rogers is Vision Aware Program Manager, American Foundation for the Blind, in Dallas, Texas. Her poster presentation, "Be VisionAware: Cutting Through the Confusion of Vision Rehabilitation Services" will be on Board 105 in the Riverside Center East of the Hyatt Regency Hotel in Chicago on Wednesday, March 22, from 12:00 Noon to 1:30 PM.