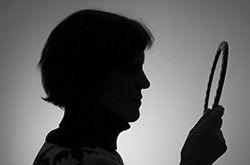 By Joan Ditzion, Phyllis Mitzen, and Connie Goldman
In 2006, Connie Goldman, Martha Holstein, Phyllis Mitzen, and Joan Ditzion, longtime professionals in the field of aging and longtime members of the American Society on Aging (ASA), realized there was no place at the Aging in America (AiA) Conference where we could talk with one another about our own aging pro­cess. We all voiced this same thought: "At the Aging in America Conference, let's wear our per­sonal hats and talk about aging as us not them!"
All of us at that time were pre–baby boom­ers—aging women spanning two decades (ages 75 to 62)—who had been activists, with second-wave feminists roots. Suddenly Pogo's quote, "We have met the enemy and he is us" translated for us to, "We have met old age as professionals and now we are growing old."
Thus, in 2006 at AiA, we formed an annu­al panel discussion group, "On Being An Aging Woman: A Conversation." We promised a safe place for participants of all ages (and genders) to give voice to our aging process. Here we could support one another wherever we were in our aging process, recognize and resist ageist at­titudes as they oppress us in our journey into aging, and help each other to liberate ourselves from ageist generalizations.
Aging is a personal and a political process. 
It is impossible to age in our society without en­countering ageist attitudes—personal, cultural, and institutional. We believed that the feminist approach to deconstructing sexism could give us a way to deal with ageism. Along with economic insecurity and illness, ageism is the greatest so­cietal barrier to aging well. We needed to start with ourselves—to recognize and deconstruct our internalized ageism and the cultural and in­stitutionalized ageist attitudes targeted at us.
Feeling "over the hill," "invisible," etc., not only are personal and stigmatizing assaults on women's sense of self, but they are political prob­lems requiring changes in the cultural, social, po­litical, and economic contexts of women's lives. The personal was political then and it remains so now. We believed that we needed to reinvent the women's consciousness-raising groups of the 1960s, but now they would address aging, and be applied throughout the life course. Sharing our personal stories would give us a unique way to get to the roots of ageism and how it oppresses us in visible and invisible ways. Our stories could be the basis of an agenda for social action.
For women, the stakes are higher: women out­live men and tend to be caregivers. Our well-being and the well-being of our children and grandchildren depend upon us. There aren't clear road maps for us, but together we can find a way. We need a new generation of intergener­ational consciousness-raising.
Our Panel Discussion Group's Eleven-Year Evolution
Our panel of women is diverse, representing different decades, starting with those who are in their 50s, and our diverse audience has ranged from people in their 20s to their 80s. Each year, we attract loyal followers and new audiences.
We invite new people to join our core panel to represent intergenerational activism and to give an authentic voice to women's experienc­es and stories at each decade (Eleanor Browne, 2009–2011; Pat Pullens, 2012–2014; Catherine Williamson, 2016–2017).
We panel founders also have aged, passing the milestone years of 65, 70, 80, and 85, becom­ing grandparents, adjusting to new patterns of work and retirement, dealing with health chal­lenges, and losing parents, partners, and friends. We were con­scious about the changing place we held in our social, political, economic, and cul­tural positions in society and talked each year about finding ways to adapt and cope. Our goal was to inspire participants to apply principles of the consciousness-raising process in their per­sonal and professional lives, and to replicate or adapt the model back home.
The panel's discussion session starts with each panelist spending three to five minutes re­sponding to the question, "Can you give exam­ples in the last year when age-related challenges felt particularly central to your identity? How did you feel?" The audience reflects on the pan­elists' experiences, and we then divide into in­tergenerational groups of four to five to discuss a question that enables audience members to re­flect on their own aging processes. The room buzzes with conversation before audience mem­bers report back to the larger group. The con­clusion is an open discussion on implications for resisting ageist attitudes.
Some of our sample discussion questions in­clude the following:
In what ways has your aging process shift­ed the priorities in your life from what they were last year, both in your internal process, and the way you relate to the world?
Has your aging body led you to make any specific choices about how to live your life?
What does a good old age mean to you? What do you fear most about becoming an old woman?
In our youth-obsessed culture, how do you accept the natural changes in your aging process and not give in to cultural attitudes that devalue us as we age? How do you deal with your own in­ternalized ageist attitudes?
How do you react to your face in the mir­ror? What do you see?
How has the role of friendship in your life changed as you have aged?
This annual AiA session allows space for authentic dialogue among our age cohorts and across generations, as together we rethink the aging paradigm and co-create new narratives.
The themes that arise are rich in the diver­sity and complexity of women's lives. We talk about our roles as caregivers for parents, and about spouses, children, grandchildren, lovers, and friends. We talk about divorces, widowhood, and loss. We talk about the power of community, particularly as we transition from work (includ­ing ageism in the workplace) to retirement. We talk about changing living environments as we downsize or anticipate moving to age-segregat­ed housing, and the financial implications—will I have enough money for the rest of my life?
Legacy has been a thread that wove through many conversations: how can we engage in mean­ingful activities while passing on our lega­cy to future generations? We talk about the many changes happening in our bodies and society's pressure on us to stay young. We talk about cop­ing with the inevitable changes in our health, ac­cepting new vulnerabilities as we uncover hid­den suffering, along with acceptance of these changes. There is always the lingering question of "Who will care for me"? And this leads to off­shoot questions: Who will I survive? How will I face my own mortality?
At the end of our session, the panel routinely challenges the group to think about how its col­lective conversation can be a starting point to reform society—to rethink lifecycle stages, to ad­dress gender and intergenerational inequalities, to end ageism, and to activate women's voices in public and political spaces.
Panelists at our AiA sessions are all aging acti­vists and are highly motivated to change the public perception, redefine the narrative of what it means to be women, and to deal with whatever challenges we face as we grow old. It's a hard problem to solve and we have a long way to go.
The power of this session has been the abil­ity of professionals in the field of aging to come to­gether to recognize our attitudes, to take own­ership and to embrace changes, opportunities, and challenges in our own diverse and complex aging processes. Each year, we learn new in­sights based on our experience and we acknowl­edge that the solutions to our problems require collective action. Through our personal learn­ing and engagement in these spirited intergen­erational conversations,we discover new ways to fight ageism—internal, societal, and cultural—create new narratives about ourselves, and con­tribute to changing the aging paradigm in ways that will help create and drive an inclusive so­cial movement.
The model we developed eleven years ago has withstood the test of time and is reproducible in our personal and work lives. We are all profes­sionals in the field of aging and therefore have the obligation to understand ageism and the richness and complexities of aging. Many of us are on the front lines, working every day with aging women and dealing with ageist attitudes, which sometimes emanate from the people we serve or the institutions where we work. As pan­elists, we offer this model with the hope that it will be replicated and adapted to create con­sciousness-raising groups in people's personal lives, workplaces, and communities.
All of us have a unique opportunity to engage in intergenerational dialogues, to be role models and mentor younger women, and to provide thought leadership to educate and raise con­sciousness in the public arena about what it means to grow old. The current political climate has stimulated cross-generational activism.
As professionals in the field of aging, and as women, we can once again raise the banner to create a social movement to end ageism.
Personal Reflections on Aging as a Feminist: Joan Ditzion
Reflecting on my adult life at age 74, I see there has always been interplay between my personal life, feminist acti­vism, and my professional work—all with a commitment to social justice values and making the world a better place.
Looking back, I feel it was fortuitous that I was in the right place in the right time in the late 1960s and early 1970s to become one of the original Founders of the Boston Women's Health Book Collective, now Our Bodies Ourselves (OBOS). None of us would have imagined that the book would have touched the hearts, souls, and minds of so many women here and around the world.
I am forever grateful I came of age during the second wave of the women's movement, when a whole gen­eration of women was just awakening to the implications of having been socialized female in a patriarchal soci­ety. We began to deal with our internalized sexism, embrace our identities as women, foster a women-centered view of the world, and begin to trust our voices and authentic experiences about our bodies, ourselves, and our lives. We believed that everyone would benefit if we eliminated sexism and embraced feminism and the full economic, social, and political equality of women and men.
I was involved with the Civil Rights Movement, and when I was a graduate student at Berkeley I became po­litically active and was arrested while participating in the Free Speech Movement. But the women's movement touched me personally, at my core, like no other social change movement had. The personal is political.
Over the years, I have grown up with the Our Bodies, Ourselves book. Initially, I was interested in female identity and in claiming a non-sexist, women-centered view of the world. When I chose to become pregnant, my focus shifted to affirming parenthood (if chosen) in the context of reproductive justice for all, raising the next generation, and the importance of society supporting caregiving, childcare, and work-family balance. 
This is still the unfinished business of the women's movement.
The OBOS project led and inspired me at age 42 to become a geriatric social worker. I have always felt 
a synergy between the values of the social work profession and my personal-feminist values, which have in­formed my work: writing, clinical practice, teaching, conducting workshops, and advocacy. The firsthand expe­rience of caring for my mother forever deepened my sensitivity to the needs of aging women.
I'm personally devastated by the election of Donald Trump, the rise of misogyny, and the fact that sexism is still alive. But it inspired activism and has gotten us back to our roots. The current generation of younger women now understands and has born witness to misogyny; these women more deeply understand the negative im­pacts of patriarchal power. Diverse women of all ages are stepping up to the plate: we will find ways to work together, young and old, to build on the past and nurture female friendship across generations to defend and protect the advances made, oppose reversals, and end ageism.
I fully embrace my sense of self as an aging woman and an aging activist. I want to pass on my legacy to a younger generation and continue cross-generational conversations as we do on this annual panel event at Aging in America. I want to have a sense of agency as I age, to age well with passion and purpose until my last breath, and to work together to mobilize an inclusive, pro-aging social movement to end sexism and ageism.
Personal Reflections on Aging as a Feminist: Connie Goldman
I was a mother raising one girl and two boys in the 1950s and 1960s, a time when very few women had emerged from the home-centered role. I wanted my children to understand that women were beginning to accept roles outside the home, in addition to manag­ing an orderly household, and that both could exist simultaneously. In the mid-1970s, when my career in public radio started, I was working with a majority of males. I struggled at Minnesota Public Radio and National Public Radio to establish myself, and the validity of women, in the world of journalism.
In those days, broadcasting was a male-dominated workforce and society thought women belonged at home. It was a time when people commonly disregarded the female point of view if it conflicted with the male perspec­tive. I had to find less aggressive ways of presenting any ideas for change, and learned to become very subtle. If I had an idea, I avoided conflict and rejection by suggesting that a male had inspired it. It was more important to me that the idea be implemented than to fight for credit.
In the 1980s, American culture was focused on finding ways to avoid and deny discussing aging. On my birthday, greeting cards arrived containing implica­tions that I was heading into a time of life that I should try to avoid. I wasn't much cheered by them. Hey, we loved turning 21; it opened new worlds. Why wouldn't additional years continue to present expanding hori­zons? What if we looked at midlife and years beyond as a quest, not a crisis? Maybe our later years would be richer if we labeled them "mature" instead of "old"?
I began to interview others to find out how they remained active and involved as they aged. I quickly learned that the power of personal stories offers a perspective that facts cannot, yet also offers a source of comfort and inspiration. We hear a story and we laugh, cry, empathize, and sympathize. Insight, inspi­ration, and new possibilities can arrive as we learn about ourselves through the stories of others.
Our annual panel is and has been a reminder that together we have power and that we need encourage­ment to express ourselves in accepted and appro­priate ways. It is an important experience for us all as we face individual changes and challenges. In my earlier years, I earned the gift of validation, which has brought me to a time of life, at age 86, where I am working not only by example, but also by the words I write and speak. I hope what I say confirms the reality that we are more than "old ladies" and we can even­tually remove the implication that old ladies are "used up."
I'm hopeful our AiA sessions "On Being an Aging Woman" will help others to welcome their later years. Together we can unlearn some of society's attitudes, and by telling our stories with honesty, we can inspire others to stay active.
The women's movement touched me like no other social change movement had.
Personal Reflections on Aging as a Feminist: Phyllis Mitzen
My path to my career and feminism evolved over the course of life experiences, career choices, and social movements. I was a child of the 1950s, brought up with the traditional image of husband as breadwinner and wife tending house and raising children. My mom was a stay-at-home mom. I married in 1961 at age 19, having completed two years of college. I imagined myself teaching other people's children while our children were in school. However, we had three children in rapid succession. In 1965, my father was diagnosed with Parkinson's disease, and had experimental surgery precipitating a debilitating stroke. My mother, with teenagers at home, had nowhere to turn to get help with my rapidly aging dad and turned to me. He died seven years later.
All of this took place during the 1960s and early 1970s—with children in tow, our family campaigned for Bobby Kennedy, we marched against the Vietnam War, travelled to Washington, D.C., to see Resurrection City (the 1968 Poor People's Campaign), and wrote letters to support the Civil Rights Movement.
Reading The Feminine Mystique, Ms. Magazine, and Our Bodies Ourselves, was revolutionary for me. My friends and I, all PTA ladies, joined the League of Women Voters, ran for local office, and went back to school. We shared child-rearing as we studied, worked, and talked about what we wanted for ourselves and for our daughters. There was no clear path for us, only the restless idea that there needed to be a radical reordering of the public and private spheres.
My father's illness and mother's predicament had a profound effect on me. I worked for a brief time in a nursing home, which helped me to realize my affinity for working with older adults. Having an academic mentor who focused on aging was a catalyst for shaping my ideas of what I wanted to do. I thought I could have a posi­tive impact on how individuals age and how our society and culture organizes itself around aging. At age 36, I chose social work, deciding that it would give me the broadest practical and philosophical structure with which to address emerging issues. I chose the University of Chicago in order to study for a master's degree under Bernice Neugarten, a hero, and Shelly Tobin, a mentor. My field instructor schooled me on the insidiousness of ageism shortly after Robert N. Butler first framed it as an "ism."
All this was at the beginning of my career. Now, toward the end, participation on our annual panel has had a profound effect on me. Year by year, I reflect on my personal story and the stories of hundreds of women and some men. Now, as in the 1970s, I see no clear path, but retain a restless desire to mentor younger women (in the company of colleagues and friends) and challenge our—and others'—assumptions about women and aging in both the public and private spheres.
'The feminist approach to deconstructing sexism could give us a way to deal with ageism.'
'If I had an idea, I avoided conflict and rejection by suggesting that a male had inspired it.'
Resources for Networking the Experiences of Aging
Our annual session at the Aging in America Confer­ence has also provided an opportunity for panelists and participants to share their experiences with the following organizations that embrace aging with all its warts, losses, and possibilities:
And also of note: At AiA 2016, early leaders in the field of aging and ASA founders gathered to form the Corps of Accomplished Professionals (CAP) as a way to provide meaningful roles for ASA members as they "age out" of the aging field, or as they age into old age.