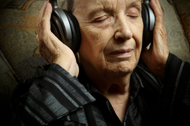 Music for Life: Music Participation and Quality of Life of Senior Citizens.
By C. Victor Fung and Lisa J. Lehmberg. Oxford University Press, 2016. ISBN 978-0-19-937169-3.
Reviewed by Joshua Berrett
"Music and quality of life are two of the most stable and everlasting human desires." With this eloquent turn of phrase, the authors, both professors of music education, introduce their study —an examination of the impact of participation in community musical groups on the quality of life of older adults in the United States. From their point of view, with prolonged life expectancy, very little attention has been paid to how music education has benefited older people—essentially the 55-plus population. For them, these community musical groups tend to be dominated by the kinds of groups found in secondary schools—choir, band, and orchestra. While conceding that music can embrace a vast range of styles, Western and non-Western, acoustic and electronic, and can often be solitary, the authors maintain that from a developmental standpoint, group activities are far more beneficial to seniors, and are essential to maintaining an optimal quality of life for as long as possible. Indeed, one of the valuable features of the book is a table of 29 studies (pages 31–41), detailing the physical and psychological impacts of music participation. Also useful is the inclusion of a review of literature, not to mention a summary of relevant measurement tools such as a quality of life scale.
The book has ten chapters, and Chapter 3 through 8 represent its core. In order to protect the privacy of all participants in their study, the authors have given the name of Evergreen Town to the site of their research, a retirement community in the southeastern part of the United States. Somewhat puzzling, however, is their remark: "It was not our intention to select an ethnically homogeneous sample, but we had to accept the fact that 99% of the population in the community was White." We learn further that this population was above average nationally in socioeconomic status, the same holding true for per capita income, social security and retirement incomes.
Following a mixed methods approach, the authors conducted three original research studies. The first of these was in two phases—a survey and a focus group interview—examining the histories and rationales for the music participation and non-participation of community residents. The second and third studies took an in-depth look at two groups prominent in the community—a church choir (traditional and hierarchical, with a director largely calling the shots) and a bluegrass group (egalitarian and far more informal). Of additional interest are the perspectives of the authors themselves, as group members as well as participant observers.
In their two concluding chapters the authors reaffirm the long-standing function of music in peoples' lives. "Musical choices that are relevant to and meaningful in their daily lives should be available to music learners of all levels." They buttress their argument by drawing upon some of the defining research in the field. Most notable is the work of ethnomusicologist Alan Merriam and his seminal 1964 book The Anthropology of Music and the path-breaking 2000 study by psychiatrist and pioneer in geriatric mental health, Gene Cohen, and his book The Creative Age: Awakening Human Potential in the Second Half of Life. In addition, the authors stress the value of composing original music and lyrics and sharing them openly, not to mention engaging in a focused listening activity that can reap enormous cognitive benefits. By the way, on a personal note, this book reviewer can attest to the dramatic impact his courses in engaged listening continue to have on seniors at a prominent local lifetime learners institute.
In the final analysis, the authors have laid the groundwork for future studies—ones that should include many other musical styles and genres, as well as groups that are a lot more diverse, both ethnically and economically, and ones that explore the huge potential of intergenerational interaction.
Dr. Joshua Berrett is a professional musicologist and is internationally recognized for his publications in such diverse areas as the history of the symphony and jazz. Dr. Berrett and his wife Lynne are co-founders of the non-profit Ageless Mind Project, where they aim to integrate the latest findings in neuroscience with the best cognitive engagement practices. Visit them there and at their Music and Happiness website.
This article is brought to you by the Editorial Committee of ASA's Lifelong Education & Renewal Network (LEARN).