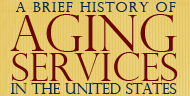 By W. Andrew Achenbaum and L. Christian Carr
The foundations of aging services in the United States go back many centuries. The Elizabethan Poor Law, enacted in England in 1601, provided the intellectual foundations for aging services in the American colonies (Trattner, 1998). Kin offered support if relatives were no longer capable of sustaining self-reliance. Neighbors pitched in when family was unavailable. If informal modes of delivering goods and services proved inadequate, delegates from the private and public sectors were expected to act, often in concert. Local parishes delivered food and firewood to the needy old. Public officials, exercising power of taxation and overseeing facilities for the poor, intervened when other options failed.
This arrangement of aging services, resembling a patchwork quilt, remained throughout much of the United States' history for two reasons. First, the fact that British poor laws had deep roots—reinforced through biblical injunctions and prevailing norms to respect age—facilitated transatlantic migration. Second, few settlers survived to advance in years. Hence, claims on senior services were manageable.
The Emergence of Alternatives to Almshouses
From the start, the plight of needy elders in America evoked sympathy among town officials, civic leaders, and neighbors. In a 1642 town meeting, the Pilgrims of Plymouth Colony authorized outlays for vulnerable elders. Sixteen years later, that same body instituted outdoor relief, meaning relief without requiring the recipient to enter an institution, in the form of offering food and other basic necessities for poor people aging in place. Boston followed suit in 1664, and by 1713, local officials in Philadelphia, New York, and Charleston instituted outdoor relief (Haber and Gratton, 1994).
In 1643, the vestry of the Anglican Church in Williamsburg, Virginia, granted tax relief for the aged poor; by 1671, the parish required that recipients of its beneficence signify pauperdom by wearing a red or blue "P" on their clothing (McCartney, 2000) (accepting alms and firewood from strangers was, obviously, stigmatizing). The first almshouse was built in 1657 by the Dutch in Rensselaerswyck, New York (Abramovitz, 1996), and in the same year the Scots' Charitable Society began operations in New World seaports (Scots' Charitable Society, 2012). In the United States, the pattern of assistance on a case-by-case basis persisted into the twentieth century. Families continued to provide most of the support to aging kin. (Few jurisdictions prior to 1914 spelled out what adult children owed parents, though most states fined parents who neglected minors.)
Census takers reported that more than 75 percent of all men older than age 65 considered themselves heads of households. They also found that a greater proportion of older women resided with a child, grandchild, or in-law (Achenbaum, 1978). At least one-sixth of all antebellum almshouse inmates were older than age 60. Some residents grew old in place; others entered asylums in late life. The percentage of elders in poorhouses increased over time as specialized facilities were erected for orphans, juvenile delinquents, and people with various disabilities. Going "over the hill to the poorhouse," a place of last resort, was viewed as shameful.
Alternatives to almshouses arose, notably local philanthropic initiatives and bequests to care for specific segments of the older population. Urban Catholic churches and Jewish communities built residences for superannuated immigrant congregants. Corporations and unions formalized pension programs and in-kind benefits for qualified aging workers. Members of fraternal organizations or laborers who frequented bars routinely passed the hat to help the old and disabled. Boardinghouses offered food and beds (for a fee) to needy elders. The federal government granted pensions and erected soldiers' homes (and later large military camps) to assist wounded, indigent older veterans of various wars.
Available services nonetheless remained limited and unevenly distributed. Arguments mustered by I. M. Rubinow in Social Insurance (1913), Mary Richmond in Social Diagnosis Casework (1917), and Abraham Epstein in The Challenge of the Aged (1928) bolstered pleas to expand aging services, yet lawmakers routinely vetoed proposals to reduce old-age pauperism.
The Great Depression exposed the ubiquitous risks of growing older. There were higher rates of unemployment, familial dislocations, and lost savings. As the crisis deepened, discretionary funds once available through pensions, charities, and local agencies were exhausted. The Veterans Administration emerged as the most important source of elder support.
The Federal Government Alters the System of Aging Services
Two federal acts altered the system of aging services. First was the Social Security Act of 1935. Title I forged a partnership between the federal government and various states to assuage old-age dependency. Title II required employers and employees in certain economic sectors to make contributions for workers' eventual retirement. Through these measures, ordinary citizens were assured a minimal level of subsistence to sustain independence in late life.
Social Security did not grant old-age assistance to almshouse residents. This policy step hastened the demise of that dreaded institution; it prompted the private development of shared residences and communal housing arrangements for senior citizens. Subsequent amendments redirected U.S. social welfare and social service developments; in 1952, Congress appropriated the first federal funds for social service programs for older Americans.
For our purposes, even more important was the enactment of the Older Americans Act (OAA) in 1965, the same year that Lyndon Baines Johnson signed Medicaid and Medicare into law. The language of Title I (U.S. PL 89-73) promulgated ambitious, wide-ranging aims. Paraphrased below, Title I included the following rights to: 
an adequate income in retirement;
the best possible physical and mental health;
suitable housing;
full restorative services;
pursuit of meaningful activity;
efficient community services, including access to low-cost transportation;

immediate benefit from proven research knowledge; and,

freedom, independence, and free exercise of individual initiative in planning and managing their own lives.
Aging services, coordinated by the Administration on Aging (AOA) through matching grants to qualifying states, ranged from communitybased planning, demonstration grants, research on aging, and personnel training, to creating recreational facilities and guidance centers. However, funding aging services ranked low compared to implementing civil rights, funding education, and bankrolling the war in Vietnam. As Langer (1965) reported, "The budget of the agency will be small, its personnel limited, and
its prerogatives modest" (p. 617).
Aging Services in the United States Across the Past Fifty Years
The history of the AOA highlights significant shifts across the past half-century in defining opportunities and constraints in addressing the needs of this nation's diverse elderly population. Figure 1 (below) presents some important legislative developments pertinent to aging services in general, and the OAA in particular. Several trends are apparent; while resource availability has fluctuated, both the scope and specificity of OAA goals have increased. Concomitantly, lawmakers have increasingly targeted benefits to the most vulnerable among the older population (Gelfand, 2006).
Several additional facts provide context for these trends. First, thanks to congressional support, some of the biggest increases in AOA appropriations occurred during Richard Nixon's second presidential term, before the Watergate cover-up imploded. While not clarifying the relationship of area agencies on aging to state units on aging, the critical 1973 amendments emphasized a top-down approach to delivering needed services to the aged populace (Hudson, 1974). Second, it has taken intense efforts by the Gray Lobby since the 1980s to secure the reauthorization for the OAA. Third, while joining aging and disability interests under the Administration for Community Living may broaden the parameters of cultural aging, it might also reinforce the notion that older people require increasing amounts of services.
It is also important to situate the examination of historical trends in aging services into the broader context of federal government spending. Figure 2 (page 12) shows patterns of disbursements for selected programs. Examination of OAA outlays for the time period of 2004 to 2012 shows that these programs account for only a fraction of a percent of the Department of Health and Human Services expenditures. However, Social Security payments have exceeded defense spending since the early 1990s and have always exceeded both supplemental income (i.e., welfare) and Medicaid. Furthermore, Medicare outlays exceed those for Medicaid, and Medicare also has surpassed supplemental income since the mid-1990s, except for a brief spike in welfare disbursements in 2010.
Although the original architects of the OAA envisioned a non-means−tested program (Langer, 1965), inexorable increases in budgetary pressures (and, perhaps, prevailing normative views regarding spending for social programs) spelled the end of categorical inclusion. Thus, the fifty-year growth of aging services resembles a crazy quilt. As reported, "Each add-on has its own sets of complex rules, target populations, limits or regulations that providers and consumers must learn to navigate" (Vladeck, 2008). Taxonomies of support are rather disparate and do not always complement one another in a cohesive, integrated manner (Gelfand, 2006; Niles-Yokum and Wagner, 2011).
Organizing "core" services with AOA-inspired categories or demographic subgroups overlooks hybrids and local variations. They rarely punctuate the shift from charity healthcare to for-profit nursing homes in the 1960s, or the emergence of a for-profit, home-health industry in the 1980s, to the prevalence today of profit-earning hospitals and managed care health providers. Nor do they distinguish between distinctly different cohort attitudes toward eldercare (Karner, 2002).
Conclusion
From this brief analysis of the history of aging services in the United States, several patterns remain relatively stable over time. In general, our society has placed eldercare responsibilities primarily on families, with institutional solutions legitimized only where the primary (family-based) system demonstrably fails. Legislation reflects a steady shift toward increasing humanitarian standards of caring for the vulnerable aged, but with limitations. Government provisions have never supplanted family support nor obviated the need for private-sector endeavors. Thus, the patchwork quilt of services persists. Funding for OAA programs likely will remain a challenge, but these activities were only ever conceived as a supplement to other social programs benefitting elders.
While changing priorities in the public sector undoubtedly affect the provision of aging services, the historical importance of public and private partnerships in this domain cannot be overstated. In light of this, the most propitious line of inquiry might be how existing aging services could be reconfigured into a more seamless and synergistic network. We no longer brand the shirts of the elderly poor, but we continue to wield the bureaucratic means to shame the needy.
---
W. Andrew Achenbaum, Ph.D., is a professor of social work and history at the University of Houston in Houston, Texas, where he holds the Gerson and Sabina David Professorship in Global Aging. L.
Christian Carr holds a master's degree in organizational psychology and is a doctoral student at the University of Houston's Graduate College of Social Work.
Editor's Note: This article is taken from the Summer 2014 issue of ASA's quarterly journal, Generations, an issue devoted to the topic "The Future of Aging Services." ASA members receive Generations as a membership benefit; non-members may purchase subscriptions or single copies of issues at our online store. Full digital access to current and back issues of Generations is also available to ASA members and Generations subscribers at Ingenta Connect. For details, click here.
Join ASA to recieve an automatic subscription to Generations as well as many other benefits of membership!
---
References
Abramovitz, M. 1996. Regulating the Lives of Women: Social Welfare Policy from Colonial Times to the Present. Boston, MA: South End Press.
Achenbaum, W. A. 1978. Old Age in the New Land. Baltimore, MD: The Johns Hopkins University Press. 
Administration on Aging. 2011. "Historical Evolution of Programs for Older Americans." Retrieved May 4, 2014.
Congressional Budget Office. 2014. Historical Budget Data: February 2014. Retrieved March 28, 2014.
Congressional Research Service. 2013. Funding for the Older Americans Act and Other Aging Services Programs. Retrieved March 28, 2014.
Gelfand, D. E. 2006. The Aging Network: Programs and Services. (6th ed.). New York: Springer.
Haber, C., and Gratton, B. 1994. Old Age and the Search for Security. Bloomington, IN: Indiana University
Press.
Holt, B. J. 1994. "Targeting in Federal Grant Programs: The Case of the Older Americans Act." Public Administration Review 54(5): 444–9.
Hudson, R. B. 1974. Client Politics and Federalism: The Case of the Older Americans Act. Unpublished manuscript. Washington, DC: American Political Science Association.
Karner, T. X. 2002. "Caring For an Aging Society: Cohort Values and Eldercare Services." Journal of Aging & Social Policy 13(1): 15−36. 
Langer, E. 1965. "Administration on Aging: New HEW Unit Will Offer Grants to States, Universities for Studies of Aging." Science 149(3684): 617−19.
McCartney, M. W. 2000. "Richman, Poorman, Beggarman, Thief: Down but Not Out in Colonial Virginia." Colonial Williamsburg Journal 22(3). Retrieved April 14, 2014.
Niles-Yokum, K., and Wagner, D. L. 2011. The Aging Networks. New York: Springer.
Office of Management and Budget. n.d. Historical Tables. Retrieved May 4, 2014.
Scots' Charitable Society of Boston. 2012. "A Concise History of The Scot's Charitable Society." Retrieved June 13, 2014.
Tilly, J. 2010. "The Administration on Aging's Experiences with Health, Prevention, and Wellness." Generations 34(1): 20–5.
Trattner, W. I. 1998. From Poor Law to Welfare State (6th ed.). New York: Free Press.
Vladeck, F. W. 2008. "Beyond One Hip Fracture at a Time." Journal of Gerontological Social Work 42(3/4): 151−62.