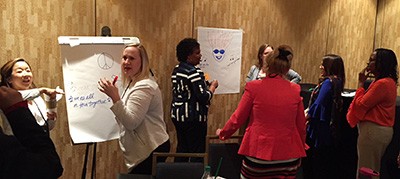 If you are a professional in aging who has at least three years of experience in the field, and want to build your professional leadership skills and capabilities, ASA's Leadership Institute is your perfect resource for current and future career success.
The Institute, now in its seventh year, is a unique opportunity for budding leaders in the field of aging to develop leadership skills, to become aware of their communication and leadership styles, and to network with other professionals in aging. This five-day leadership development intensive will be held at the 2020 Aging in America Conference, from March 23–­27, in Atlanta.
The Institute programming focuses on cultivating an understanding of, and embracing, cultural differences in ways that respect older adults. Participants will meet key influencers in aging and have many chances to connect with peers who are on a leadership track. Eighty-one percent of Leadership Institute graduates reported last year that their motivation to be a leader in aging increased or significantly increased as a result of attending this training. And 92 percent reported that attending the Institute was a good career investment.
Participants will develop an increased self-awareness of their leadership style, gain a keen understanding of how this style could complement or clash with others' styles, and learn how to adjust their style to fit their organization's needs. Participants also will master how to work effectively in multicultural and ethnically diverse organizations and communities, while influencing positive change.
ASA Leadership Institute graduates typically gain valuable insight into others' leadership styles, and learn from the experience of visionaries and policy makers in the field of aging. Upon successfully completing the Institute program, graduates earn an ASA Leadership Program Certificate.
Other Institute program curricula focuses on identifying major shifts in the field of aging, including demographics, culture, policy, technology, and other trends that affect leaders and diverse communities; describing the importance of leading a multicultural, inclusive team of professionals to reflect diverse views and opinions; learning from successful leaders who have worked across boundaries and silos and have surmounted such barriers to create sustained organizational improvement; identifying resources for serving diverse elders who face health, racial, economic, and other disparities; and building a more robust professional network.
ASA Leadership Institute participants also attend multiple sessions at the Aging in America Conference, including the Panel of Pundits, the Diversity Summit, and the ASA Leadership Reception—all are great opportunities to mingle with luminaries in the field of aging.
For more information about the Leadership Institute, go to www.asaging.org/leader.