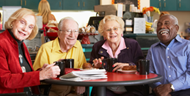 By Jenny Campbell, John Feather, Marilyn Stein LeFeber and John Beilenson
During the last decade, the age-friendly communities movement has grown significantly in the United States and abroad. This initial interest and support has generated several vibrant networks of cities and communities, useful models and a wide range of resources to advance regional and local age-friendly initiatives. Creating great places to grow up and grow old, however, requires a sustained investment in infrastructure, programs and services—well beyond traditional philanthropic support, one-off government funding and modest volunteer contributions. How then do we build on the movement's successes to date and accelerate sustainable progress at local, state, national and international levels?
By building public will and creating cross-sector partnerships, the Maricopa Association of Governments (MAG), a regional planning organization in the metropolitan Phoenix area, demonstrated that great partnerships can create great results. The Leadership Team overseeing this work comprises elected local government officials, representatives from area businesses, community service leaders, faith community members, older adults and philanthropy representatives. Basing the project in the MAG organization ensured strong participation from city planners. Over the three-year period, nearly 90 people participated in the Leadership Team, with 25 core members; three years later, the team remains committed to these efforts.
After exploring options, MAG committed to building the capacity of the community. All pilot sites followed the same three-step process: analyzing demographics, conducting community outreach and developing a business plan to implement age-friendly initiatives, which varied according to assets, priorities and characteristics for each community. The sites identified universal needs, such as transportation and social isolation, and solutions varied: one community implemented a transportation program for veterans and enhanced their transit and paratransit system; another started a new volunteer-driven transportation program serving older adults; a third is focusing on pedestrian efforts such as improved trails.
Each site conducted baseline assessments to better understand older adults' needs, and measured progress at one-year intervals. This data created a compelling case for ongoing community support. At the end of three years, community support for these programs is strong and local governments and philanthropy organizations have stepped up to provide funding to ensure they continue.
Help for Miami Parks, Indianapolis' Growth
The Health Foundation of South Florida (HFSF) used grant funding to engage across sectors to support a sustained initiative with the Miami Dade Parks, Recreation and Open Spaces Department. Working with county executives and Parks Department leadership, the results after three years are dramatic. The department now funds a part-time staff person responsible for older adult programming, park staff participates in trainings about older adult fitness, pedestrian access to parks has been improved and more older adults are using the parks because of enhanced marketing efforts. Nine county parks now have evidenced-based programming for older adults and age-friendly capital improvements are embedded in the long-range plan.
Both HFSF and the Indiana Philanthropic Alliance (IPA), in Indianapolis, invested a portion of their grant funding into advancing age-friendly public policy through focusing on long-range planning processes for cities and communities. These processes vary by location, with some focusing on transportation, or a Comprehensive Development Master Plan that will guide the region for years to come. This kind of comprehensive planning typically occurs every seven to ten years. It's a powerful opportunity to help regional and metropolitan districts understand the importance of age-friendly initiatives that impact many generations. By attending planning meetings, suggesting age-friendly wording and offering initiatives that will support older adults, these advocates are creating powerful instruments for future change. For example, the original language in the planning document for the Comprehensive Development Master Plan for Miami-Dade County read as follows:
"Design communities to support children's daily routines by establishing proximity among uses (e.g., schools, daycare, community centers, recreation facilities open space, etc.)
After Community AGEnda advocates suggested the following changes, the policy reads:
"Design communities to support the daily routines of [their] residents, particularly children and older adults, by establishing proximity among uses (e.g., school, daycare, senior and/or community centers, recreation facilities, open spaces, etc.)
HFSF proposes twenty-five amendments, which were accepted and adopted. It has also commented on the Miami-Dade 2040 Long Range Transportation Plan and, as a result, the 2040 Plan includes goals and objectives related to the transportation and mobility needs of the increasing older population.
Indiana Community AGEnda partners also are active and consistent participants in the City of Bloomington's Growth Policy Plan. The process is ongoing, but it is hoped the final plan will reflect their input. IPA has found that engaging in the municipal planning process has involved a wide range of stakeholders, including the disability community, deepening ongoing commitment to age-friendly work, as well as ability-friendly work.
As we learn what makes for successful and sustainable age-friendly work, it is clear more than luck is involved. Sustainability requires a nuanced plan that engages the community while demonstrating—and celebrating—early successes. Cross-sector partnerships ensure the benefits of age-friendly work are well understood across a range of organizations, and policy initiatives will help provide the long-term commitment for future age-friendly work. Sometimes small steps add up to big progress.
---
Jenny Campbell, Ph.D., is a consultant and evaluator for Community AGEnda, she is located in Ardmore, Penn.; John Feather, Ph.D., is CEO of Grantmakers in Aging, in Washington, D.C.; Marilyn Stein LeFeber is a consultant in Columbus, N.C., and served as the project manager for Community AGEnda; and John Beilenson is president of Strategic Communications & Planning in Wayne, Penn.
Portions of this article were reported during a GIA webinar, "Sustainable Changes to Make Your Community Age-Friendly: What's Possible," organized by Barbara R. Greenberg and Jan Schwarz of The Philanthropic Group for GIA's initiative, "Funders for Age-Friendly Communities." 
Editor's Note: This article appears in the September/October 2015 issue of Aging Today, ASA's bi-monthly newspaper covering issues in aging research, practice and policy. ASA members receive Aging Today as a member benefit; non-members may purchase subscriptions at our online store or Join ASA.