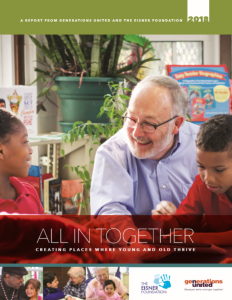 By Donna Butts, Ernest Gonzales and Alex Yoss
"It's like living in a college dorm … a little bit quieter but we have just as much fun," said 26-year-old Tiffany, describing her experience living at Judson Senior Living.
Judson Senior Living in Cleveland, Ohio, and Collington, a CCRC outside of Washington, D.C., are just two adult residential communities offering a limited number of nearby college and university students free room and board in exchange for engaging with older residents, and, in some cases, acting as artists in residence. Several European countries offer similar arrangements, such as the Humanitas retirement home in the Netherlands.
The Judson Senior Living model was featured in a recent report by Generations United (GU) and the Eisner Foundation, All In Together: Creating Places Where Young and Old, which highlighted intergenerational shared-site programs around the country. The national public opinion poll commissioned for the report found that almost three quarters of those surveyed agreed with the following Harris Poll statement: "Programs and facilities that separately serve different age groups prevent children/youth and older adults from benefitting from each other's skills and talents." 
Intergenerational home-sharing programs have the potential to build a deeper understanding of individuals across generations. A growing body of research suggests that well-designed inter­generational programs can refute myths, stereotypes and misunderstandings of older adults, the aging process and health. Also, programs can alter older adults' stereotypes of college students.
Fulfilling the Intergenerational Promise
As interest in intergenerational home-sharing intensifies, the promise of intergenerational pro­grams remains unfilled, with many challenges and opportunities yet to build upon. One of those challenges is to change cultural norms. We believe it is possible to construct a solid intergenera­tional home-sharing program that can facilitate trust and help expand avenues for individuals across generations to build social capital, so that this new way of living becomes natural, desirable, accessible and beneficial.
We are at a turning point in history as older adults begin to outnumber younger adults. With Millennials, Generation Zs and older adults craving meaningful human connection, and many of these same cohorts wrestling with social isolation, economic insecurity and growing student loan debt, a national presence of scalable intergenerational home-sharing programs is a necessity. And it will require everyone—social workers, universities, policymakers, students, physicians, families and others—to come together to create such a monumental cultural shift.
A Global Movement
These intergenerational housing programs are far from being U.S.–only models. Innovative work is underway around the globe. Singapore, for example, is committed to becoming an age-friendly country and promoting more intergenerational facilities and living spaces to create more tightly knit communi­ties across generations. The Housing Board plans to open 10 intergenerational complexes of which the first such kampong, or village, opened in 2017. This "Full Circle Model" in­cludes a retirement home co-located with a childcare center and features a shared playground, cafete­ria and "fun house" for arts and crafts.
A 2017 study, conducted by LeadingAge and GU, of senior housing provid­ers found there is a growing interest among housing providers in the United States to use intergenera­tional programming as a vehicle for dispelling negative age-related stereotypes, preparing a future workforce for the field of aging and improving the well-being of youth and older adults.
However, despite the existence of several long-standing and exemplary programs in the senior housing network, such as the Geriatrics Career Development Program at the New Jewish Home in New York and Friendsview Retirement Community in Newberg, Ore., a gap exists between the promise of intergenerational programming and the level of intergenerational practice in older adult housing communities. Currently in year two, the organizations are working together, along with six national affordable senior housing providers, to develop and test a toolkit for developing intergen­erational programs in senior housing.
Recently GU and New York University's Silver School of Social Work identified several inter­generational home-sharing ideas during a year-long research and feasibility project funded in part by the AARP Foundation. Drawing from programs in countries such as Spain, The Netherlands, France and the United Kingdom, the team explored the idea of using an intergenerational solution to enable older adults to remain in their homes and increase social connectedness, economic well-being and health, while students could decrease educational debt through access to more afford­able housing. What we found were small, individual programs in various U.S. communities, but no intergenerational home-sharing that has yet become nationwide.
Technology entrepreneurs are beginning to carve a niche in the market by creating roommate-matching platforms. However, this type of living arrangement is not simply high-tech, it's high-touch, and, to be effective, requires careful matching and in-person support, preferably by a master's level social worker or a master's level social work student. Unlike dating apps when one can walk away after a cup of coffee, intergenerational co-housing means living under one roof together. Laun­dry schedules, tidiness and sleeping and waking schedules are only a few of the many factors to consider when living with another person.
Learning Collaborative Launched
To address barriers and identify best practices, GU has launched a national learning collaborative on intergenerational housing with the aim of connecting and scaling unique programs around the country. GU and faculty at New York University's Silver School of Social Work, Washington Univer­sity's Brown School of Social Work in St. Louis and Hunter College's Brookdale Center for Healthy Aging in New York have signed on as founding members, along with community members from New York's DOROT, Boston's MIT Age Lab and St. Louis' Skinker DeBaliviere Community Council.
The collaborative will address gaps such as developing a unifying brand and messaging, and building a research base to demonstrate the impact of shared housing on younger and older gen­erations. Members will share resources, identify ways to eliminate policy and practice barriers and seek to increase the numbers of local and federal policy advocates.
By investing in intergenerational shared housing, the United States can reap benefits found in other countries such as Spain, where a study of their home-share programs found that 93.2 percent of older adults had benefitted in some way from the program, while 98.7 percent of students also had benefitted. As one student in France's ensemble2générations said, "I knew I was going away from home for university, and that I wouldn't have any family or any friends, but after first meeting her [an older home-sharer], I knew it was going to be perfect."
Ultimately, these models can improve the lives of vulnerable older adults and students and can lead to stronger communities. Together, we can create an intergenerational solution that benefits us all.
Donna Butts is executive director of Generations United in Washington, D.C.  Ernest Gonzales, Ph.D., M.S.S.W., is an assistant professor at New York University's Silver School of Social Work. Alex Yoss is a graduate student at the Silver School.
Editor's Note: This article appears in the November/December 2018 issue of Aging Today, ASA's bi-monthly newspaper covering issues in aging research, practice and policy nationwide. ASA members receive Aging Today as a member benefit; non-members may purchase subscriptions at our online store.