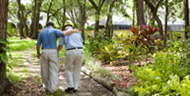 By Ken South
Caregiving for an elderly, frail person is an intimate experience, a loving act—a gem of human kindness. In this country, the greatest numbers of these caregivers are volunteers, usually family members and friends, but for LGBT elders and their caregivers, there is a noticeable twist to the experience.
We've chosen to highlight several facets of this experience through the following posts.
In Imani Woody's post, "The Ins and Outs of LGBT Caregiving," she touches on the complications at the intersection of homophobia, heteronormativity, ageism and racism as it relates to frail LGBT elders who have chosen to keep their sexual orientation hidden, even from their extended biological families.
As Kristina Hash notes in her contribution, "LGBT Individuals as Caregivers for Aging Parents and Partners," recent studies have shown that LGBT adult children tend to be the caregivers for their parents as well as their families of choice. Many of these caregivers, who often have no children of their own, wonder who will care for them when the time comes.
"Avoiding Complicated Grief among LGBT Caregivers," by Eboni Green, shows that the discrimination and stigma associated with having HIV or being LGBT significantly affects older adult parents who act as family caregivers, and makes it especially hard for them to find support in extended families, and in the greater society.
Cathy Croghan's contribution, "What's so different about LGBT informal Caregiving?" confirms that there are fewer infrastructure supports available to assist LGBT caregivers. Citing several sources, she shows that LGBT elders needing care tend to look to "non-kin" friends or neighbors to provide it. They are much less likely to have adult children who might provide such care as compared to their heterosexual peers. She also points out several legislative approaches aimed at enhancing caregiving.
My post, "Just in Case," provides a practical guide to handling emergency situations for caregivers assisting elderly LGBT folks who live alone and may be estranged from extended biological families.
---
Ken South is the director of Credentialing Programs at the American Academy of HIV Medicine, which in conjunction with ACRIA and the American Geriatrics Society (AGS) recently launched HIV-Age.org, an online site for clinicians seeking best practices for managing the care of older HIV patients.
This article was brought to you by the editorial committee of ASA's LGBT Aging Issues Network (LAIN).
Help us improve AgeBlog and rate this post by clicking here!