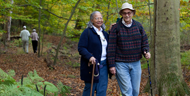 By Peggy Brick
In response to the longevity revolution, geriatric professionals nationwide are promoting "aging in place." With the demise of pensions, salary stagnation and the failure of many to save for retirement, remaining in the old home may be the only option for many.
Life in a CCRC
What is it like to spend one's final years living at a CCRC? Forty-five residents give their answers in a recently published book, EXPERIENCES: Life in a Continuing Care Community. Their stories tell of discovery, creativity and gratitude that reveal the spirit of cooperation and community that is the essence of a CCRC.
"One of our sons wrote to thank us for sparing him from ever having to have one of those painful talks on how 'Mom (or Dad), it really isn't safe for you to remain in your home any longer.'" —David Leonard
"I saw a woman with white hair, large brimmed hat and lace-up boots just like mine walking into the woods with a lopper over her shoulders. I knew at that moment, this was the place for me." —Joan Stemmler
"Carole and I arrived at the Farmhouse together … and the Lohengrin 'Wedding March' began to play. Our neighbors had arranged a full-fledged reception, complete with music, wine and congratulations." —Marjorie McCann and Carole Smith
"The head nurse assured me that a double bed had been ordered for Dudley's room. Soon it was in place and an eight-by-eleven bright orange DO NOT DISTURB laminated sign was provided to hang on our closed door. How much those afternoon times together meant for us." —Rosalind Campbell
"Listening to one another's stories invariably induced strong feelings, there were wet eyes in the room every time we met … . Stories about childhood abuse, fleeing the Holocaust, visiting eccentric relatives … I discovered the class was a safe environment in which to express the feelings and emotions inherent in the story I was telling." —Ernest Kimmel
"In that perfect moment of joy and camaraderie, Merritt began singing the beautiful, sacred and well-known round, "Dona Nobis Pacem." With great glee, this crowd of celebrating singers touched the walls with their voices and thrilled at the reverberations."—Betty and Bob Warner
—Peggy Brick
Watch Ken Dychtwald's Keynote at the 2015 Aging in America Conference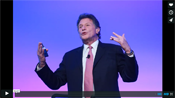 Click here to learn more about ASA's annual Aging in America Conference
However, the idealized old place will not remain the same: neighbors move away, friends die, grass grows and roofs leak. Inevitably, personal diminishments, particularly the inability to drive, leave the older person dependent upon others and increasingly isolated. The idea that independence is best preserved by aging in place is a myth exposed when elders must rely on family, friends, a plethora of professional caregivers and, often, an assisted living facility or nursing home.
The CCRC Advantage
I propose that—for those fortunate enough to afford it—a Continuing Care Retirement Community (CCRC) can greatly increase independence. A CCRC provides unique opportunities for a safe, meaningful and productive life as one grows older.
Twelve years ago, at age 75, my husband and I moved to Kendal at Longwood in Kennett Square, Pa., a CCRC founded more than 40 years ago by members of the Religious Society of Friends. It is committed to the intrinsic value of each individual, and it is our final home. Here we will have the benefits of assisted living and skilled nursing when needed. We quickly became part of a caring community: about 300 of us live independently, 50 in personal care and 50 in skilled nursing.
Entry fees vary from $70,400 for a studio to $107,500 for a basic one-bedroom, to $499,700 for a two-bedroom residence with a den, basement and two-car garage. The small cottages (studios and one-bedrooms) are a bargain for when those residents move to the Health Center (skilled nursing), because they continue to pay the same monthly fee as they receive premier nursing services as long as they live. The monthly fee (from $3,142 to $5,084) includes one meal, housekeeping and maintenance. There are nurses available 24/7. A Resident Support Fund assures no one is forced to leave.
Of course, CCRCs differ. Recent media articles disclosing abuse at some reinforce persistent negative images of "old people's homes," at the same time glitzy marketing focuses on elegant housing and perpetuates fantasies of bike-riding forever.
One must choose carefully. In his provocative 2015 keynote speech at the Aging in America Conference, gerontologist and ASA board member Ken Dychtwald recommended expanding Maslow's hierarchy of needs beyond self-actualization, which focuses on oneself, to legacy, which means serving and contributing to betterment of the human condition. A CCRC can create an environment conducive to achieving both of these goals, even as one accepts the diminishments of age.
An Ideal Culture
In her beautiful memoir, Let Evening Come: Reflections on Aging (New York: Doubleday, 1998), 87-year-old resident of Kendal at Longwood, Mary Morrison, identified her criteria for a creating a satisfactory retirement community: there are no activity directors for those living independently, and wheelchairs are allowed in the dining room. Simple. But profound. And evident at Kendal.
Kendal residents living independently take responsibility for community life. They sustain more than 100 committees and interest groups that respond to the interests and passions of each resident. A 16-member board of the Resident Association meets monthly to address resident concerns and fund committees. This includes support for a 10,000-book library, bi-weekly concerts, weekly films, popular "Saturday Night Live"–style programs and a website with daily menus, events and news.
Soon after arriving, almost all residents discover or create opportunities that may evolve to accommodate aging bodies and new insights. I started by caring for 36 bird feeders outside the nursing rooms, moved on to the less demanding flower arranging, then organized a "Women's Lives Book Group." Now I chair a "CHOICES at the End-of-Life" committee.
Others have different journeys: singers join the chorus; technicians learn the auditorium sound and light system, gardeners learn about "native plants" and put their fresh-picked vegetables on walkway benches for all to share. A few choose not to participate at all, and that choice is respected, as is the tradition of privacy in one's own cottage (it's understood that one should call before visiting). But the majority of residents enjoy working together maintaining woodland trails, mentoring newcomers eager to pot, weave, paint, quilt, improve their photography skills, write memoirs or discuss current events or the latest New Yorker. Friendships established when one arrives young and healthy deepen as one ages and provide invaluable support during crises, illness and loss. 
Inclusion, Connection Are Key
The criterion of "wheelchairs in the dining room" is a symbol of how every resident is valued and continues to be included as a part of the community for as long as possible. The benefits of this inclusive continuing care are immeasurable. A resident who lives independently returns from the hospital and then stays briefly in skilled nursing for physical therapy rather than going to a rehab facility. A spouse develops dementia and is moved to personal care, while her husband continues to live in their cottage, but still is able to wheel her around the grounds and bring her to meals and community events. Another suffers a debilitating stroke and now is brought to dine with her friends as well as to films, lectures, concerts and the CEO's forum, where she inevitably asks a challenging question.
There is an activity director for the Health Center, who creates a rich variety of daily events for our most disabled residents. Part of her job is to keep us all connected by recruiting volunteers to provide stories, songs, rides to our County Fair and dances with our local Dixie Boys band, and she assists with a "Music and Memory" program. When Alzheimer's care expert Teepa Snow comes to train staff, she also gives sessions for residents who want to learn how to communicate effectively with a spouse, a friend or a former neighbor who has dementia.
The older we get, the more we appreciate living in a place that will value us, no matter our diminishments.
---
Peggy Brick is co-editor of EXPERIENCES: Life in a Continuing Care Retirement Community, a recently published book available through Kendal; the founder of the Consortium on Sexuality and Aging, and, for the past ten years, instructor at Osher Lifelong Learning Institute.
Editor's Note: This article appears in the November/December 2015 issue of Aging Today, ASA's bi-monthly newspaper covering issues in aging research, practice and policy. ASA members receive Aging Today as a member benefit; non-members may purchase subscriptions at our online store or Join ASA.