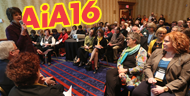 Day two of the 2016 Aging in America Conference has been overshadowed by the passage of the Older Americans Act reauthorization by the U.S. House of Representatives. And we couldn't be more happy about it. This important piece of legislation is the cornerstone of the services and supports that are vital to older Americas and the individuals who care for them. ASA Board Chair and longtime advocate Bob Blancato stated that "this is a victory for older Americans done in a bipartisan way and we are very happy about this decision by the House of Representatives today." This bill will now return to the Senate for consideration.
There's probably no better place to celebrate this news than at the Aging in America Conference, the largest multidisciplinary conference for professionals in the field of aging. Here's are what folks were saying on Twitter during day two of AiA16:
Unleashing the $8 Trillion Longevity Bonus
The morning general session featured Ken Dychtwald, Cynthia Hutchins and Olympia Terrell who reported Giving in Retirement: America's Longevity Bonus, a Merrill Lynch study conducted in partnership with Age Wave. The three speakers presented an optimistic twist on the future of aging, asking attendees to suspend their current thinking on old age and consider the possibilities if the millions of retired Americans were empowered to give, both their time and money, to charitable causes and organizations. 
In fact, retirees are currently the biggest givers in our nation, accounting for 42% of money given and 45% of hours volunteered. The session asked AiA16 attendees to find ways to tap into the talents, expertise, and experience of older adults who report that the "things" they most want to pass on are their values, life lessons and experiences. By creating avenues for older individuals to volunteer more of their time, not only would the field of aging find itself strengthened, but the nation as a whole would benefit from $8 trillion worth of knowledge and experience of American retirees.
50 is the new 50
Jo Ann Jenkins, CEO Of AARP, is on a mission to disrupt aging. She believes that by challenging what it means to grow old, we can change our culture and spark new solutions so that more people can choose how they want to live and age. She offered thought provoking ideas including asking, "What if we considered middle age to be 65 instead of 40?" And with notions of retirement evolving as people live longer and healthier lives, Jenkins offers a more holistic approach to finance questioning why we think about "saving money for retirement" rather than saving for life and for the things and experiences that make life meaningful. 
The first 100 people who arrived at the general sessions received a copy of Jenkins' new book, Disrupt Aging. And following her keynote she gave away books in the exhibit hall, and was on hand to autograph them. 
What the AiA16 community has to say
The AiA16 conference community has been sharing insights into what they are learning and connecting with each other on Twitter and the via the AiA16 mobile app. You can join the conversation on Twitter by following the conference hashtag, #AiA16.