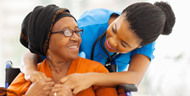 By Carol Marak
The aging business has grown extensively over the past decade. There are more services and products that help older adults live a better life today than ever before, and research and development indicate more growth and advancement. The next decade will supply health care and financial benefits to keep the boomer population thriving.
But despite the promising future, senior care providers remain suspicious that consumers don't fully comprehend the effort it takes to prepare for this stage. Thought leaders and professionals recognize that the population shift will have a remarkable effect on society. And the question that stops them dead in their tracks, "How do we convince people that preparation is essential to living a comfortable life during the elderly years?"
After reviewing several studies by the Inquiry, the Associated Press-NORC Center for Public Affairs, the AgeWave/Harris Interactive study, and Gauging Aging, SeniorCare.com discovered unsettling data:
7 out of 10 Americans will need some level of long-term care after age 65.
67% of Americans don't believe they will need aging care—ever.
One in 20 Americans will spend over $100,000 out-of-pocket for health care after 65.
33% will depend on family members for care.
50% will have private out-of-pocket expenditures for long-term care.
41% have discussed senior care preferences with family members.
35% have set aside money to pay for future needs.
And the rest? They underestimate the costs of nursing home care and overestimate the role of Medicare in paying for that care.
The data implies that the world is not ready to handle the aging-associated concerns. But for the individuals who think it through, here's how they plan to tackle the challenge.
79% will save money.
60% will work longer.
56% will cut expenses.
38% will relocate.
34% will downsize.
8% will move in with family.
Real-World Advice from Long-term Care Experts
It's encouraging to see that a few do take action, but what about those who don't? What can senior care providers and the government do to get more people to participate in retirement planning?
SeniorCare.com addressed the long-term care debate head-on and asked 44 industry experts for advice. The complete answers are in America has a Major Misconception on Aging report. But in short, here's what a selected few say:
"Assess your or a loved one's situation and start the conversation about future needs with family members so everyone can agree on a course of action." Tom Burke, American Health Care Association.
"Be aware of your family's medical history, so you can predict at some level the kinds of things you might face. Interact with older people to get a grasp on what aging looks like." Donna Schempp, Former Director Family Caregiver Alliance.
"We need more media coverage on the aging topic as well as more grassroots efforts. Employers certainly have an opportunity to step up and help provide education and services through Employee Assistance or Health & Wellness programs." Susan Baida, President, eCareDiary.com.
"Start having conversations with your family and decide how you want to age. Make a list of the values you wish to live by in your elderly years." Bruce Chernoff, CEO, The SCAN Foundation.
"Recognize changes that occur with natural human progression, and then seek out resources, tools and technology solutions that can make life better as your health changes." Laura Mitchell, Consultant on digital health and aging.
The Current View of Aging
Experts know that aging is normal and extends over one's entire life and that it's not a disease, nor a decline. It only means that older adults can be healthy and have high levels of independence and functionality while undergoing natural changes.
The Gauging Aging study reports that social, cultural, and economic factors shape the society's views on getting older. And the social impact on the public is not well accounted for in our dialog, like the media, or in public policy. Other obstacles that block real-world solutions:
The public sees aging as an opponent to fight against and to overcome.
The public views aging, and it's related challenges as the responsibility of the individual.
The public misunderstands how longevity will affect our society and assumes it's not their problem to solve.
The general public believes that sufficient community-based services already exist, and no more are needed.
The public sees Social Security as mismanaged and doomed.
The public does not relate to the discrimination that older adults encounter.
How do we change the conversation from, "I won't need it, so it's not my problem," to one that comprises, "It takes a village?"
In my estimation, there's an error in communicating on what occurs when growing older and what is the experience when one does. Both, the general public, and experts miss the mark. Should providers drop the scare techniques when marketing long-term care and stick to the facts and offer education? Wouldn't that promote better decision-making for families? Aging care is tough, and what's needed is more knowledge and understanding by the consumers and enhanced listening by the providers.
What do you think?
---
Carol Marak is a contributor for the senior living and healthcare market. She advocates older adults and family caregivers by writing on tough topics like chronic issues, senior care, and housing. Read her work at SeniorCare.com. Learn about Carol Marak on About.me and find her on LinkedIn.