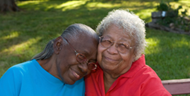 By Jeanette Takamura
Enacted in 1965 before the Social Security Act amendments established Medicare and Medicaid, the Older Americans Act (OAA) declared a national rights-based commitment to the "inherent dignity" of older Americans. Title I of the OAA calls upon federal, state, and local governments and tribes to enable a good quality of life for older persons in their later years (AOA, n.d.). To realize its vision, the OAA relies upon the ingenuity and resourcefulness of the nationwide aging network.
Initial OAA provisions did not address the differential treatment and social exclusion of underserved racial or ethnic minority elders, nor did they acknowledge the vulnerabilities of older women or sexual minorities. These were ideas whose time had not yet come.
Women's "Stalled Revolution"
Warner (2014) assesses the slow ascension of women in the United States to leadership roles as indicative of "a stalled revolution" despite some gains in gender equality. The United States lags behind the world community on several dimensions of gender equity, which the Organisation for Economic Co-operation and Development (OECD) judges a "moral imperative" (OECD, 2012; Economist.com, 2013).
From the 1938 Fair Labor Standards Act to the 2009 Lilly Ledbetter Fair Pay Act, a number of laws provide the legal basis for pay equity for women. Sex (gender) was added to race, color, religion, and national origin in the anti-discrimination provisions of President Lyndon B. Johnson's 1967 Executive Order 11375. The 1978 Pregnancy Discrimination Act, amending Title VII of the Civil Rights Act, and the 1993 Family and Medical Leave Act help to protect and ease work−life dilemmas faced by mothers. Yet, the data are undeniable. Women in the United States do not enjoy pay equity, they struggle to manage work and motherhood, and they find their resources inadequate in old age. When compared with other OECD nations, the U.S. record related to several gender equity indicators is poor, bearing ramifications for women in their older years (OECD, 2012; Economist.com, 2013). 
The World Economic Forum's (WEF) The Global Gender Gap Report 2014 offers a 136-nation gender equity analysis. Overall, the United States ranks twentieth out of 142 nations. It ranks sixty-second for health and survival, sixty-fifth for gender wage gap, and forty-seventh for female labor force participation (WEF, 2014).
While on average, U.S. female labor force participation may not be as high as in other OECD countries, workforce participation by women ages 55 to 64 rose from 41.3 percent to 59.4 percent between 1980 and 2012. One-third of older women expect to be in the workforce in 2020 (U.S. Department of Labor, Women's Bureau, n.d.), likely because their pensions and savings will be insufficient given the extending arc of human longevity (Social Security Administration, 2013; Women's Institute for a Secure Retirement [WISER], 2014). Particularly at risk are women who are single, of color, and living alone in old age.
The OECD did not analyze indicators for eldercare, or for caring for people with disabilities. Nonetheless, the United States ranks last among developed OECD nations on paid maternity leave provisions and, unlike thirteen European Union nations and Canada, lacks universal or nearly universal childcare for young children. These issues have long histories of support by influential advocates, unlike those of paid eldercare leave and comprehensive long-termcare reform, which do not have a comparable foothold on national and state policy agendas. 
As Hooyman (2014) notes, older age and disability, along with gender, race, immigrant status, and social class, all contribute to the compounded likelihood of marginalization. In focusing specifically on family caregiving as a part of community-based long-term care, she writes that older women and our informal and formal long-term elder caregivers are caught in a web of marginalization. Yet in 2009, uncompensated women caregivers performed work valued at more than $522 billion dollars for eldercare alone (Chari et al., 2014).
As unpaid or underpaid caregivers, women often work under conditions that contribute to their vulnerability, victimization, and disadvantage over the life course, leaving them fewer options for financial security. Insufficient caregiving support stunts their career trajectories, earnings levels, and retirement savings, and increases their retirement insecurity. Without assistance, they are at risk of physical and mental health problems (Schulz and Sherwood, 2008).
For a brief moment, Title VIII of the Affordable Care Act (ACA), the Community Living Assistance Services and Supports Act (CLASS Act), offered hope. Aiming to make quality community-based long-term services and supports affordable, CLASS was bold, wellintentioned, and flawed. Self-funded and voluntary, it could not prevent adverse selection. That is, it was more likely to attract persons with health risks than those in good health.
Lacking an actuarially sound risk pool common to universal participation schemes, CLASS was unsustainable and was repealed via the American Taxpayer Relief Act of 2012 (American Taxpayer Relief Act of 2012, 2012), which mandated a Commission on Long-Term Care to develop a financing plan for a system of long-term services and supports. Failing to reach consensus on a financing plan, the Commission recommended that family caregiving be made a national priority (Commission on Long-Term Care, 2013). Missing from the Commission's recommendations was an acknowledgment of the financial losses, health and mental health risks, and social isolation that frequently are a part of caregiving.
If women's and childcare issues remain inadequately addressed in the national policy agenda, can older women and elder caregivers garner support to secure desired long-term services and assistance?
Research on LGBT Health and Mental Health Risks
There has been incremental progress toward the equitable treatment of diverse groups over nearly five decades. Compared to other groups' equity battles, the public LGBT effort has been recent. The years 2013 and 2014 were a watershed for the gay community, perhaps because of younger generations' comparative ease with sexual diversity (Smith, 2011), advocacy from large numbers of family members with lesbian, gay, bisexual, and transgender (LGBT) loved ones, and the sway of high profile, openly LGBT public figures. But work remains—same-sex marriage still is illegal in fifteen states, and Fredriksen-Goldsen and Espinoza (2014) note that the proposed Employment Non-Discrimination Act (ENDA) still before Congress is needed to address discrimination against sexual orientation and gender identity in employment.
Because most older generations closeted their sexual identities to avoid, minimize, and manage discrimination and danger, research on LGBT individuals and couples was challenging. Researchers had to overcome selection bias, and sampling and other research methods were complicated. With the legalization of same-sex marriage, and of protections extended by federal and state laws and policies, should come a rich body of rigorous empirical research on LGBT health and mental health risks. Cause for optimism resides in Fredriksen-Goldsen's and Espinoza's observation that research has begun to capture the impact of state policies that provide LBGT individuals legal rights (Fredricksen-Goldsen and Espinoza, 2014).
New research must heed the important influence of social determinants of health for all diverse populations. For LGBT individuals, of particular interest should be whether the growing social acceptance of sexual minorities is reducing health and mental health disparities. Research is needed to determine also whether disparities identified for aging LGBT people worsen or improve in their later years of life.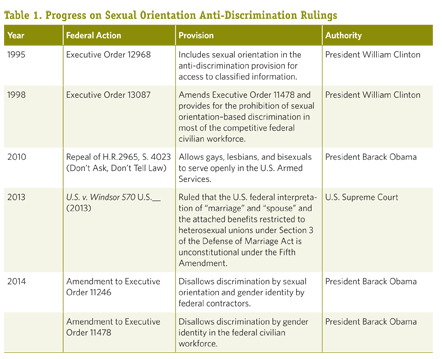 Work Remains to End Health Racial and Ethnic Health Disparities
Racial and ethnic diversity was first recognized in the 1975 OAA Title III grants to American Indian tribal organizations, and then broadly through the 1978 OAA reauthorization (Hyde and Torres-Gil, 1991). OAA targeting was mandated in 1978, using intrastate funding formulas to prioritize services to persons with the most pronounced economic and social needs—poor, disabled, isolated elders, many of whom are racial and ethnic minority older Americans. Currently, the OAA gives "particular attention to low-income minority older individuals and older individuals residing in rural areas" (AOA, n.d.), older persons with limited English proficiency, and older persons who are at risk for institutionalization. Since 1988, Title VI has directed resources to indigenous elders.
The strengths of many minority racial and ethnic populations are battered by egregious discrimination, marginalization, trauma, abuse, and macro- and micro-aggressions. African Americans, Native Americans, Hispanic immigrants to border states, and immigrants from the Middle East, Africa, and Asia—all of whom differ by race or ethnicity, primary language spoken, or religion—feel neither welcome nor safe in many communities. 
Noting rising longevity and disability rates in both the Hispanic and Asian American populations, Markides and Rote (2014) (see article on page 19) and Yoo and colleagues (2014) (see article on page 74) discuss complex within-group differences in each population. Non-white Hispanics have roots in Mexico, Latin America, and the Caribbean. Asian Americans trace ancestries to nearly thirty countries with more than 800 languages and dialects (Asian American Health Initiative, 2012) and native peoples belong to nearly 575 tribes (Braun and LaCounte, 2014). 
Markides' and Rote's (2014) comparative analyses of the racial and ethnic differences in mortality, life expectancy, and disability rates among non-Hispanic African Americans, Hispanics/Latinos, Asian Americans and Pacific Islanders, and American Indians and Alaska Natives illuminate the Hispanic Paradox now evident in African immigrant populations (i.e., Hispanic and African immigrants have low mortality rates despite their poor socioeconomic status). The observed foreign-born advantage for Hispanic men holds true for African American men and women, but does not apply to foreignborn Asians. However, the disability advantage of incoming foreign-born African Americans and Hispanic Americans is not sustained over time. Life in the United States threatens many immigrants' health: immigrants often hold physically dangerous jobs, adopt unhealthy dietary and other health patterns, and cannot access affordable, culturally responsive healthcare.
Although cancer is the leading cause of Asian deaths, depression and a high suicide rate among elders are of paramount concern. Yoo and colleagues (2014) (see article on page 74) describe Asian and Hispanic mental health needs, noting that older women in both groups have high suicide rates, depression, and other mental health conditions. The Hamilton-Madison House in New York City and the Stanford Patient Education Resource Center's evidence-based patient-activation program for Hispanic individuals with Type 2 diabetes (Alvarez, 2014) (see article on page 41) are upheld as exemplars in the service of racial and ethnic minorities, but these require an adequate supply of culturally competent professionals.
McNeill, Hayes, and Harley (2014) (see article on page 46) reference the ACA's inclination toward population-based prevention and intervention approaches and the challenges inherent in designing and applying effective evidence-based methods for racial and ethnic minority populations. They strive to accomplish the latter, using data and evidence-driven approaches to examine health disparities among African Americans in Mississippi, and to identify factors tied to observed disparities, considerations that shape effective prevention and treatment interventions, and policy provisions that could incentivize responsive, quality, cost-effective care by informed providers. 
Over the past fifteen years, there have been targeted initiatives to promote health equity. CLAS (Culturally and Linguistically Appropriate Services in Health Care), federal standards developed in 2000 and updated in 2013, guides health providers nationwide (HHS, Office of Minority Health, n.d.). Several congressional proposals have aimed at comprehensive health disparities interventions. These are shown in Table 2 (see below).
Our nation's policy makers must prepare for the implications of the demographic up-ending expected by 2043 when persons of color will comprise the majority (U.S. Census Bureau, 2012). Will equity guarantees be needed for white populations? Will populations of color continue to experience health disparities and remain underserved? Will caregiving models be culturally appropriate? If health and social disparities are not declining, a raft of questions may be expected about the dynamics and structure of power and privilege in the United States. 
Cross-Cutting Policy and Administrative Advancements and Research Issues
Lurie and her colleagues have argued that public sector leadership, specifically by the federal government, is essential to spur the elimination of health disparities (Lurie, Jung, and Lavizzo-Mourey, 2005). Agencies such as the Centers for Medicare & Medicaid Services administer programs, purchase services, and can require contractors to collect quality improvement data to assess disparities by race, ethnicity, and socioeconomic status. Further, Lurie et al. note that federal civil rights offices can monitor equity in program and service access and quality. 
Provisions in the ACA support health equity for diverse underserved populations. States can expand Medicaid eligibility to a significant number of the uninsured. Many options exist to increase responsiveness to the underserved, including the following: multidisciplinary team care; accountable care organizations; health homes; collaborative and integrative models involving families and community providers; navigators; Medicaid-Medicare benefit and care and funding coordination; and, coordination of care transitions.
A major structural reorganization established the Administration for Community Living (ACL) in 2012, with the Administration on Aging as a component. The reorganization was accomplished adroitly by using existing disability and aging authorizations, administrative initiatives, and a federal register announcement. Ageneutral access to community-based long-term services and programs for persons with disabilities and the LGBT population should be longterm outcomes of the ACL. Its net impact upon aging services and programs will be of as much interest to the aging network as to LGBT and disability communities.
Large and looming questions will determine whether health and social interventions for diverse populations will be evidence-based and responsive to the social, cultural, economic, geographic, historical, and other factors that distinguish their members. Amid shrinking resources, there are questions about the availability of research funding to pursue in-depth and broadly the status, disparities, risk factors, and health beliefs and behaviors of diverse populations. These questions include whether special effort can be exerted and sustained to prepare significant numbers of women, LGBT individuals, and racial and ethnic minorities for research careers. They also concern whether research—community-based participatory research or not—can be supported to design and test rigorous, effective prevention and treatment interventions that are sensitive to the life experiences of persons who must cope with discrimination.
Conclusion
For at least the foreseeable future, the ideals presented in Title I of the OAA will remain aspirations. Competing domestic, defense, and foreign-policy priorities, major shifts in the national economy, and a polarized partisan policy environment present difficult realities that challenge social and health policy advances. Unfortunately, the persistence of policy gridlock and anti-government sentiment is freezing the public sector's capacity to respond. This may accelerate the privatization of programs and services. Then, if assertions by Lurie and her colleagues (2005) are correct, cost-effective, responsive attention to underserved, at-risk populations will be even more difficult to achieve. 
The value set presented in Title I of the OAA should influence how the aging network responds to and participates in the ACA's implementation. Weak public support for aging services programs will mean that the onus for caregiving will continue to be carried by female family members, and families must work to afford formal communitybased services and support. For persons of color, particularly single women living alone, disabled individuals, and LGBT individuals, available resources typically are less than adequate, costly, and not culturally responsive. 
The thrust of the Civil Rights Act and other laws adheres to the belief that equity equals ethics and vice versa. Yet, progress toward the reduction and elimination of discrimination and health disparities seems to reflect ambivalence towards populations of color, women, LGBT individuals, elders, and people who have disabilities. Recent reactions by border communities to illegal youth migrants are not easily reconciled with the promise inscribed one of the nation's most iconic symbols, the Statue of Liberty—to which immigrants have looked with hope since 1886. America's promise has seemed more myth than reality
for women and for those who are different by virtue of race or ethnicity, sexual orientation, and other dimensions of personhood. 
---
Jeanette Takamura is dean of the Columbia School of Social Work in New York City, New York.
Editor's Note: This article is taken from the winter 2014/15 issue of ASA's quarterly journal, Generations, an issue devoted to the topic "Social and Health Disparities in America's Aging Population" ASA members receive Generations as a membership benefit; non-members may purchase subscriptions or single copies of issues at our online store. Full digital access to current and back issues of Generations is also available to ASA members and Generations subscribers at Ingenta Connect. For details, click here.
Join ASA to recieve an automatic subscription to Generations as well as many other benefits of membership!
---
References
Asian American Health Initiative. 2012. "Who Are Asian Americans?" Retrieved July 10, 2014.
Alvarez, S. 2014. "Type 2 Diabetes Program Geared Toward Latinos Fosters More than Self-management." Generations 38(4): 41–5.
American Taxpayer Relief Act of 2012. 2012. Pub. L. No. 112-40. Retrieved December 17, 2014.
Braun, K. L., and LaCounte, C. 2014. "The Historic and Ongoing Issue of Health Disparities Among Native Elders." Generations 38(4): 60–9.
Chari, A. V., et al. 2014. "The Opportunity Costs of Informal Eldercare in the United States: New Estimates from the American Time Use Survey." Health Services Research. doi: 10.1111/1475-6773. 12238. Retrieved October 25, 2014.
Commission on Long-Term Care. 2013. A Comprehensive Approach to Long-Term Services and Supports. Retrieved on June 30, 2014.
Economist.com. 2013. "The Glass Ceiling Index: Where It Is Best to Be a Working Woman in the Rich World." Retrieved June 30, 2014.
Fredriksen-Goldsen, K. I., and Espinoza, R. 2014. "Time for Transformation: Public Policy Must Change to Achieve Health Equity for LGBT Older Adults." Generations 38(4): 97–106.
Hooyman, N. R. 2014. "Social and Health Disparities in Aging: Gender Inequities in Long-term Care." Generations 38(4): 25–32.
Hyde, J. C., and Torres-Gil, F. 1991. "Ethnic Minority Elders and the Older Americans Act: How Have They Fared?" Generations 15(3):57–61.
Lurie, N., Jung, M., and Lavizzo-Mourey, R. 2005. "Disparities and Quality Improvement: Federal Policy Levers." Health Affairs 24(2): 354–64.
Markides, K. S., and Rote, S. 2014. "Aging, Minority Status, and Disability." Generations 38(4):19–24.
McNeill, T. P., Hayes, S. C., and Harley, J. 2014. "Addressing Health Disparities Through Recommendations from the Jackson Heart Study." Generations 38(4): 46–51.
Organisation for Economic Co-operation and Development (OECD). 2012. "Closing the Gender Gap: Act Now." http://dx.doi.org/10.1787/9789264179370-en. Retrieved July 1, 2014.
Schulz, R., and Sherwood, P. R. 2008. "Physical and Mental Health Effects of Family Caregiving." American Journal of Nursing 108 (9 Suppl): 23−7.
Smith, T. W. 2011. "Public Attitudes Toward Homosexuality." NORC/University of Chicago. Retrieved December 10, 2014.
Social Security Administration. 2014. Fast Facts & Figures about Social Security, 2014. www.ssa.gov/policy/docs/chartbooks/fast_facts/. Retrieved December 17, 2014.
U.S. Administration on Aging (AOA). n.d. Unofficial Compilation of the Older Americans Act of 1965, as Amended in 2006 (Public Law 109-365). Retrieved December 17, 2014.
U.S. Census Bureau. 2012. "U.S. Census Bureau Projections Show a Slower Growing, Older, More Diverse Nation a Half Century from Now." Retrieved July 10, 2014.
U.S. Department of Health and Human Services (HHS), Office of Minority Health. n.d. Fact Sheet: National Standards for Culturally and Linguistically Appropriate Services in Health and Health Care, National CLAS Standards. www.thinkculturalhealth.hhs.gov/pdfs/NationalCLASStandardsFactSheet.pdf. Retrieved June 30, 2014.
U.S. Department of Labor, Women's Bureau. n.d. Fact Sheet: Older Women and Work. www.dol.gov/wb/media/reports/WB_Older-Women_v10%20WEB.pdf. Retrieved July 2, 2014.
Yoo, G. J., et al. 2014. "Addressing Health Disparities Among Older Asian Americans: Data and Diversity." Generations 38(4): 74–81.
Warner, J. 2014. Leadership by the Numbers. Fact Sheet: The Women's Leadership Gap. Washington, DC: Center for American Progress. http://cdn.americanprogress.org/wpcontent/uploads/2014/03/WomenLeadersh…. Retrieved June 30, 2014.
Women's Institute for a Secure Retirement (WISER). 2014. "And . . . the Pay Gap's Connected to the Retirement Gap." Retrieved July 1, 2014.
World Economic Forum (WEF). 2014. The Global Gender Gap Report 2014. Retrieved December 10, 2014.