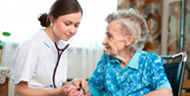 By Matthew Press, Rahul Rajkumar, and Patrick Conway
The Centers for Medicare & Medicaid Services (CMS) has long been an integral part of the fabric of the nation's health care system. But today—in addition to providing health insurance to more than 100 million beneficiaries through Medicare, Medicaid, and the Children's Health Insurance Program (CHIP)—CMS has also become a leader in transforming health care delivery in the United States. Accelerated by the passage in 2010 of the Affordable Care Act (ACA), CMS has embarked on a large-scale effort to achieve better care, smarter spending, and healthier people. To achieve these goals, CMS is taking a multi-pronged approach based in large part on the principle that payment should be tied to quality of care, rather than volume of care. This article describes the programs and models CMS is employing to transform health care delivery, reviews early results from these efforts, and identifies future opportunities to drive further change.
Payment Reform as a Driver of Transformation
Until recently, payment for health care in the United States was almost exclusively fee-for- service. This system, and its provider incentives, may have contributed to higher health care costs without a commensurate increase in quality. Care was fragmented, producer-centered, and volume-driven. CMS aims for a future in which care is coordinated, people-centered, and outcomes-driven.
One driver of this transformation will be new payment models and policies that reward value, not volume. Payment to health care providers can be viewed along a continuum (see Table 1, below). In Category 1, fee-for-service payments are based on volume of services and not linked to quality or efficiency. In Category 2, payment is still fee-for-service but at least a portion of payments vary, based on the quality or efficiency of health care. Category 3 includes alternative payment models built on a fee-for-service architecture. Under these models, payments are still triggered by delivery of services, but there are opportunities for shared savings (or two-sided risk) linked to effective management of a population or an episode of care. Finally, Category 4 is population-based payment, in which payment is not triggered by service delivery (and therefore not linked to volume).
Table 1: Payment Taxonomy Framwork
Category

Description

Medicare FFS

1: Fee for service—no link to quality
Payments are based on volume of service and not linked to quality or efficiency.

Limited in Medicare fee-for-service
Majority of Medicare payments now are linked to quality

2: Fee for service—link to quality
At least a portion of payments vary based on the quality or efficiency of health care delivery.

Hospital Value-Based Purchasing
Physician Value-Based Modifier
Readmissions/Hospital-Acquired Condition Reduction Program

3: Alternative payment models built on fee-for-service architecture
Some payment is linked to the effective management of a population or an episode of care. Payments still triggered by delivery of services, but opportunities for shared-savings or 2-sided risk.

Accountable care organizations
Medical homes
Bundled payments
Comprehensive primary care initiative
Comprehensive ESRD
Medicare-Medicaid Financial Alignment Initiative Fee-for-Service Model

4: Population-based payment
Payment is not directly triggered by service delivery, so volume is not linked to payment. Clinicians and organizations are paid and responsible for the care of a beneficiary for a long period (e.g., ≥1 year).

Eligible Pioneer Accountable Care Organizations in years 3–5

Source: Adapted from Rajkumar, R., Conway, P. H., and Tavenner, M. 2014. "CMS—Engaging Multiple Payers in Payment Reform." Journal of the American Medical Association 311: 1967−8.
In January 2015, U.S. Health and Human Services Secretary Sylvia M. Burwell made a historic announcement that the Department has set a goal of tying 30 percent of traditional Medicare payments to quality or value through alternative payment models (Categories 3 and 4) by the end of 2016, and 50 percent by the end of 2018. In addition, a goal was set to tie 85 percent of all traditional Medicare payments to quality or value (Categories 2, 3, and 4) by 2016 and 90 percent by 2018.
CMS already has moved the majority of Medicare payments out of Category 1 and into the other categories along this continuum through implementation of numerous legislative provisions, many of which stem from the ACA. For example, statutory programs—such as the Hospital Value-Based Purchasing Program, the Physician Value-Based Modifier, and the Hospital Readmissions and Hospital-Acquired Condition Reduction Programs—all link payment to quality (Category 2). Through these programs and others, by 2017, 8 percent of a hospital's payments, and up to 9 percent of a physician's payments, will be tied to efficiency, quality reporting, and quality performance (opportunity for either upward or downward adjustment).
In addition, CMS has implemented a new program, the Medicare Shared Savings Program, and is testing several new payment and delivery system models that are firmly planted in Category 3 (alternative payment models), including accountable care organizations (ACO), primary care medical homes, bundled payments, and others. Thousands of providers and millions of beneficiaries across the country are participating in these alternative payment models. CMS is also using population-based payments (Category 4) in certain models. In the Pioneer ACO Model, eligible participants can move to this payment mechanism in the final two years of the model. As of March 2015, about 20 percent of traditional Medicare payments were in alternative payment models, up from almost none in 2011.'
CMS can drive great improvement in the delivery of health care through these changes; however, to reach the desired future state, other governmental and commercial payers also must move toward alternative payment models and minimize fee-for-service payments that are not linked to quality or value. If some payers remain in Category 1, while others move payments into categories 2 through 4, providers will face conflicting incentives and find it more difficult to transform their systems to achieve high-value care for their populations.
To foster payment reform across multiple payers, CMS convenes payers to participate jointly in new models, incentivizes providers to bring other payers into new payment models, and supports state-led multi-payer payment reforms. Other strategies, such as data transparency and public reporting of performance data, also are key to achieving the goals of better care, smarter spending, and healthier people. To this end, CMS has launched the quality reporting websites Hospital Compare and Physician Compare, along with other data releases, and will continue to make data transparency a component of the overall strategy to transform health care delivery.
The Center for Medicare & Medicaid Innovation
The Center for Medicare & Medicaid Innovation, or the Innovation Center, is a major force behind many of the payment and policy changes CMS is advancing. The Innovation Center's purpose is to test innovative payment and service delivery models that will reduce expenditures and improve quality for Medicare, Medicaid, and CHIP beneficiaries.
Since its launch in 2010, the Innovation Center has developed an extensive portfolio of models to serve this purpose, leveraging the many years of experience at CMS developing and conducting demonstration projects (e.g., the Premier Hospital Quality Incentive Demonstration). The portfolio includes several ACO models (e.g., the Pioneer ACO Model and the Advanced Payment ACO Model), advanced primary care models (e.g., the Comprehensive Primary Care Initiative and the Multi-Payer Advanced Primary Care Practice Demonstration), and the Bundled Payments for Care Improvement Initiative. In addition to these models, the Innovation Center has led large-scale quality improvement efforts (e.g., Partnership for Patients), made substantial investments in state-led care transformation (e.g., the State Innovation Models Initiative), and made more than 100 Health Care Innovation Awards across the country to providers and other organizations to implement local innovations aimed at improving quality and reducing costs of care.
All Innovation Center models have an embedded learning system allowing participants in the models to share best practices with each other and inform the development and implementation of other models in the Innovation Center portfolio.
The state-led efforts in which the Innovation Center has partnered are a particularly exciting and novel approach CMS has taken to drive the transformation of care delivery. In the first round of the State Innovation Models Initiative, six states received Test awards and nineteen states received Design (or Pre-testing) awards to facilitate the implementation and development, respectively, of broad-based State Health Care Innovation Plans. This has allowed states to plan, design, test, and support new payment and service delivery models using the tools and policy levers available at the state level, including multi-payer coordination. At the end of 2014,
an additional eleven states received Test awards and twenty-one (seventeen states, three territories, and the District of Columbia) received Design awards in the second round of the Model.
In another initiative, called the Medicaid Innovation Accelerator Program, the Innovation Center is investing more than $100 million in technical assistance to states engaged in care transformation. States are offered technical assistance in areas such as data analytics, quality measurement, model development, dissemination of best practices, and rapid cycle evaluation. The program, announced in July 2014, will help states improve care delivery in a variety of areas, including substance use disorders, behavioral health, long-term services and supports and community integration, superutilizers of health care services, and perinatal health care.
Early Signs of Progress
CMS's multi-pronged approach to transforming the health care delivery system is showing progress toward the goals of better care, smarter spending, and healthier people. To date, national progress is reflected in several important measures. First, all-cause thirty-day hospital readmission rates among Medicare beneficiaries have dropped steadily, from 19 to 20 percent to less than 18 percent. Second, from 2010 to 2013, hospital-acquired conditions dropped 17 percent overall. This unprecedented achievement translates into an estimated 50,000 lives saved; 1.3 million injuries, infections, and adverse events avoided; and, almost $12 billion in cost-savings. Several specific areas of harm have declined dramatically over the past few years, including a 62.4 percent decrease in ventilator-associated pneumonia, a 12.3 percent decrease in central line–associated bloodstream infections, and a 14.2 percent decrease in venous thromboembolic complications. Third, Medicare per capita spending growth has reached historic lows. In 2013, growth was just 0.35 percent. While there are multiple factors contributing to the cause of this decline, many experts believe that delivery system reform is key to slowing spending.
Many of the new payment and delivery system models being tested by the Innovation Center are also showing early signs of a positive impact. For example, the Medicare Shared Savings Program and the Pioneer ACO Model are two pillars of CMS's ACO portfolio, which is designed to promote shared accountability across providers, increase coordination of care and population management, and facilitate investments in infrastructure and redesigned care services. Currently, 424 ACOs are serving 7.8 million Medicare beneficiaries. Last year, these ACOs produced total program savings of $417 million.
The Pioneer ACOs improved in twenty-eight out of thirty-three quality measures (mean improvement from 71.8 percent to 85.2 percent) and improved patient experience in six out of seven measures. Shared Savings Program ACOs in the first two years improved on thirty of the thirty-three quality measures, including patients' ratings of clinicians' communication, beneficiaries' rating of their doctors, and high blood pressure screening. They also outperformed group practices reporting quality on seventeen out of twenty-two measures.
There also are early promising results from some of the Innovation Center's patient- centered medical home (PCMH) models. The Comprehensive Primary Care Initiative is a multi-payer model designed to support primary care practice transformation through enhanced, non–visit-based payments (care management fees and shared savings), data feedback, and technical assistance. This model is one of the most significant investments in primary care transformation in U.S. history. Nearly 500 primary care practices from seven discrete geographic regions of the country are participating (caring for 2.6 million patients), along with Medicaid and commercial payers. Practices in the model must transform the care they provide to serve five key functions: risk-stratified care management; access and continuity; planned care for chronic conditions; coordination of care across the medical neighborhood; and, patient and caregiver engagement.
In Year 1 of the model, practices increased the staff providing care management by 1,100 and deployed patient shared decision-making tools to address prostate cancer screening, diabetes medications, management of acute low back pain, and more. Total costs of care (Medicare Parts A and B) for beneficiaries in Comprehensive Primary Care Initiative practices declined by about 2 percent in comparison to control practices. When factoring in care management fees, these savings made the model nearly cost-neutral in its first year.
The Road Ahead
Looking forward, CMS will continue to push toward its goals of better care, smarter spending, and healthier people through a variety of mechanisms. In particular, the Innovation Center will continue to focus on excellence in operationalizing and evaluating its models. For example, the Bundled Payments for Care Improvement Initiative has four models, all of which test payment in the form of a bundled cost of services for an episode of care (acute and/or post-acute care), with quality measures related to the episode. There are thousands of participants in this initiative, and we are performing an extensive evaluation of its impact on cost and quality. The Innovation Center also will continue to develop new models to round out its portfolio. It recently launched the Oncology Care Model, which is both a payment and care delivery model for beneficiaries with cancer. Announced in October 2014, the Transforming Clinical Practice Initiative is a large-scale quality improvement and care redesign effort focused on ambulatory practices.
All Innovation Center models are assessed on whether or not they meet statutory criteria for expansion (reduce spending without reducing quality, or increase quality without increasing spending). Evaluating Innovation Center models also provides valuable insights into how to best transform care delivery. These insights help in- form CMS policies and programs.
CMS is at a unique point in its fifty-year history. While the agency continues to serve as the nation's largest health insurer and provides benefits to more than 100 million Americans, CMS also is transforming the nation's health care delivery system to achieve better care, smarter spending, and healthier people through several innovative models, programs, and policies. Transformation takes time, but we are already seeing a positive, tangible impact from these innovations on the lives of Americans. To drive further change and reach the goals announced by the Secretary, CMS will continue to partner with payers, providers, state governments, beneficiaries, and other stakeholders to find ways to work together to reduce patient harm, improve coordination of care, and provide Americans with the health care they deserve.
---
Matthew Press, M.D., M.Sc., is senior advisor and medical officer, Office of the Director, at the Center for Medicare & Medicaid Innovation (the Innovation Center) in Baltimore, Maryland. Rahul Rajkumar, M.D., J.D., is acting deputy director for Programs and Policy at the Innovation Center. Patrick Conway, M.D., M.Sc., is acting principal deputy administrator, chief medical officer, and deputy administrator for Innovation and Quality, as well as director of the Innovation Center, and director of the Center for Clinical Standards and Quality.
Editor's Notes:
The entire Summer 2015 issue of Generations is available on AgeBlog thanks to the generous support of The Benjamin Rose Institute on Aging, Compassion & Choices and Robert Wood Johnson Foundation President's Grant Fund of the Princeton Area Community Foundation. Click here to read more.
This article is taken from the Summer 2015 issue of ASA's quarterly journal, Generations, an issue devoted to the topic, "Medicare at 50." ASA members receive Generations as a membership benefit; non-members may purchase subscriptions or single copies of issues at our online store. Full digital access to current and back issues of Generations is also available to ASA members and Generations subscribers at Ingenta Connect. For details, click here.