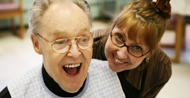 Editor's Note: This article appears in the May/June, 2011, issue of Aging Today, ASA's bi-monthly newspaper covering advances in research, practice and policy nationwide. ASA members receive Aging Today as a member benefit; non-members may purchase subscriptions at our online store
By Caitlin Connolly and Robyn Golden
Our nation is ill-prepared to meet the burgeoning health and social needs of older adults and their families. There must be an investment in strengthening and expanding the eldercare workforce, and an emphasis on training all healthcare providers in geriatrics.
By 2030, one in five Americans will be age 65 or older. Ninety percent of them will have at least one chronic condition, and 20% will have five or more. These conditions require specialized care and a team of care providers who have a diverse range of skills for addressing physical, mental, cognitive and behavioral health, as well as social and emotional well-being.
"I've been in a caregiving role off and on since the 1980s," said Nancy Lundebjerg, deputy executive vice president and chief operating officer of the American Geriatrics Society. "I came to the Society because I believed that we could and must do better for America's elders. We've made progress but have a long way to go." Lundebjerg also co-convenes the Eldercare Workforce Alliance with Steven Dawson of PHI; both organizations are working to address this eldercare workforce shortage.
How Did We Get Here?
The causes of the workforce shortage range from low pay to the complexity in caring for frail elders with multiple chronic conditions. For example, although geriatricians score highest on career satisfaction surveys, they are among the lowest paid of physicians. At this juncture, physician specialties that are procedure-heavy (e.g., dermatology, interventional cardiology) pay the most, making primary care careers such as geriatrics, general internal medicine and family practice less attractive to young doctors, fresh out of medical school, who are carrying an average debt of $158,000. Other disciplines that bill services by a fee schedule (geriatrics nurse practitioners) are in a similar situation.
The pay scale is even more dire for direct-care workers who provide the majority of hands-on care to America's elders. These frontline workers—nursing assistants or aides, home health aides and personal- and home-care attendants—are a vital component to meeting the needs of an expanding older adult population. They spend the most time with older adults and are critical members of the team. Yet 46% of direct-care worker households rely on some type of public benefit such as food stamps or Medicaid. Even more alarming, over the past 10 years, real wages adjusted for inflation (in 1999 dollars) for home health aides have declined to below $8 per hour, and for personal-care aides, remain around $7.50 an hour, according to PHI.
Compounding the shortage of workers entering the field of geriatrics is the lack of education and training provided to all members of the workforce. Despite the fact that 75% of social workers say they work with older adults, social work training and competency requirements do not focus on this population.
Less than 5% of social workers receive training in gerontological social work, according to the New York Academy of Medicine's Social Work Leadership Institute (SWLI). Only 1% of registered nurses are certified as gerontological nurses, according to Gerontological Nursing, a text by Kristen Mauk; the majority of schools of nursing have no faculty members certified in gerontological nursing by the American Nurses Credentialing Center.
Considering the rapid aging of our population, all advanced practice adult nurses should have some training in geriatrics. This will require an investment in creating faculty with specific geriatrics and gerontological expertise to ensure the workforce is adequately trained.
Who Pays for Lack of Training?
Without an adequately sized and prepared workforce, consumers and caregivers suffer. Currently, family caregivers are the largest piece of the workforce, providing an economic value estimated at more than $375 billion, according to a January 2011 study by the National Alliance for Caregiving and UnitedHealthcare.
The National Alliance for Caregiving estimated in 2009 that there were 43.5 million unpaid caregivers providing care annually to someone age 50 years or older, making family caregivers the backbone of our eldercare. These caregivers need and deserve access to training opportunities and support services.
The same 2009 National Alliance for Caregiving and AARP study reported three-quarters of caregivers felt they needed more help with or information about at least one topic related to caregiving. And it noted that when seeking information related to caregiving, more than one-third turned to health or caregiving providers.
"While family caregivers continue to struggle to provide everyday care for their loved ones, the training that nurses and social workers in particular could provide would help enormously," said Gail Hunt of the National Alliance for Caregiving. "Tasks around wound care or how to deal with Alzheimer's behaviors or how to resolve sibling issues, for example, are where the eldercare workforce could help to support family caregivers."
As the number of family caregivers shrinks and the baby boomer generation ages, we'll find ourselves even more desperate for knowledgeable, competent and caring healthcare professionals, direct-care workers and caregivers.
We do not have enough workers and we do not have adequately trained workers. Without first addressing these two issues, we will never be able to address the needs of the baby boomers as they age. By not taking action, we are certain to find our most vulnerable citizens suffering fragmented care (which ignores complications due to multiple complex conditions), living with a fraying safety net and experiencing dwindling supports and services.
"The Eldercare Workforce Alliance, created in response to the Institute of Medicine's landmark report, Retooling for an Aging America: Building the Health Care Workforce, is committed to addressing the eldercare workforce shortage," said PHI president Steven Dawson. "The Alliance, comprised of 28 national organizations, believes effective solutions are available to address this crisis and provide the quality care America's older adults deserve."
Caitlin Connolly is project manager of the Eldercare Workforce Alliance, New York, N.Y. Robyn Golden, a former Chair of ASA's Board of Directors, and now a co-chair of the ASA Public Policy Committee, is director of Older Adult Programs, Rush University Medical Center Older Adult Programs, Chicago, Ill.