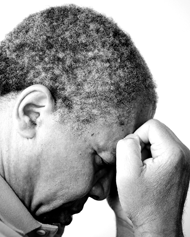 By Zhenmei Zhang
Severe cognitive impairment is a devastating disease for patients, their families and society. Estimates of dementia care (direct costs and informal care) for 2009 were as high as $133 billion in the United States, according to Wimo, Winblad and Jönsson in Alzheimer's & Dementia (goo.gl/pJhs1V). Older African Americans are more likely to suffer from cognitive impairment and dementia than older whites. Reducing racial disparities in dementia has now been identified as a national priority by the National Alzheimer's Project Act, which was signed into law by President Obama in 2011 (goo.gl/34fhLQ).
For years, researchers have tried to understand the origins and pathways through which racial disparities in cognitive impairment are produced. Earlier this year, my colleagues and I contributed to this line of research by looking at how childhood conditions and adulthood socioeconomic resources and health accounted for racial disparities in severe cognitive impairment. The paper was published in the June 2016 issue of Journal of Health and Social Behavior (goo.gl/jowcCp).
The Role of Childhood Socioeconomic Disadvantages
Throughout U.S. history, race has been one of the most important social stratification systems, putting African Americans at a substantial socioeconomic disadvantage throughout the life course. In national surveys, older blacks are more likely to report that they experienced poverty and poor health in their childhood than are their white counterparts.
The current cohort of older blacks may have had particularly difficult childhoods because the majority of them grew up in the early 1900s and in the segregated South. My colleagues (Mark Hayward, Yan-Liang Yu) and I find that being born in the South and enduring childhood adversity (i.e., a cumulative index of family poverty, low parental education and father's occupation) aresignificantly associated with the risk of having severe cognitive impairment during a 12-year follow-up. Both factors partially accounted for blacks' higher risk of severe cognitive impairment than whites. Therefore for the current cohorts of older blacks, we think that asking about their childhood experiences may help medical professionals assess their risk for severe cognitive impairment.
Adulthood Socioeconomic Status Links to Cognitive Impairment
On average, blacks are more likely than whites to complete fewer years of schooling, to earn lower income and to accumulate less wealth. Most previous research has found that blacks' lower level of education contributed to lower scores in cognitive performance in later life. Moreover, in a 2002 study, Jennifer Manly and colleagues found that racial differences in the quality of education explained many of the racial differences in cognitive functioning among blacks and whites with same levels of education (goo.gl/TNgLdk).
In our study, we wanted to find out whether racial disparities in adulthood socioeconomic conditions (i.e., education, income and wealth) also contributed to blacks' higher risk of severe cognitive impairment. Our results show that the wide racial gap in adulthood socioeconomic resources explained a significant part of the racial disparities in severe cognitive impairment, controlling for childhood factors.
Blacks' Higher Risk of Severe Cognitive impairment
One of the significant predictors of severe cognitive impairment is having chronic diseases such as stroke. African Americans have earlier onset and higher prevalence of hypertension, heart disease, stroke and diabetes than do white people. So it often is speculated that black people's higher rates of chronic illnesses may have played a major role in their higher risk of cognitive impairment than whites. Surprisingly, although blacks in our study data have higher rates of major chronic diseases than whites, racial differences in chronic diseases did not account for racial disparities in severe cognitive impairment. This finding suggests that reducing racial gaps in chronic diseases alone will not significantly reduce racial gaps in severe cognition impairment, although it is possible that preventing and treating chronic disease can reduce the rates of cognitive impairment for both whites and blacks.
Proactive Strategies Can Reduce Disparities
In sum, to reduce racial disparities in late-life cognitive impairment, policymakers need to place more emphasis on reducing racial gaps in socioeconomic resources over the entire life course. There are no quick fixes. Although there are multiple windows of opportunity for intervention, the most promising ones happen in early life and young adulthood, because these periods shape individuals' socioeconomic trajectories into their later life. Reducing black-white disparities in educational achievement is the first step.
There are good programs that try to level the playing field for children from disadvantaged backgrounds. For example, the Head Start program provides nutrition, health and preschool experiences to children from low-income families, which can improve these children's school readiness. Some cities have tried to promote socioeconomic and racial integration by establishing magnet schools, redrawing school attendance boundaries and offering school-of-choice programs. These integration strategies may improve achievement of black children from low-income neigh­borhoods. For middle-age and older African Americans who did not have the opportunity to receive a good education in their childhood, more research is needed to explore whether continuing education will benefit their cognitive functioning and reduce the risk of cognitive impairment.
Zhenmei Zhang, Ph.D., is an associate professor in the Department of Sociology at Michigan State University, East Lansing, Michigan.
Editor's Note: This article appears in the November/December 2016 issue of Aging Today, ASA's bi-monthly newspaper covering issues in aging research, practice and policy nationwide. ASA members receive Aging Today as a member benefit; non-members may purchase subscriptions at our online store.