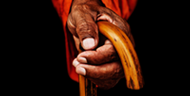 By Timothy P. McNeill, Aaron Shirley, Erin Shirley Orey, Mohammed Shahbazi, Sandra C. Hayes, and Lorie Ramsey
In recent years, improving health outcomes and reducing healthcare expenditures for Medicare and Medicaid beneficiaries has become increasingly imperative. Several initiatives in the Affordable Care Act (ACA) provide incentives to hospitals and medical providers to achieve the triple aim of improving the patient care experience, improving population health, and reducing the per capita cost of healthcare.
But traditional methods of improving care may not be effective when addressing populations suffering from health disparities, such as African Americans, who suffer disproportionately from many chronic disease factors. The Jackson Heart Study (JHS), a longitudinal observational study analyzing the health outcomes of 5,301 African Americans, has identified some contributing factors to health disparities in this research cohort (see article on page 46). One finding from this study is that treatment nonadherence in study participants contributed to poor health outcomes (Addison et al., 2011). The research suggests that public health interventions aimed at helping to increase treatment adherence and the awareness of adverse outcomes related to treatment non-adherence could have a positive impact on vulnerable populations at risk for non-adherence.
The Centers for Disease Control and Prevention (CDC) reviewed community health worker interventions and has found that such interventions have been shown to improve health outcomes of vulnerable populations. Based on these findings, we developed two intervention models to assess their relative impact on health outcomes and use for a convenience sample of African Americans in Mississippi who are not part of the JHS cohort. The intervention tests two training levels of community health workers (Addison et al., 2011), including the Advanced Community Health Worker model developed by the Global Community Health Worker Training Program at Jackson State University, and the Central Mississippi Area Health Education Center. The Center functions under the Owens Health and Wellness Center at Tougaloo College. The Tougaloo College Area Health Education Center Community Health Worker training program operates as part of the Central Mississippi Area Health Education Center.
Jackson State University received funding from the Centers for Medicare & Medicaid Services (CMS) to deploy well-trained community health workers to staff Community Health Houses throughout the Mississippi Delta region. Both interventions are up and running, and each have shown preliminary positive results. Tougaloo College developed a community health worker-training curriculum based on the best practice models developed by the Health Resources and Services Administration (HRSA). HRSA funds Area Health Education Centers and Federally Qualified Health Centers. With HRSA's support, the Tougaloo Area Health Education Center designed a community health worker–training program that serves the central Mississippi area, and is available statewide using a state-of-the-art virtual training center at Tougaloo College.
This article outlines the process and steps employed in designing these two targeted community health worker interventions, with a focus on addressing treatment of non-adherence as a contributing factor to health disparities as observed by JHS researchers.
Among the JHS study cohort, those not adhering to their prescribed treatment regimen had a statistically significant higher risk of hospitalization than those who did adhere to prescribed treatment. African American mistrust of the utility of prescribed medications was one observed cause for medication non-adherence. The study also found that disparities were directly attributed to a low acceptance of evidence-based therapies. As a result, interventions that could improve medication adherence would have a positive impact on health outcomes and reduce unnecessary use of health resources. Findings showing a statistically significant increase in hospitalization risk for those with the greatest level of treatment nonadherence have profound implications for health researchers who would like to address health disparities and improve health outcomes among a vulnerable African American population. The JHS recommendations were to develop public health models that work with vulnerable populations with the goal of improving treatment adherence and increasing awareness of the negative implications of treatment nonadherence (Addison et al., 2011).
Based on these findings, we deployed two levels of community health workers to assess if there were statistically significant results in the two community health worker models for improving treatment adherence and reducing overall health resource utilization among the convenience sample of African Americans.
The Future of Healthcare Delivery: A Team-Based Approach
The healthcare delivery system is adopting a team-based approach. This transition will be challenging and will require a major investment in human resources, changes in workflow, new technology adoption, and strategies for dealing with change management. Some of the efforts already are being made by thousands of health providers throughout the United States, including those operating as accountable care organizations or patient-centered medical homes—entities that strongly emphasize a team-based model.
An important component of this type of model are those individuals who often serve as the first point of contact or as ongoing peer support for patients and caregivers throughout their healthcare experience. This includes medical assistants, patient navigators, and community health workers (Parker et al., 2008).
Community health workers—a vital part of the team model
Community health workers are frontline public health workers—trusted members of the community served who have a deep understanding of it. This relationship enables them to act as a liaison, link, or bridge between health and social services and the community to facilitate access to services and improve the quality and cultural competence of services delivered. Community health workers also add to individual and community capacity by increasing health knowledge and self-sufficiency through a variety of activities such as outreach, community education, informal counseling, social support and advocacy (Gibbons and Tyrus, 2007).
The community health worker role as a culturally competent mediator between health services providers and diverse community members, and the effectiveness of community health workers in promoting the use of primary and follow-up care for preventing and managing disease have been extensively studied and documented for a variety of health conditions. These include asthma, hypertension, diabetes, cancer, immunizations, maternal and child health, nutrition, tuberculosis, and HIV and AIDS (Brandeis University, 2003; Davis et al., 2007; Viswanathan et al., 2009).
Jackson State University's Global Community Health Worker Training Program
Jackson State University's Global Community Health Worker Training Program combines an advanced community health worker–training program with its public health program, providing training that will enable community health workers to operate as independent public health advocates. The advanced level of training allows these health workers to operate with minimal clinical supervision in urban and rural settings,  which provides significant advantages given that some rural and isolated areas in Mississippi have few medical assets. The health workers operate from a series of community health houses in the target communities.  
Jackson State University's Global Community Health Worker Training Program is based on best practices defined by the World Health Organization (WHO). After defining and deploying this model, the Internacional Network for Health Technicians Education (RETS), in association with WHO, recognized the Global Community Health Training Center as a member of its organization. The Program is the only U.S.-based community health worker intervention recognized by RETS. A key hallmark of this intervention is the deployment of trained community health workers in communities with little to no healthcare resources. The advanced training provided allows the community health workers to operate as independent public health advocates who serve the target population, and who are an extension of the healthcare system.
Intervention design
The Advanced Community Healthcare Worker model places trained community health workers in a series of Community Health Houses in the target communities. The community health worker is a trained layperson who acts as an intermediary between individuals in the community and primary healthcare providers: they interact with and observe local people over time, becoming aware of their overall state of health, and develop trusting relationships and rapport. These workers serve their communities by referring people with healthcare needs to an appropriate level of primary care, thereby helping to reduce hospital emergency department use, and by promoting health literacy and preventive self-care, with the aim of reducing health disparities in an area with some of the worst health profiles in the United States.
Intervention pilot
The community health worker pilot, implemented in the South Jackson area, featured a nurse practitioner−led multidisciplinary team that addressed the post-discharge needs of patients admitted to an acute care hospital. The pilot's goal was to determine if the use of community health workers would reduce hospital readmissions in this study population. Through collaboration with the acute care facility in South Jackson, study leaders implemented a thirty-day care-transition intervention—heavily focused on using community health workers to support the population. Community health workers were selected who were trained through an abbreviated training program at the Global Community Health Worker Training Program at the Jackson Medical Mall.
There were 626 participants in the pilot intervention, 95 percent African American, 65 percent female, and 50 percent Medicaid-eligible, as evidenced by current Medicaid coverage or being a dual eligible (Medicare- and Medicaideligible). Medicaid eligibility is an indication of  poverty status, as this means-tested benefit program requires beneficiaries be below 150 percent of Federal Poverty Limits (FPL). Twenty percent of study participants were uninsured, and were within 200 percent of FPL. The Medicaideligible and uninsured population combined were 70 percent of the population and reflect that  70 percent of the population was within 200 percent  of FPL. All participants lived in the Jackson, Mississippi, metropolitan statistical area. Last,  100 percent of the population had two or more chronic conditions, with 90 percent reporting at  least one cardiovascular-related condition.
The catchment area for the participating hospital includes several census tracks with high rates of poverty, high unemployment, a highconcentration of Medicaid beneficiaries, and a greater than 90 percent use of school free-lunch programs. The initial set of community health workers was selected because they originated from the target communities in the South Jackson area. Community health workers who originate from the same community as the target population have firsthand knowledge of the psychosocial and perceived barriers to care, and of their resulting impact on the target population. Therefore, such targeted community health  workers ensure that the extension of health and support services into the community also will encompass knowledge of social determinants of health that afflict the population being served.
Those consumers who were at high risk for readmission were identified through a daily  collaboration with the case management department of the participating tertiary care  facility, and then enrolled in the program. To identify the most at-risk consumers, study leaders developed a modified tool, based on the Agency for Healthcare Research and Quality toolbox (Agency for Healthcare Research and Quality, 2014) (see Figure 1, below).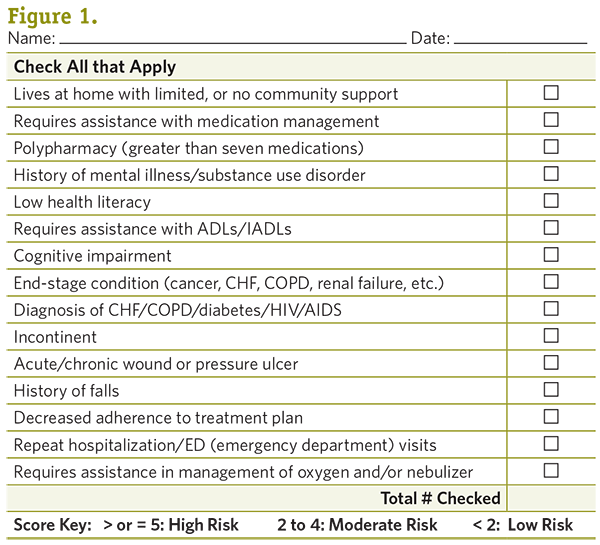 The case management department referred consumers at high risk for readmission to the care transitions team, consisting of a nurse practitioner and two trained community health workers. Prior to discharge, each consumer had an initial face-to-face encounter with the nurse practitioner. During this encounter, the nurse practitioner assessed medical and social factors affecting the consumer's health, including the consumer's access to primary care and their ability to cover the cost of their medication. Next, the nurse practitioner developed a consumerdirected, post-discharge follow-up plan and reviewed it with the participant and their caregiver. Lastly, the community health worker provided additional input on the development of the final transition plan.
Within seventy-two hours of hospital discharge, the community health worker makes a home visit with each patient. The purpose of the home visit is to assess the safety of the home environment, identify any additional social barriers to care, and ensure that the consumer is adhering to the post-discharge medical management plan. If the community health worker identifies any barriers to adherence with the medical management plan, each issue is reviewed with the supervising nurse practitioner and an addendum to the transition plan is made  to address this issue. Particular focus was placed on the social factors that affect the health of the target population, including transportation, access to food, and ability to pay for medication. The community health workers were trained to assist consumers in addressing these social barriers to care  by accessing a toolkit of local resources for patients. When social factors were identified, the consumer was referred to possible resources to address their particular need. A pure coaching model was not used because of the complexity of social needs and the presence  of low health literacy, as defined in the JHS (National Institutes of Health, National Heart, Lung, and Blood Institute, 2008).
Consumers in the original intervention  cohort received additional follow-up at week two and week three, with the final contact at week four. Consumers with issues outstanding  that remained unresolved during the four-week intervention would stay in the program until  problems were satisfactorily addressed. The transition management plan and a summary of services provided by the multidisciplinary transitions team were provided to the hospitalist and the community physician.
Pilot outcomes
The initial pilot program's outcomes revealed a significant reduction in readmissions for the target population. A key component of the intervention is the use of community health workers to address social determinants of health for the target population. Social determinants of health often were one of the greatest  contributors to poor health outcomes for the target population.
The program enrolled 626 patients who had been discharged from the participating hospital. The average enrollment was fifteen patients per day, which represents 15 percent of the average  daily census of eligible patients. Participants were randomly recruited from the inpatient census. Eligibility criteria included the following: patients must be eighteen years of age or older; have two or more chronic conditions; and, have no cognitive impairment.
The readmission rate for the intervention cohort was less than 4.68 percent, a rate significantly lower than the national average of 25 percent. The intervention enrolled consumers who belong to a wide variety of payer sources. The program was provided to persons admitted with one or more chronic diseases, regardless  of insurance status. The breakdown of pilot program participants by insurance status is  shown in Figure 2 (below).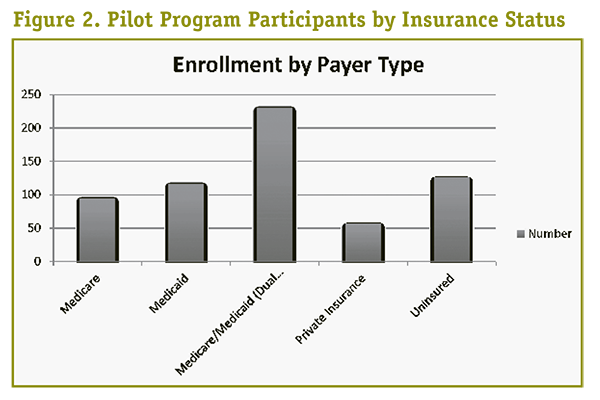 Sustainability
Several initiatives in the Affordable Care Act focus on reducing costs and improving positive health outcomes for Medicare and Medicaid beneficiaries. As the healthcare system shifts to value-based care, the impact and scalability of these programs will be tied directly to compensation. In addition, programs such as the Medicare Shared Savings Program (MSSP) Accountable Care Organizations (ACO) program, implemented by the CMS Innovation Center, allows Medicare providers to work in a collaborative group to achieve improved health outcomes and reduced costs for a defined population of Medicare fee-for-services beneficiaries. Care coordination is a key factor in the ACO program.
To support the transition to a value-based system of care, CMS released a final rule for transitional care management (TCM) services and a proposed rule for chronic care management (CCM) services (CMS, 2012, 2014). The approval of these two services for Medicare reimbursement allows Medicare providers to obtain Medicare reimbursement for care transitions and care coordination services. TCM services have an established Common Procedural Terminology code linked with the service (American Medical Association, 2014). Medicare providers that offer a thirty-day care transition intervention for a Medicare beneficiary admitted to an acute care facility can directly bill the Medicare program for that service. The TCM service can be provided by a multidisciplinary care team that includes a nurse practitioner and trained community health workers. The nurse practitioner must have a face-to-face encounter with the patient within seven or fourteen days of hospital discharge. The initial face-to-face meeting can occur on the same day of discharge and at the hospital, if certain conditions are met. TCM services begin on the day of discharge and extend over a thirty-day period post-discharge. Community health workers can operate incident to the nurse practitioner, and the service then can be billed on day thirty under the nurse practitioner's National Provider Identification number (CMS, 2012).
The TCM billing code and reimbursement approval by the Medicare program make for a  direct reimbursable benefit, which provides funding for the nurse practitioner–community health worker multidisciplinary care team. Similar to the TCM benefit, CMS released the proposed rule for chronic care management services with an expectation that Medicare beneficiaries with two or more chronic conditions could benefit from direct care management (CMS, 2014). For the first time, Medicare will provide direct reimbursement for non-face-to-face care coordination and care management services. The CCM services are to be provided by a multidisciplinary care team and directed by a collaborative care plan, which must be shared with the primary care provider, with input from everyone involved in the patient's care. TCM services are expected to be directly coordinated with CCM services so entities providing these services must be able to send and receive protected health information, using standard formats with hospitals and primary care providers (CMS, 2012, 2014).
A key component of the intervention is that the requirement for health information technology  meets the national standard for health information exchange. Maximum collaboration in consumer care is required to meet the goals of improved health outcomes and reduced costs. Therefore, entities that provide TCM and CCM services must have a health information technology platform that conforms to the Health Level Seven standards, and have the capability of sending and receiving a Continuity of Care Document (CMS, 2014). These standards are an established health information technology  standard for such applications.
Managed care initiatives for sustainability
The initial success of the intervention led to the deployment of two additional community health worker intervention tracks focusing on rural and urban populations. In addition, study leaders are targeting the service to an urban population of patients enrolled in the Mississippi managed Medicaid program called MississippiCAN (Mississippi Coordinated Access Network). The program also has expanded throughout the state. To contract with managed care for care coordination and transitional care management services, it is imperative that the program defines a method of continually monitoring the return on investment for the intervention. The intervention's cost must develop a level of return, in reduced expenses and improved health outcomes, which far outweighs its cost. Program implementers must carefully monitor the ongoing cost and service use by the target population to produce value to the managed care plan.
In monitoring return on investment, study leaders require that any managed care organization contracting for transitional care management or chronic care management services must also agree to provide access to the claims data for the target population. Using claims data will provide a method of risk stratifying of the population and a direct outcome evaluation measure that can be tracked over time. For the managed care population, we will use an evidence-based risk-stratification tool to analyze the history of claims data. The health information technology platform that was used for care coordination has an embedded risk-stratification tool called the Johns Hopkins Adjusted Clinical  Groups algorithm.
Reflections on Outcomes
Implementing these two community health worker initiatives required an initial detailed analysis of the medical and social barriers affecting the target population. Once the program  had a firm grasp of the population's needs, then a targeted community health worker intervention was put into action and demonstrated success. We found that the medical community was very receptive to the community health worker model. The level of training of the advanced community health worker model was found to be extremely essential to the success of the program in areas with few medical assets.
The advanced community health worker model developed by the Global Health Worker Training Center at Jackson State University is one that could be replicated in regions and communities facing significant health disparities and reduced access to healthcare services. Also, the program's advanced training will support having community health workers operate as independent health advocates who can support health practices and hospitals.
Two essential components for program success were close collaboration with the medical community and a community-wide approach to addressing hospital readmissions. Multiple factors affect readmission rates for vulnerable populations, so a multidisciplinary team approach can achieve significant results by partnering with health systems, community physicians, and the public health infrastructure.
---
Timothy P. McNeill, R.N., M.P.H., is executive director of Medical Mall ACO in Jackson, Mississippi. The late Aaron Shirley, M.D., was chairman of the board for the Jackson Medical Mall Foundation in Jackson, Mississippi. Erin Shirley Orey is a project manager for Influence Health in Birmingham, Alabama. Mohammed Shahbazi, Ph.D., M.P.H., M.C.H.E.S., is a professor, Behavioral Health  Education and Promotion, in the School of Health Sciences at Jackson State University, Jackson, Mississippi. Sandra C. Hayes, Dr.PH., M.P.H., M.C.S., is executive director of the George A. and Ruth B. Owens Health and  Wellness Center at Tougaloo College in Tougaloo, Misssissippi. Lorie Ramsey is chief nursing officer at Central Mississippi Medical Center, Jackson.
Editor's Note: This article is taken from the winter 2014/15 issue of ASA's quarterly journal, Generations, an issue devoted to the topic "Social and Health Disparities in America's Aging Population" ASA members receive Generations as a membership benefit; non-members may purchase subscriptions or single copies of issues at our online store. Full digital access to current and back issues of Generations is also available to ASA members and Generations subscribers at Ingenta Connect. For details, click here.
Join ASA to recieve an automatic subscription to Generations as well as many other benefits of membership!
---
References
Addison, C. C., et al. 2011. "Relationship Between Medication Use and Cardiovascular Disease Health Outcomes in the Jackson Heart  Study." International Journal of  Environmental Research and Public Health 8(6): 2505–15.
Agency for Healthcare Research and Quality. 2014. Hospital Guide to Reducing Medicaid Readmissions. Retrieved October 12, 2014.
American Medical Association (AMA). 2014. CPT 2014 Professional Edition. Atlanta, GA: AMA.
Brandeis University, Schneider Institute for Health Policy, the  Heller School for Social Policy and Management. 2003. Evidence Report and Evidence-Based Recommendations: Cancer Prevention and Treatment Demonstration for Ethnic and Racial Minorities. Baltimore, MD: Brandeis University. Retrieved October 12, 2014.
Centers for Medicare & Medicaid Services (CMS). 2012. "Rules and Regulations." Federal Register 77, no. 222 (November 16, 2012).
CMS. 2014. "Proposed Rule. Medicare Program; Revisions to Payment Policies Under the Physician Fee Schedule, Clinical Laboratory Fee Schedule, Access to Identifiable Data for the Center for Medicare and Medicaid Innovation Models & Other Revisions to Part B for CY 2015." Federal Register 79,  no. 133 (July 11, 2014).
Davis, A. M., et al. 2007. "Cardiovascular Health Disparities: A Systematic Review of Health Care Interventions." Medical Care  Research and Review 64(Suppl 5):  29S–100S.
Gibbons, M., and Tyrus, N. C. 2007. "Systematic Review of U.S.-based Randomized Controlled Trials Using Community Health Workers." Progress in Community Health Partnerships: Research, Education, and Action 1(4): 371−81.
National Institutes of Health, National Heart, Lung, and Blood Institute. 2008. The Jackson Heart Study Data Book: A Report to the Cohort and Community. Bethesda, MD: National Institutes of Health, National Heart, Lung and Blood Institute. Retrieved October 12, 2014.
Parker, E. A., et al. 2008. "Evaluation of Community Action Against Asthma: A Community Health Worker Intervention to Improve Children's Asthma-related Health by Reducing Household Environmental Triggers for Asthma." Health Education & Behavior 35(3): 376−95.
Viswanathan, M., et al. 2009. Outcomes of Community Health Worker Interventions. Evidence Report/Technology Assessment No. 181 (prepared by the RTI International—University of North Carolina Evidence-Based Practice Center under Contract No. 290 2007 10056 I); AHRQ Publication No. 09-E014. Rockville, MD: Agency for Healthcare Research and Quality.