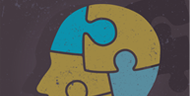 By Krystal L. Culler
Brain health is central to wellness and is about maximizing one's abilities and pursing meaningful activities that promote a sense of overall cognitive fitness, emotional wellness, social well-being, personal health, and provide a challenge. Brain health is viewed as being 70% lifestyle and 30% genetics, meaning the way we live our lives is more important than our genetics regarding cognitive wellness. Although normative cognitive changes occur in the brain as we age, it is important for people to consider their brain health at any age.
Today, brain health is a hot topic among the senior living care community and has gained significant attention from government stakeholders, researchers, and clinicians around the globe. Since September 2015, the following brain health initiatives are in progress:
The Administration for Community Living started its $4 million "Brain Health Awareness" Campaign, which aims to provide older adults education, information, and resources on brain health.  
The American Association of Retired Persons (AARP) founded the Global Council on Brain Health in collaboration with AGE UK. The council aims to translate current research findings into actions that people can apply to their daily lives.
The Global Brain Health Institute, a collaboration between the University of California San Francisco and University of Dublin, received $144 million dollars in funding to train a new generation of leaders in healthcare. This international initiative aims to improve brain health and dementia care through diagnosis, treatment, care management, education, and prevention programs. 
Ultimately, the recent global and national initiatives aim to address the population health concerns regarding brain health and dementia for individuals experiencing memory concerns, as well as, their families. Prevention through education and support of healthcare providers, researchers, and family members recognizes the connection between modifiable lifestyle factors (diet, sleep, exercise, medications, etc.) and brain health.
The Center 4 Brain Health is the first brain health center located on a residential and healthcare campus in northeast Ohio. The center opened in November 2015 with a variety of programs and services that address individual needs for people living in the community who are concerned about their memory and thinking skills, and who may or may not have a brain health diagnosis. The main goal of the center is to reach as many people as possible to prevent brain issues from worsening, and to support clients and families with the latest education and coping techniques through an offering of assessments, education, and support.
Mind Your Brain: Creating a Community-Based Center for Brain Health will be featured on board #103 during the poster session on Tuesday, March 22, 2016 from 12:00 p.m. to 1:30 p.m. in Exhibit Hall A at the Marriott Wardman Park Hotel. The inaugural Director of the Center 4 Brain Health, Krystal L. Culler, M.A., DBH Candidate, will be the presenter.
The presentation highlights understanding a community's need to support a center for brain health, brain health programs desired by the community, marketing strategies to reach adults in the community with memory and thinking concerns, identifying community partnerships to support brain health, and lessons learned from initiating a community based center. The presentation is intended for all conference participants especially individuals, organizations, or communities with an interest in creating a center for brain health.
---
Krystal L. Culler, M.A, DBH Candidate, is the inaugural Director of the Center 4 Brain Health at Menorah Park Center for Senior Living, the first non-pharmacological, non-hospital based brain health center in the Cleveland, Ohio area for people living in the community concerned about their memory and thinking skills. She can be found on LinkedIn at or the Center 4 Brain Health's website.