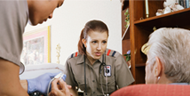 By Kenneth W. Kizer
Paramedics have been an integral part of the healthcare landscape since the 1970s, when emergency medical services (EMS) were first widely implemented. Today, these highly trained professionals respond in situations commonly affecting older adults.
Now, specially trained paramedics—and sometimes other types of EMS personnel—are taking on expanded roles as part of new community-based paramedicine programs aimed at keeping people out of hospitals and nursing homes. In what are commonly known as Community Paramedicine (CP) or Mobile Integrated Healthcare programs, paramedics fill local healthcare delivery gaps and build bridges between emergency and primary care.
Community Paramedicine Can Expand Healthcare Access
Originally conceived of as a way to expand access to basic healthcare services for rural populations, interest in this new model of community-based healthcare has grown rapidly in the last 15 years; currently, about 150 CP programs have launched in more than 20 states. The model is being implemented in many urban settings as a way to reduce 911 calls and use of hospital emergency departments for basic healthcare needs.
The strategy underlying CP is logical: provide additional training to an existing pool of skilled healthcare workers who are a trusted part of the community infrastructure, so they can increase access to basic services. While conceptually straightforward, hard data on CP program outcomes are limited, and multiple efforts are underway to establish a solid evidentiary foundation on the safety, efficacy and long-term outcomes of CP. One pilot CP program in Fort Worth, Texas, reported a 77 percent drop in 911 calls and an 80 percent reduction in hospital readmissions. In Maine, the state's CP program coordinator is collecting data on the use of emergency services and hospital admissions for several CP pilot programs. Similar efforts are underway in California for its 12 CP pilot programs.
A challenge in comparing CP program outcomes stems from the programs' varied nature. Developed to address specific local healthcare problems, CP programs are designed to take advantage of collaborations between local EMS providers and other healthcare and social service providers, as well as public safety agencies. One CP program in San Diego, Calif., targets people who are frequently intoxicated in public, placing them in treatment programs instead of jail. This program significantly reduced 911 calls and emergency department visits. A CP program in Eagle County, Colo., focuses on providing basic healthcare services (e.g., blood pressure screenings, wound care and blood glucose testing) for underserved rural residents.
Varieties of CP Programs
There are six general types of CP programs; three are focused primarily on 911 callers. These 911 "super-users" sometimes call for an ambulance several times a week, but really need help accessing basic primary care and other social support services; some are frail elders with multiple chronic conditions and cognitive challenges who cannot drive and have no family. In these programs, CP providers often function as navigators, connecting the person with needed healthcare and social services.
Similarly, some CP programs are designed to transport patients who don't need to go to a hospital emergency department but are instead taken to a mental health or urgent care clinic or physician's office. A third type of pre-hospital CP program involves assessing and attending to the needs of 911 callers at the scene and then making a referral for appropriate follow-up care.
The three other types of CP programs focus on assisting people with chronic conditions, often providing follow-up care for patients recently discharged from the hospital or emergency department who are at increased risk of readmission due to social or medical circumstances. CP providers typically provide follow-up care for a few days or until the patient can connect with his or her usual care provider or establish a relationship with one.
CP providers might make daily home visits for several days to an elderly widow who lives alone and has just been discharged from the hospital—to ensure she is taking her medications, eating and recovering. Other CP programs support people with chronic conditions like diabetes, asthma or congestive heart failure, or who need complex wound care. Patients in these programs may be newly diagnosed with a condition and are learning how to manage it, or they may have cognitive issues that affect medication compliance.
Some CP programs focus on wellness and provide disease prevention support such as immunizations or high blood pressure screening for underserved communities. These programs typically are in partnership with other community health workers and primary care providers. CP programs providing in-home care are an especially promising approach to supporting aging in place and avoiding costly institutional care. Frail older adults with multiple chronic conditions may particularly benefit from these programs, due to limited mobility, cognitive challenges and difficulty accessing primary care.
Barriers Hamper Implementation
While promising, CP faces multiple barriers to widespread implementation. Perhaps the biggest barrier is the paucity of outcomes data clearly demonstrating that CP is a safe, effective care model that warrants payment by Medicare and private insurers. Most CP programs have been developed through government or philanthropic grants or other special funding. While increasing data show that CP programs can reduce 911 calls, emergency department visits, hospital admissions and readmissions and emergency transport charges, these data often are "soft" and therefore unconvincing to healthcare payers.
Additional barriers include opposition from healthcare personnel (e.g., some nursing and home healthcare organizations); the notoriously conservative healthcare culture that is slow to adopt new ways of doing things; and regulatory issues driven by not recognizing CP providers as a distinct type of healthcare worker (multiple efforts are underway to specify and standardize training for CP providers).
There is an urgent need to provide more integrated healthcare delivery, to reduce costs and improve outcomes. This need, combined with increasing numbers of older adults and an aging and often insufficient local healthcare workforce, indicates that community paramedicine holds great potential for providing auxiliary care and improving quality of life for older adults who are aging in community.
---
Kenneth W. Kizer, M.D., M.P.H., is a distinguished professor at the University of California, Davis,
and director of the University's Institute for Population Health Improvement.
Editor's Note: This article appears in the September/October 2016 issue of Aging Today, ASA's bi-monthly newspaper covering issues in aging research, practice and policy. ASA members receive Aging Today as a member benefit; non-members may purchase subscriptions at our online store or Join ASA.