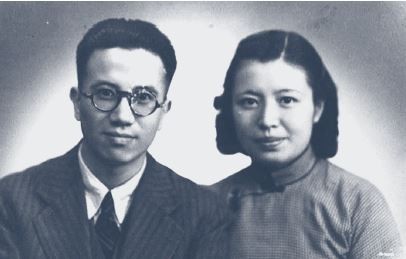 By Jarmin Yeh
In August 2014, I was a graduate student at the University of California, San Francis­co (UCSF), when my grandmother died, four months after my cousin, a medical student at the University of California, Los Angeles, commit­ted suicide. These were four months in which my grandmother was more solemn than I had ever seen her. Initially, we wanted to withhold the news, but we had to tell her eventually. The death of a grandchild was hard on her. She did not speak much about it, but she shared her wor­ry for my generation. Despite my grandmother's lifetime of sacrifice and devotion to improve the position of succeeding generations, she still wor­ried my generation had fewer opportunities to achieve financial stability and social mobility—the American Dream.
This article reflects upon contemporary cul­tural norms from my perspective through two theoretical paradigms: a gerontological imagina­tion, meaning that the life of an individual and the history of society cannot be understood with­out understanding both (Estes, Binney, and Cul­bertson, 1992); and intersectionality, a metaphor highlighting the intertwining of multiple social identities and systems of oppression, domina­tion, and discrimination. These identities must be considered simultaneously in how they shape people's experiences and life chances (Cho, Cren­shaw, and McCall, 2013; Crenshaw, 1989).
My gerontological imagination is a brico­lage, but I locate a thread by tracing the transfer­ence of cultural norms and values across three countries and three generations of women in my family to my current understanding of being a first-generation Asian American and younger woman of color working in the field of aging.
My Grandmother's Chinese Roots
My grandmother was born in Shanghai, China, in 1917. Her given name was Lai-Feng. I called her Wài-pó, or maternal-grandmother in Man­darin. Wài-pó's father was a student selected to study mining engineering at Columbia Univer­sity through a scholarship program created as a remittance to the Boxer Indemnity Fund by Presi­dent Roosevelt. The political project of this program was to infuse young scholars with West­ern knowledge and, after their participation, they would return to China to modernize the country (Bieler, 2004; Zee and Chang, 1910).
He lived in America for half a decade during the Chinese Exclusion Act era, when sentiments toward Chinese people were explicitly hateful, and while first-wave feminism and the women's suffrage movement were underway. After the Qing Dynasty fell, he was recalled for service to his country. In 1914, he sailed to Shanghai and brought with him ideologies he gained in Ameri­ca—a belief in science, technology, and the prog­ress of women in the new modern world.
Wài-pó was the firstborn of seven siblings. Her father enrolled her into schools where she was often the only girl, played sports with the boys, and had to use the faculty bathroom be­cause none of the student bathrooms were de­signed for females. She had the privilege of attending college and studied chemistry, but the outbreak of the Second Sino-Japanese War meant she never completed her degree. This was one of her biggest regrets.
Wài-pó worked in a chemical plant near Chongqing, China, where she met her future business partner and husband—my Wài-gong, or maternal-grandfather in Mandarin. Togeth­er they established a sulfuric acid manufactur­ing company, a chemical essential for producing mili­tary ammunition during the war. They fell  in love and, in 1941, defied convention to marry. Wài-pó's husband-to-be, however, was already pre-arranged by his family to marry another woman. As young progressives, Wài-pó and Wài-gong annulled the pre-arrangement and in­stead provided financial aid to help this woman receive an education.
By the end of World War II, the Republic of China subsumed control of Taiwan when the Empire of Japan surrendered after a fifty-year rule. In 1946, Wài-pó relocated to Taipei, join­ing her husband to help rebuild industries there damaged by U.S. air raids against the Japanese military. Over the years, she managed a latex foam factory, taught high school chemistry, and worked at the Taipei Institute of Technol­ogy until her retirement. She also raised three daughters and a son—all baby boomers who migrated to the United States after President Johnson passed the landmark Immigration and Nationalization Act of 1965.
Wài-pó's children were among a racial group hyper-selected to immigrate to America based on their skilled labor potential, which includ­ed char­acteristics like education, ambition, age, gender, and health (Model, 2017). Obtaining an advanced degree in America was encouraged as a way to bring honor to themselves and their fam­ily (Elman, 2013; Model, 2017). Such immigrants have been contributing to America's STEM workforce (science, technology, engineering, math) over the past fifty years.
In 1996, after finally retiring, Wài-pó and Wài-gong joined their children in America to become U.S. citizens and residents of Albuquer­que, New Mexico. Albuquerque was selected out of all the U.S. cities where their children lived, due to the slower pace of life that afforded them some degree of autonomy to drive and navigate the community. They bought a ranch-style house in a quiet suburban neighborhood and lived next door to their daughter and her family. This was ideal for them, both in floor plan and locale.
They decorated the house with the furnish­ings they brought over from Taiwan, blend­ing the aesthetics of their Chinese home with the American Southwest. They even purchased a plot of land at a cemetery in preparation for their deaths. For the next fourteen years, Al­buquerque became my family's hub, where holidays and vacations were spent. We gained frequent flyer miles circulating between our re­spective geographic locations and theirs. Ger­ontologists could say Wài-pó and Wài-gong were aging in the right place (Callahan, 1992; Golant, 2015).
But, circumstances change. By 2010, Wài-gong's physical and cognitive health required more care than Wài-pó could provide. Moreover, Albuquer­que was destabilizing as our family's hub be­cause their daughter had to move away for work and had her own grandparenting obligations.
Wài-pó considered moving into an assisted living facility, but could not find one in Albuquer­que that felt culturally appropriate. Menu op­tions featured dishes like meatloaf, food she ate a few times in her life, but which were too for­eign to her palate to eat regularly. Social activi­ties such as bingo did not appeal to her either; she preferred mahjong.
Moreover, her ability to express herself in English waned, especially as Wài-gong, suffering from dementia, lost his sub­stantial English proficiency. He had relied upon his skilled English after the Korean War while participating in U.S. aid projects to prevent Com­munist takeover of Taiwan. Her children debat­ed relocation, and decided to move Wài-pó and Wài-gong to Bethesda, Maryland, to live with my mother, their eldest daughter.
My mother's house was ill-designed for Wài-pó and Wài-gong's physical capabilities. It was a stacked Colonial with no bedroom or full bath­room on the entrance floor. My mother convert­ed the dining room into a bedroom, renovated the laundry room to create an accessible bath­room, and installed a chairlift to reach the base­ment garage. These physical modifications were sufficient to improve the functional use of the house, but the home space still felt less than ideal in terms of preserving my grandparents' digni­ty. Moreover, although they were not driving any more, the neighborhood's suburban design meant destinations were out of reach for walking, even for a little exercise. As their mobility declined, they became increasingly homebound. Geron­tologists could say Wài-pó and Wài-gong were stuck in place (Torres-Gil and Hofland, 2012).
Because my mother worked full time as a bench scientist in a biomedical lab, she cared for Wài-pó and Wài-gong with the help of Jo, a di­rect care worker who moved with them from New Mexico. Jo is Puebloan Indigenous Ameri­can. In Albuquerque, she was one of several direct care workers who helped Wài-pó and Wài-gong over the years. She was a standout favorite to them because she was tender-hearted, patient, and skillful. She was especially effective in getting Wài-gong to respond as his dementia progressed. Wài-pó and Jo had a mutual appre­ciation for each other.
When my mother and her siblings decided to relocate Wài-pó and Wài-gong to Maryland, they pooled their resources to make Jo an offer—a sal­ary, healthcare, and room and board. Jo liked the offer. It reduced her client load and excited her to experience living outside New Mexico for the first time. Her only trepidation was being far from her own children and grandchildren.
Jo traveled with my mother, Wài-pó, and Wài-gong across country by plane. She moved into the bedroom that was once mine, but now refitted with adult furniture. She lived with my family to help provide care to my grandpar­ents for the next several years. While she was an employee of my family, she became an adored extension of it, as well. In her spare time, she ex­plored the nation's capital, shared photos of my family with hers, and crafted costumes that she mailed to her grandchildren.
This arrangement worked out as well as could have been expected. Bethesda became the hub around which the orbit of care circulated. This time, we were also all equipped with smart­phones, webcams, and text messaging to connect virtually, too.
In 2011, Wài-gong died quietly at home in bed. Jo discovered him when she went to wake him for breakfast. I was in Washington, D.C., for a conference and glad to be nearby when it hap­pened. Wài-pó was the most prepared of us all. Family flew in from around the country for his funeral. We wept. Wài-pó was silently reflective.
Isolated and Aging in America
The years that followed were lonelier for Wài-pó. Jo was her primary companion while my mother was at work. Without the demands of Wài-gong's care, the need for Jo's assistance decreased, and she took on other part-time clients in the area. The rest of us were scattered about the country, too busy to find the time or too broke to afford visiting in person more frequently. We used video-conferencing technology instead. We group-chatted about our lives, but Wài-pó rarely spoke. Hearing loss made it hard for her to fol­low our conversations, but she would look, with amusement, at our faces on the monitor screen and wave.
I recall how Wài-pó was during these years because they were recent and because I had reached a more perceptive point in my life. The frame of her body was tiny; chairs were often too big. She walked with visible pain every day, the consequence of a hip she broke the year after I was born, but she never complained. She carried a statuesque facial expression—stoic, but not unkind. Occasionally, she expressed a proud frown with pursed lips to conceal a denture-less smile. Her teeth were uncomfortable to wear so she pre­­ferred to go without them. Her hair was white with grey undertones, parted on the left and cut in a chin-length bob that softened her square-shaped face. Her eyes were big and round and gleamed. Her mind was sharp. She would stay up all night reading books in bed. Often, she would ask my mother, "Who is coming home for dinner?" Often, my mother had to reply, "No one."
In 2014, Wài-pó had a stroke at home and died at the hospital, peacefully. She was 97 years old, and surrounded by family. You could say it was a good death. We celebrated her long life, a contrast from the sorrow we felt over my cous­in's death four months earlier. We buried Wài-pó in a plot of land she had purchased at a ceme­tery in Rockville, Maryland. We laid her to rest next to her husband and grandchild. The first of my family buried in American soil. Something about this felt like coming full circle. Perhaps it was like planting seeds or putting roots in the ground. We are American now.
I was fortunate to have had a grandmoth­er still living during my adulthood, and for my mother to have had her mother for so long. I won­­der, as a young girl living in Shanghai, could Wài-pó have foreseen her life aging in Ameri­ca? The answer is probably no. I wish Wài-pó and I had more conversations while she was alive. While Mandarin was the first language I learned as a child, I was taught English in school and struggled to maintain my Mandarin grow­ing up in a community where assimilation into American culture was expected. As I got older, it became harder for Wài-pó and I to discuss any­thing in depth. In my best attempts to communi­cate with her, she would politely nod and smile at me, and probably think about the simultane­ous proximity and chasmic separation between our worlds.
An American Daughter's Perspective on Caregiving
I saw the conflicts my mother faced in the years she was responsible for Wài-pó and Wài-gong's care. The agony of witnessing her father lose rec­ognition of her and the rest of us, the emotional battles she would have with her mother about whether it was a daughter's role to assist her father with intimate things like toileting and bathing, the heart-wrenching tension of doing all she could for her parents while they only wanted not to be a burden, and the simultaneous guilt and reprieve she felt when she left them to go to work each day. I interviewed my mother for this article. She said:
I'm so American now. I don't even feel like I'm Chinese. Culturally, it is expected for the younger generation to take care of the old. It's our responsibility. They don't want to totally rely on the younger generation, but younger generation[s] were taught to take care of our parents when they are aging. I guess it's just ingrained in our mind. In their own country and culture, they are more capable of mov­ing around, [to] go shopping, do things on their own. Moving here, they can't drive well, the language is difficult, so they more easily stay home or rely [more] on their children.

 

But, if they lived in Taiwan, they could visit their relatives, or go shopping, or visit friends without much help from us. At the time, they were a little younger, too. In their minds, they don't want to be a burden on their kids. America is more independent. In Amer­ican culture, they don't expect the kids will take care of their elders, and elders don't ex­pect their kids to take care of them until they really need them. We were taught in school we should take care of our parents. But in their minds, they don't want to become a burden. Wài-pó always said she doesn't want to be a bother, or have her remains sent back to China or Taiwan. She wanted to die wherever she would die.
The push-pull factors of immigration had a role in the dispersion and diaspora of my fam­­-
ily. Whereas Wài-pó and Wài-gong may have en­joyed more autonomy in Taiwan in their later life, in the United States, challenges faced in their physical environs (e.g., geographic distances, sub­urban sprawl, and auto-dependency) were exacer­bated by resource limitations in their so­­cial milieu (e.g., language barriers, cultural differences, and limited social networks). They sacrificed certain familiarities by leaving Taiwan, a country they lived in for fifty years, to reunite with us in Amer­ica and live as part of this nation's oldest-old.
During my mother's nearly fifty-year resi­dency in the United States, she has thoroughly transitioned into American society—she learned English, became a citizen, established a career, became a homeowner, and raised a family. She represents the growing diversity of America's aging population and attests to her acculturation: "I am so American now. I don't even feel like I'm Chinese." However, she speaks of feeling split in this modern world—a psychic tension from the emotional impact of living as a part of and at the edge of changing cultures, especially in her at­tempt to make sense of being a Chinese daughter and caregiver to her parents in America.
Moreover, baby boomers such as my moth­er populate America's suburbs, a landscape designed by urban-planning policies that stim­ulated the economy in the decades following World War II (Frey, 2010; Hayden, 2002; Jack­son, 1985). My mother's ability to care for Wài-pó and Wài-gong, as well as my concerns for her aging future and mine, are contextualized and constrained by America's expansive built envi­ronment and shifting metropolitan dynamics.
Now that my mother is in her 70s and retired, she has the time to develop new areas of inter­est. She is digitally transcribing her grandmoth­er's calligraphed memoirs from the handwritten copies Wài-pó passed down and then translat­ing them into English so the succeeding genera­tions can read them. She takes urban vegetable gardening classes at a community college, bone-building classes at a senior center, is a dilettante birdwatcher, hikes nature trails, sings in a choir, volunteers at the Smithsonian, and travels to new countries.
She insists she will move herself into an as­sisted living facility when she is ready. She has no expectations of me, her eldest daughter, or of my siblings to provide direct care to her because she does not want to burden us. My siblings and I are uncertain about my mother's plan, but this is her approach for now. Gerontologists could say she is aging successfully (Rowe and Kahn, 1997). She is not familiar with this concept, though. To her, she is just living the American way.
Of Aging, Intersectionality, and Vision
Individual volition and self-responsibility are the warp and woof of the American Dream. The ethos of the American Dream permeates contemporary expectations about aging. All the while, awareness of internalized ageism and cir­cumstances reflecting intersecting inequalities that have structured people's lives since birth recede further from focus. My mother's prefer­ences and choices signify how the transmission of cultural norms and values can be outcomes of, and mediums for, reproducing the status quo.
Aging is not simply about personal choices or biological decline. It also is linked with oppor­tunities that influence life chances, including the political economy and labor demands, networks and flows of capital, globalization and imperial­ism, migration, urbanization and the built en­vironment, architecture and design, space and place, gender expectations, and norms and val­ues that influence us as we grow up. There also is a strong interdependence between individu­als and generations. Young and old are inter­twined such that every generation needs those before them and those after them to survive and to thrive. These forces and factors shape—and continue to shape—my family's experiences of aging in America.
As is commonly written about Asian cul­ture, the filial piety in my family is strong. I share this story not to reinforce a trope, nor to perpetuate the stereotype of Asian Americans as model minorities, an image used as a lever of white supremacy that rests upon and draws its power from the fulcrum of anti-black racism (Wu, 2015). This story locates my grandmother and mother as historical and social actors in the world. Their experiences point to the ways pow­erful macro forces are linked to personal narra­tives and how culture does the work of power by seeping norms and values into our everyday lives.
The field of aging has been visionary from its start because of its orientation to anticipate the future. It is why we need gerontology. Vision, however, is always a question of the power to see. As a younger woman of color working in the field of aging, I ask, "With whose blood were my eyes crafted?" (Haraway, 1988). This means being re­flexive about self-knowledge and self-identity. This article is a self-conscious work in progress to expand my gerontological vision—an oppor­tunity to center my grandmother and mother as part of my intellectual grounding, to look to them to help me see.
Jarmin Yeh, Ph.D(c), M.P.H., M.S.S.W., is program evaluator and researcher for the Institute for Health 
& Aging at the University of California, San Fran­cisco, School of Nursing. She is past chair of ASA's Students to Emerging Professionals (STEP) Commit­tee and alumna of ASA's New Ventures in Leader­ship program.
References
Bieler, S. 2004. "Patriots" or "Traitors"? A History of Ameri­­can-Educated Chinese Students. 
New York: Routledge.
Callahan, J. J. 1992. "Aging in Place." Generations 16(2): 5–7.
Cho, S., Crenshaw, K. W., and McCall, L. 2013. "Toward a Field of Intersectionality Studies: 
Theory, Application, and Praxis." Signs 38(4): 785–810.
Crenshaw, K. W. 1989. "Demar­ginalizing the Intersection of Race and Sex: A Black Feminist Critique of Antidiscrimination Doctrine, Feminist Theory and Antiracist Politics." University of Chicago Legal Forum 140: 139–67.
Elman, B. 2013. Civil Examinations and Meritocracy in Late Imperial China. New York: Cambridge 
University Press.
Estes, C. L., Binney, E. A., and Culbertson, R. A. 1992. "The Ger­ontological Imagination: Social Influences on the Development of Gerontology, 1945–Present." International Journal of Aging and Hu­man Development 35(1): 49–65.
Frey, W. H. 2010. "Baby Boom­ers and the New Demographics of America's Seniors." Generations 34(3): 28–37.
Golant, S. M. 2015. Aging in the Right Place. Baltimore, MD: Health Professional Press.
Haraway, D. 1988. "Situated Know­ledges: The Science Question in Feminism and the Privilege of Par­tial Perspective." Feminist Studies 14(3): 575–99.
Hayden, D. 2002. Redesigning the American Dream: Gender, Housing, and Family Life. New York: W. W. Norton & Company.
Jackson, K. T. 1985. Crabgrass Frontier: The Suburbanization 
of the United States. New York: Oxford University Press.
Model, S. 2017. "Why Are Asian-Americans Educationally Hyper-selected? The Case of Taiwan." Ethnic and Racial Studies 1–21. doi.org/10.1080/01419870.2017.1341991.
Rowe, J. W., and Kahn, R. L. 1997. "Successful Aging." The Gerontolo­gist 37(4): 433–40.
Torres-Gil, F., and Hofland, B. 2012. "Vulnerable Populations." In H. Cisneros, M. Dyer-Cham­berlain, and J. Hickie, eds., Inde­pendent for Life: Homes and Neigh­borhoods for an Aging America. Austin, TX: University of Texas Press.
Wu, E. D. 2015. The Color of Success: Asian Americans and the Origins of the Model Minority. Princeton, NY: Princeton Univer­sity Press.
Zee, T. Z., and Chang, L. N. 1910. "The Boxer Indemnity Students of 1910." The Chinese Students' Monthly 6(1): 16–19.