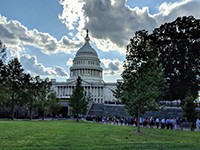 By Kathy Sykes and Terri Lewinson
In 2018, Americans are sharply divided. The country and Congress are polarized over tax cuts for the wealthy, anti-immigration tactics and increases in mass school and police shootings. Furthermore, Supreme Court politics threaten anti-discrimination policies, as well as pro-union and pro-choice protections. As a result, Americans are unsettled and uncertain about the country's future.
Even while these internal conflicts fester, there is rising disappointment in U.S. relations with foreign allies and a growing sense of U.S. isolation. Political pundits expect a strong response to such dissatisfaction with the current Administration. Many have begun to speculate about voter participation in the November 2018 races and 2020 presidential election, especially among older and minority communities affected by dissolute policies.
Parsing Electoral Behaviors
Despite the time and money that will be spent on influencing voters, it is estimated that 40 million Americans who voted in 2016 will not vote in the midterm elections. So who will sit out? Nearly two-thirds of the non-voters are expected to come from the "Rising American Electorate (RAE)" (a term
coined
by Celinda Lake, Joshua Ulibarri and Caroline Bye)—unmarried women, Latinxs, African Americans, Asians and Millennials. In 2016, nearly 133 million eligible voters came from the RAE, comprising for the first time a majority (59.2 percent) of the voting-eligible population.
One part of the electorate that is expected to vote is older voters (defined by the U.S. Census as ages 65 and older), who vote in both presidential contests and midterm elections. In 2016, older voters had the
highest turnout rate
of any age group, at 71 percent. But "voting rates among this group begin to fall when people reach their late 70s, as health and mobility ob­stacles make it harder to get to the polls," according to Alicia Parlapiano and Adam Pearce in
The New York Times.
A number of analysts have attributed greater voter engagement to education attainment. Re­search conducted by the late gerontologist Robert Binstock found that older people have a greater interest in public affairs—particularly in campaigns. What are less clear are their party preferenc­es, concerns and priorities. Older voters do not appear to vote in a bloc.
Binstock
found "(t)heir ballots tend to distribute among candidates in roughly the same pat­terns as do those of other age groups and the electorate as a whole." But, "Politicians still do focus on the potential cohesiveness of older voters and attempt to position themselves accordingly when undertaking government actions and elections campaigns …"
According to the same New York Times article, "Most of the differences between people who vote and those who don't vote can be accounted for by motivational reasons—levels of political interest and engagement," said Benjamin Highton, a professor of political science at the University of California, Davis. "And levels of political interest and engagement are strongly correlated with education and income."
But demographics provide only a partial answer. Experts believe "individuals tend to be moti­vated by a combination of their priorities, their group culture, how competitive their state is, and how easy or hard it is to vote," according to The New York Times article.
In 2016, turnout among white voters increased from 61.3 percent to 64 percent and ethnic minori­ties accounted for nearly 27 percent of voters. Although voting participation in Latinx communi­ties was relatively unchanged from 2012 levels, there was a sharp decline among black voters, from 62.1 percent to 57.2 percent, according to the
Bipartisan Policy Center
.
While some
researchers
speculate about white voter engagement based on college degree status, others consider push-and-pull factors that may influence ethnic minorities' par­ticipation. A historical legacy in the United States, push factors include suppression efforts that restrict minority communities from voting. Pull factors include the diversity of motivations that draw people to the polls.
Many political pundits believe voter suppression to be the most important issue in the upcom­ing elections. Suppressing votes from ethnic communities may include instituting repressive voter ID rules, closing polling facilities, restricting poll voting hours, giving misinformation about voting opportunities, constraining early voting options, shifting legislative districts (gerrymandering) and challenging voter registration legitimacy.
Most recently, Russian interference in American elections has provided justifications for voting suppression tactics. But discouraging minority voting is not new. Even before the signing of the Vot­ing Rights Act of 1965, civil rights leaders such as Martin Luther King Jr. fought against violence and discriminatory literacy testing of prospective black voters, many of whom gave their lives at the polls. Despite this legislation, protection of rights for ethnic minority voters remains a challenge.
Congressman John Lewis (D-GA) says voting rights are "
under attack in America
" as many states change laws to "make it significantly harder for more than 5 million voters to exercise their constitutional right to vote."
There are two strong pull factors affecting black voter turnout. First, political pundits must resist examining the motives of black voters as a monolithic group. Recent
polls
from the Pew Research Center report 40 percent of black respondents self-identified as moderate, 30 percent as conserva­tive and 28 percent as liberal. Other
polls
have cata­logued varied perspectives among black citizens on how much progress has been achieved since the civil rights era. Understanding black voter assumptions about equality and policy priorities is criti­cal to understanding enthusiasm for participating in upcoming elections.
Second, frustration about consistent incivilities against vulnerable communities of color will cer­tainly play a part in decisions about voter participation. The widespread failure of the American gov­ernment to protect marginalized communities from exploitation by racist institutional practices has created a
great distrust
by ethnic minorities, who perhaps have begun to question the democratic process.
In a
recent article
published by The Atlantic, Vann R. Newkirk II wrote of the continuous oppression of communities of color, which are riddled with aggressive marching by openly proud Nazi Klansmen, unaddressed killings by police officers, mass evictions by uncom­passionate landlords, increasing infant mortality resulting from institutional racism and disparate healthcare and endemic generational poverty that is reinforced by predatory lenders and incorri­gible banking practices.
Latinx communities are suffering and families are being decimated by the Administration's cur­rent immigration policies. With such an ever-widening divide between white and black America, and many communities in between, Newkirk poses the question, "Is simply being anti-Trump enough to get them out this fall?"
When 99 percent of black voters believe America has become more racist since 2016, as reported by
BlackPAC
, it is clear that can­­didates should identify concrete solutions to racial tensions to earn black voters' participation in upcoming elections.
Kathy Sykes, M.A., is retired from the U.S. EPA. She also worked for former Congressman David Obey (D-Wis.) and for the U.S. Senate Special Committee on Aging. Terri Lewinson, Ph.D., L.M.S.W., is a Health and Aging Policy Congressional Fellow and an associate professor in the School of Social Work at the Andrew Young School of Policy Studies at Georgia State University in Atlanta.
Editor's Note: This article appears in the September/October 2018 issue of 
Aging Today
, ASA's bi-monthly newspaper covering issues in aging research, practice and policy nationwide. ASA members receive 
Aging Today
as a member benefit; non-members may purchase subscriptions at our online store.