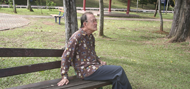 By Romilla Batra
In 2015, Estella, a Spanish-speaking older adult living in the Los Angeles area, was diagnosed with colon cancer and forced to quit her longtime job as a nanny. While undergoing chemother­­apy and radiation, Estella suffered from severe depression. She missed the children she had cared for and reported feeling hopeless. She also was experiencing insomnia, had difficulty con­centrating on daily activities and her medical procedures and anxiety kept her housebound for days on end.
Estella is not alone in her struggle with social isolation.
Research
conducted by SCAN Health Plan shows that 82 percent of older adults know at least one person who is lonely, yet a staggering 58 percent of elders are reluctant to admit to feeling lonely. As an organization whose mission is to keep older adults healthy and independent, SCAN Health Plan finds these statistics and the immense negative health impacts of isolation heartbreaking. Isolation is a preventable issue, and our organization is dedicated to finding solutions to prevent and remedy social isolation among older adults and their caregivers.
U.S. Census Bureau statistics show that 11 million people, or 28 percent of those ages 65 and older, live alone. As people age, they are increasingly likely to live alone, and for those without children or others close to them to provide company and care, isolation may result. With federal government data estimating the number and proportion of older Americans will increase to nearly 21 percent of the population, we can infer the risk of isolation—and related risks—also will grow.
SCAN Health Plan is one of the largest nonprofit Medicare Advantage Plans in the country. In­dependence at Home is a community service through which SCAN provides vitally needed services and support to elders and their caregivers, and SCAN has designed and implemented several pro­grams that help address social isolation and related mental, physical and emotional health issues.
Insights Program Shows Promise
One such program that has seen ongoing positive results is Insights—an innovative approach to deliv­ering behavioral healthcare to older adults and their caregivers in their homes or other locations of their choice, and in their primary language, to enhance patients' receptiveness to treatment and, thus, program effectiveness. Older adults and their caregivers are connected with trained therapists to sup­port challenges associated with ag­­ing; these therapists help participants to feel bet­­-ter emotionally, which often leads to improved physical health.
Insights' services are grounded in evidence-based practices and provided in English, Spanish, Vietnamese and Korean languages by licensed the­­rapists to Los Angeles and Orange county resi­dents at no cost. Launched as a pilot project in early 2016 in collaboration with re­­searchers from the University of Washington, early results of the program have been promising in terms of clinical outcomes.
Since the program's inception, rates and severity of depression and anxiety have been reduced among participants and quality-of-life scores have improved. Early outcomes indicate that partici­pants' levels of depression fell from a moderate level (11) at the start of the program to a mild level (5) by the time they exited the program, as measured by the Patient Health Questionnaire (PHQ-9) tool. Similarly, participants' levels of anxiety fell from severe (12) to mild (6) as measured by the Geriatric Anxiety Scale (GAS-10). Participants' scores on the Quality of Life Enjoyment and Satis­faction Questionnaire—which assesses quality of life, or the degree of enjoyment and satisfaction experienced on a daily basis—also im­­proved by the end of treatment, in­­creasing from 44 percent at the start of treatment to 54 percent.
Volunteering Can Combat Social Isolation
Ensuring a sense of purpose is another effective method to treat and combat social isolation. For ex­ample, Volunteer Action for Aging (VAA) is a SCAN community service that engages older adults in fun and meaningful activities through volunteer­­ism. One of VAA's programs, Friendly Visitor, connects vol­unteers of all ages with homebound elders who face depression, isolation and other life challenges.
Volunteers are matched with a client and provide emotional support, companionship and con­versation through weekly, in-person visits, which often lead to long-term friendships. SCAN is expanding the program to include "Friendly Callers," which offers connection via phone calls, and a flexibility that enables more volunteer participation—and the ability to serve more older adults.
One subgroup in the volunteer program is called the GiveBackers, made up of volunteers who are ages 55 and older. GiveBackers find that volunteering has brought them—and the people who they serve—a wealth of benefits.
"Serving seniors gives me an opportunity to contribute in a way I didn't know was available," said one GiveBacker. "It has opened my eyes to a new community."
One program specific to SCAN Health Plan is Member2Member, where Peer Advocates—spe­cially trained SCAN mem­­­­bers—call other members who have been identified as being at risk for some of the common conditions of aging, includ­­-ing falls, incontinence and depression. By estab­lishing common ground and using motivational interviewing techniques (a counseling approach designed to elicit positive behavior change by helping members explore goals and resolve ambiva­lence to motivate them to work toward change), SCAN's Peer Advocates are able to have meaning­ful conversations on topics these members may otherwise not discuss with anyone else.
While SCAN is still studying this program's effectiveness, it expects outcomes in line with oth­er, similar interventions. For example,
studies of Stanford's Chronic Disease Self-Management Pro­­gram
—which fea­tures peer-led workshops—found 5 per­­­cent reductions in ER visits at both 6- and 12-month assessments, as well as a 3 percent reduction in hospitalizations at 6 months among national program participants.
SCAN Health Plan looks for opportunities to share with other organizations program results and related information that can positively impact older adults. The hope is that other organiza­tions can leverage what SCAN has learned, in order to enhance services and support for elders in other regions.
SCAN continues its work to diminish social isolation among older adults and looks forward to continued collaboration with others in the aging services community, partnering to create new approaches that can help older adults remain healthy, independent, connected and engaged.
Romilla Batra, M.D., is the chief medical officer for the SCAN Health Plan in Long Beach, Calif.