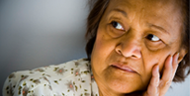 By XinQi Dong
Elder abuse is a substantial global public health issue. The World Health Organization has declared that elder abuse is a violation of one of a human being's most basic fundamental rights: the right to be safe and free of violence (World Health Organization, 2002). In the United States, an estimated 10 percent of elders experience abuse each year, and many of them experience it in multiple forms (Beach et al., 2010; Acierno et al., 2010). In addition, elder abuse is associated with increased risk of premature morbidity and mortality (Dong et al., 2009; Dong et al., 2011a; Dong, Simon, and Evans, 2011; Dong et al., 2011c). Despite the accessibility of Adult Protective Services (APS) and nursing home regulations in all fifty states, an overwhelming number of abused older adults pass through our healthcare system undetected and untreated.
A major complexity in advancing the field of elder abuse is exemplified by the issues of cultural diversity surrounding elder abuse. In 2003, the National Research Council put forth a strong recommendation to urge the field to explore cultural issues related to elder abuse. In 2010, the National Academy of Sciences and the National Institute on Aging organized a state-of-science meeting on research issues in elder mistreatment and financial fraud, including discussion of cultural diversity (The National Academies Committee on National Statistics, 2010). Despite these reports and the continued effort of multiple disciplines across academic, community, state, and federal organizations, there remain vast gaps in our understanding of cultural issues in elder abuse.
In the United States, the aging population (ages 65 and older) represents approximately 40 million (12.9 percent) of the population; by 2030, there will be about 72.1 million older people, more than twice the number in 2000. In 2010, approximately 20 percent of people ages 65 and older were minorities; 8.4 percent were African American; 6.9 percent were of Hispanic origin; 3.5 percent were Asian or Pacific Islander; and 1 percent were American Indian or Native Alaskan (Administration on Aging, 2012).
Recent studies have expanded our knowledge about elder abuse in African American, Latino, Korean, Indian, Native American, and Chinese populations. However, we need more studies to fill in the large gaps in our knowledge. We need quantitative and qualitative studies to better define the concept and cultural variations in the construct, definition, and understanding of elder abuse; and we need cultural explorations to better study the barriers to reporting elder abuse and help-seeking behaviors with respect to the specific sociocultural contexts. Studies also are needed to understand the prevalence, incidence, risk/protective factors, and consequences associated with incident cases of elder abuse and its subtypes in diverse populations. And we must have research to explore the issues of cultural norms and cultural expectations in relation to the perception, determinants, and impact of elder abuse in different racial and ethnic communities.
A Call for Community-Based Participatory Research
Significant challenges exist in the preparation and conduct of aging research in minority communities, especially regarding culturally sensitive issues such as elder abuse. A community-based participatory research (CBPR) approach could be a potential model for exploring the issues of elder abuse in minority communities.
CBPR necessitates equal partnership between academic institutions with community organizations and key stakeholders to examine the relevant issues. This partnership requires reciprocal transfer of expertise and needs to build infrastructure toward sustainability. Recent elder abuse research in the Native American and Chinese communities has demonstrated success and has enhanced infrastructure and networks for community-engaged research and community-academic partnerships (Dong et al., 2011b; Holkup et al., 2007). CBPR methodology could be a novel model for conducting systematic and culturally appropriate elder abuse research in minority populations.
The Importance of Culturally Appropriate Education and Training
Culturally appropriate education and training are critically necessary for healthcare professionals, law enforcement personnel, social services agencies, APS agencies, community organizations, and others having contact with older adults (Cooper, Selwood, and Livingston, 2009). Federal programs that provide funding to academic institutions should mandate elder abuse and cultural diversity training and violence-across-lifespan training for internal medicine, geriatric medicine, family medicine, and other relevant medical and surgical subspecialties.
Culturally appropriate training and resources for the APS and other frontline workers will be critical to alleviate factors exacerbating abusive situations and to prevent elder abuse recidivism. Moreover, this education and training must emphasize medical, social, and cultural complexities of vulnerable elders with respect to cognitive impairment, dementia, and decision-making capacity issues. Furthermore, this education and training must be vertically integrated across relevant disciplines in order to maximize learning and knowledge retention.
Legislation Influencing the Field of Elder Abuse
Despite the passing of the Elder Justice Act as a part of the Affordable Care Act, continued effort must be applied to ensure adequately appropriation of this landmark bill. Currently, three other relevant pending legislations could significantly influence the field of elder abuse, as follows:
The Violence Against Women Act is pending reauthorization. Despite interest in the prevention and treatment of violence against older women, it constitutes a very small fraction of the legislation.
The Elder Abuse Victims Act is currently being drafted. This legislation will provide unprecedented services and protection to the victims of elder abuse at the national level.
The Older Americans Act (OAA) is in the process of undergoing reauthorization. Among many components of the OAA, protection of older adult and elder rights-related activities are a critical component that must be sustained and expanded.
We must have comprehensive and culturally appropriate advocacy and policy efforts in order to push for the culture diversity issues of elder abuse in the above-mentioned legislation at the local community, city, state, and federal levels (Dong and Simon, 2011).
Conclusion
Elder abuse is a pervasive public health issue, yet there are major gaps in research, education and training, and policy. Nationally, we need representative longitudinal research to better define the incident, risk/protective factors, and consequences of elder abuse in diverse racial and ethnic populations. We must have collective federal, state, and community efforts to support the culturally appropriate training and education on the issues of elder abuse, and to enable practice and policy changes for our increasingly diverse and vulnerable aging populations.
---
XinQi Dong, M.D., M.P.H., is director of the Chinese Health, Aging and Policy Program, associate director of the Rush Institute for Health Aging, and an associate professor of medicine, nursing, and behavioral sciences at Rush University Medical Center in Chicago, Illinois. He can be contacted at xinqi_dong@rush.edu.
References
Acierno, R., et al. 2010. "Prevalence and Correlates of Emotional, Physical, Sexual, and Financial Abuse and Potential Neglect in the United States: The National Elder Mistreatment Study." American Journal of Public Health 100(2): 292–7.
Administration on Aging. 2012. Aging Statistics. www.aoa.gov/AoARoot/Aging_Statistics/index.aspx. Retrieved June 30, 2012.
Beach, S. R., et al. 2010. "Financial Exploitation and Psychological Mistreatment Among Older Adults: Differences Between African Americans and Non-African Americans in a Population-Based Survey." The Gerontologist 50(6): 744–57.
Cooper, C., Selwood, A., and Livingston, G. 2009. "Knowledge, Detection, and Reporting of Abuse by Health and Social Care Professionals: A Systematic Review." American Journal of Geriatric Psychiatry 17(10): 826–38.
Dong, X., et al. 2009. "Elder Self-Neglect and Abuse and Mortality Risk in a Community- Dwelling Population." The Journal of the American Medical Association 302(5): 517–26.
Dong, X., et al. 2011a. "Elder Abuse and Mortality: The Role of Psychological and Social Wellbeing." Gerontology 57(6): 549–58.
Dong, X., et al. 2011b. "How Do U.S. Chinese Older Adults View Elder Mistreatment? Findings from a Community-Based Participatory Research Study." Journal of Aging and Health 23(2): 289–312.
Dong, X., et al. 2011c. "A Prospective Population-Based Study of Differences in Elder Self-Neglect and Mortality Between Black and White Older Adults." The Journals of Gerontology Series A: Biological Sciences and Medical Sciences 66(6): 695–704.
Dong, X., and Simon, M. A. 2011. "Enhancing National Policy and Programs to Address Elder Abuse." The Journal of the American Medical Association 305(23): 2460–1.
Dong, X., Simon, M. A., and Evans, D. A. 2011. "Prospective Study of the Elder Self-Neglect and Emergency Department Use in a Community Population." American Journal of Emergency Medicine 30(4): 553–61.
Holkup, P. A., et al. 2007. "Drawing on Wisdom from the Past: An Elder Abuse Intervention With Tribal Communities." The Gerontologist 47(2): 248–54.
National Research Council. 2003. Elder Mistreatment: Abuse, Neglect and Exploitation in an Aging America. Washington, D.C.: The National Academies Press.
The National Academies Committee on National Statistics. 2010. Research Issues in Elder Mistreatment and Abuse and Financial Fraud (PDF). Meeting report. Washington, D.C. Retrieved June 30, 2012.
World Health Organization. 2002. World Report on Violence and Health (PDF). Retrieved June 30, 2012.
Editor's Note: This article is taken from the Fall 2012 issue of ASA's quarterly journal, Generations, an issue devoted to the topic "Elder Abuse and the Elder Justice Movement in America" ASA members receive Generations as a membership benefit; non-members may purchase subscriptions or single copies of issues at our online store. Full digital access to current and back issues of Generations is also available to ASA members and Generations subscribers at Ingenta Connect. For details, click here.