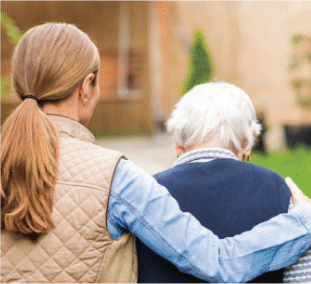 By Bill Benson 
The states' Adult Protective Services (APS) are America's front-line system of first responders to reports of abuse, neglect and exploitation of frail elders and vulnerable disabled adults.
Under the best of circumstances, the daily job of an APS worker is demanding, sometimes very painful, highly stressful and often overwhelming. Yet it's not without rewards, though these are not monetary, nor do they lie in comfortable work environments; they are more likely derived from the satisfaction of helping a frail older person or an adult with severe disabilities to leave neglectful or abusive circumstances and to live relatively independently.
One APS Worker's Story
Until recently, former Virginia police officer Mandy Weirich was a West Virginia APS employee, working initially as an investigator, then rising in the ranks to become the program's statewide APS trainer. Her jurisdiction was a mountainous four-county area covering 2,206 square miles, with 77,298 residents, of whom 18 percent, or almost 14,000, were ages 65 and older, as well as many disabled adults between ages 18 and 64, who also were part of the APS caseload.
Weirich's service area was supposed to have two investigators but often she was the only one, due to APS' difficulties with worker retention and stagnant budgets. When she started in late 2008, Weirich's active investigation caseload was 20, which climbed steadily to 50. This didn't include the additional 12 ongoing cases where she acted as a court-appointed adult guardian and healthcare surrogate.
Each day began with updating documentation in as many case files as possible; many APS clients slept late, so mornings were best for this task, as the rest of the day typically was spent in the field seeing clients in their homes and investigating other cases. As the caseload increased, so did the paperwork; to keep up it had to be done every day, but Weirich said this wasn't possible—there just wasn't enough time.
Before heading into the field, Weirich often consulted with her supervisor to plan for what she might face in responding to new reports of abuse or neglect, which active investigation was most urgent and what to anticipate with potential victims, their families and others.
Some trips to see a client in his or her home could take an entire day, with a 90-minute drive in each direction, sandwiched around trying to interview the alleged victim and attempting to locate and talk with family members, paid caregivers, neighbors and others. Preparations included deciding what to wear: office clothes for facility visits or clothes more appropriate for the field (rubber boots were the best for walking through mud or into homes that were filthy, dilapidated or bug-infested).
Other considerations included availability of APS' few government cars, versus using hers. And was there a potential for violence; should she be accompanied by a police officer? Sometimes, Weirich worked out a code for her supervisor to contact her if she hadn't been in touch for an extended period.
"I've been in every kind of home and circumstance … homes with no civilization for miles around. No cell phone access. Never knew what you were walking into. Some houses were so dilapidated I was afraid the floor … would fall in. Chickens and goats in the house. Walls covered with cockroaches." Weirich said the worst was an in-town apartment building. As she knocked on the front glass door, bugs were crawling all over it. When she entered, the walls were blanketed with them. "As I spoke to the woman reported to be taking advantage of an elderly person living there, the woman had a cockroach crawling on her." But no matter the environment, Weirich says it is always important to be respectful.
The most common reports APS received were about self-neglect. The fewest involved physical abuse, but these cases could be overwhelming. Weirich described investigating a case involving a frail retired federal employee—a highly educated man—whose wife and son kept him locked in their basement, which had only one window that was nailed shut. He had a bucket for his toilet, was covered in urine and was malnourished. His tapping on the window finally got the attention of a neighbor, who called APS.
After involving police and medical personnel, Weirich said she "couldn't have had a stronger case," but the prosecutor said the victim couldn't testify, so he wouldn't prosecute. She still was able to get the man removed from the home and placed under guardianship. "He lived out his last year with dignity [and] with a full belly," Weirich said, which gave her a sense of accomplishment and a good deal of satisfaction.
Complex, Demanding and Low-Paying Work
Weirich's law enforcement training didn't prepare her for the complexities and demands of APS. "I approached client assessments at first like a cop; just [get] the facts, and quickly. I hadn't been adequately trained to complete a social work assessment, but I learned over time, with help from my supervisor and by getting my M.S.W. I realized APS workers are front-line defenders of constitutional rights. It is our job to deal with whatever we encounter. If someone wants roosters in their home, that's okay. It's APS' job to do everything we can to help clients live their lives as fully as possible."
When Weirich took the entry-level APS position in 2008, her starting salary was $20,000—half her previous income. It rose to $24,000 in the first year and then to $28,000—the top salary for an APS investigator. She then became an APS trainer, and after this, her former area was realigned to include a much larger population and three investigators. But for a while there was just one, with a caseload of 80 investigations. Now there are two investigators with caseloads of 40 each.
Weirich recently left APS for what she describes as a "golden opportunity" to run a program in her community that focuses on elder abuse prevention, rather than on the unrelenting demands of responding to abuse and exploitation once it has occurred. "If we are successful," she says, "we may be able to reduce harm to seniors and take some pressure off of APS."
There is no question that states' and counties' APS are under constant and increasing pressures as reports of abuse, neglect and exploitation rise and case complexity increases. APS caseworkers and investigators face daily the darkest aspects of human behavior, working with limited resources. Yet they find satisfaction in knowing that their efforts can save lives, reduce harm, bring about justice and restore dignity to victims of abuse.
ASA Board member Bill Benson is principal, Health Benefits ABCs, in Silver Spring, Md.
Editor's Note: This article appears in the November/December, 2017, issue of Aging Today, ASA's bi-monthly newspaper covering issues in aging research, practice and policy nationwide. ASA members receive Aging Today as a member benefit; non-members may purchase subscriptions at our online store.