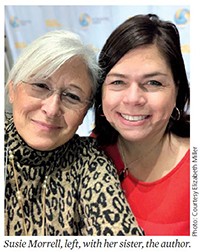 By Elizabeth Miller
Susie, age 59, has been the primary caregiver for our mom, Carole, age 83, for almost four years. Susie chose to be mom's primary caregiver after our family tried having our mom stay in assisted living facilities in the Atlanta area for almost two years. But mom required more care and companionship than an assisted living facility could provide, and a nursing home seemed premature at the time.
Susie is divorced and is the oldest daughter in a family of six children—three boys and three girls. My family and two of my brothers live outside Atlanta, Ga. Our other sister lives outside Washington, D.C. Most of Susie's four young adult children live in Penn­sylvania.
Susie also is acting guardian for our brother, Tom, age 56, who has a developmental and behavioral dis­ability. For the past two years, the three of them have lived in Northern Michigan at what was once our par­ents' summer home. While caring for Tom certainly presents unique caregiving and health worries, Susie is grateful to have him in Michigan.
For more than a year, mom has been 100 percent bedridden due to the progression of her COPD and mobility issues. Mom also has diabetes, depression, edema, sleep apnea, heart disease and hearing loss. Since summer 2018, Mom has received home hospice care.
Though not diagnosed with dementia, mom frequently has "adventures," during which she be­lieves she has spoken with dead relatives, taken a trip or had her life threatened.
Mom's only living sister and her family have a cabin across the lake and visit, providing meals when they are "up north." My little sister and I come up three to four times a year, separately, to offer extra helping hands. Our brother Tim also comes up regularly, specifically to help with open­ing and closing the Michigan cottages.
Susie also calls upon three private paid family caregivers to help with mom so she can go to church, play Bingo with Tom, attend local art and community events, take Tom to a doctor ap­pointment or enjoy an occasional massage. Susie looks forward to a few getaways a year, including going to Penn State games with her children, attending the National Caregiving Conference with me and heading to the beach for Sister Weekend. Securing coverage for 24 hours over multiple days is difficult, but Susie realizes how much these breaks recharge her.
A Day in Susie's Life
How the Day Starts: "Hi, Mom," Susie says from her bed as she answers the FaceTime call on her iPad. Susie is thankful Mom is iPad-savvy and can FaceTime her when Susie is out of earshot.
It is 5:30 a.m. Tom, who voluntarily stays up near mom during the night, must have just gone to bed. "Mom, it's only 5:30 a.m. Remember we said our day starts at 7 a.m.? Are you okay for another hour so I can get more sleep?"
Relieved that Mom says "okay," Susie sips a cup of coffee while reading the daily Jesus Calling devotion and writing in her journal.
The Morning Routine: At 7:00 a.m., Susie greets mom with a kiss. While putting in mom's hearing aids and picking up scattered items, Susie asks how mom slept. Mom divulges her latest "adventure."
Donning disposal gloves, Susie listens while checking to see if mom needs a bed change and emptying the catheter bag. Then, she redirects mom's thoughts by commenting on the sunrise over the lake.
While fetching coffee, Susie refills mom's water with lots of ice (just the way she likes it). She checks mom's blood sugar level, gathers her morning pills and prepares the breathing treatment.
After taking mom's breakfast order, Susie asks Alexa to play some music by the Righteous Brothers.
Then, Susie sets the timer on Mom's iPad and turns on the nebulizer for a breathing treatment (the timer helps prevent a debate on how long the mask has been worn). While mom eats her breakfast,
Susie makes oatmeal for herself, to help lower her cholesterol.
Because it's the weekend, the hospice care professionals aren't coming. Susie appreciates their week­day visits, as they bathe mom, change the sheets and order supplies.
Before Susie gets herself ready for the day, she assists mom with washing her face, brushing her teeth and changing her housedress.
As Susie folds laundry, she mentally plans the day. The front walk needs shoveling. Karen, the Eucharistic Minister from the Catholic Church, will be by tonight to offer communion. She remembers there's a pot roast in the fridge that really should be cooked. And, she's determined to do a workout on her stationary bike.
An artist, Susie's happy place is painting at the lake. Someday she'll have more time to paint and to market her art. She also longs for more time to drop everything and be with her children.
The Mid-Day Routine: Susie scurries around the house getting as much done before it's time to check mom's blood sugar and prepare lunch. Thankfully, mom's eyesight is still good enough to read romance novels on her iPad.
After mom's catnap, they play Uno. Often for Susie, playing cards, reading books or coloring with mom bring back long ago memories of time spent with her children.
The Evening Routine: The winter days are short. After sunset, Mom often gets confused, not knowing where she is or insisting she can stand. Susie usually agrees with her, except when stand­ing would be unsafe. When mom gets too agitated, Susie applies a prescribed anti-anxiety cream to mom's wrist.
Susie once more checks the bedding, empties the catheter, gives mom her insulin injection, removes the hearing aids, plugs in the iPad and situates all of mom's essential items on her bed­side table.
"I love you," Susie says, kissing mom's cheek, saying goodnight.
As she dims the lights, Susie recalls her mental morning list. Thankfully, she did get the walk­way shoveled (that counts as exercise, right?). Guess the pot roast can wait one more day. 
Susie is exhausted. She thinks, "Where did all the hours go?"
Though caregiving is demanding and draining, she reminds herself again, as she does more frequently these days, that what she is doing for mom and Tom really matters.
Susie makes herself a cup of tea.
Elizabeth Miller is a certified caregiving consultant, a Daughterhood Circle leader for Northwest Atlanta, the Happy Healthy Caregiver Podcast host and founder of HappyHealthyCaregiver.com.
Editor's Note: In the March-April 2020 print issue of Aging Today, in the article "A Day in the Life of a Caregiver," by Elizabeth Miller, the photo caption on page 7 incorrectly lists her sister's name. The correct name is Susie Morrell. We apologize for and regret the error.