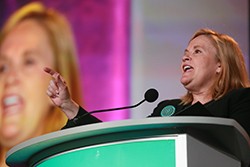 By Ty Johnson
Wednesday's General Session, titled "Ending Senior Poverty: Why We Can't Wait," included both a pointed call to action from ASA Chair Bob Blancato and a major announcement from Public Policy Chair Bill Benson, but AARP Foundation President Lisa Marsh Ryerson was the one who got everyone out of their seats.
She told a spellbound crowd exactly why #WeCantWait, and the Twitter storm that followed led at least one editor in Lower Manhattan to contact ASA to find out what all the fuss was about.
"The number of low income seniors is growing," Ryerson said. "The future is already here. These challenges are not just on our doorstep, they have crossed the threshold. That is why we can't wait."
Ryerson described poverty as "a societal disease rooted in discrimination and spread by indifference."
"Imagine if we treated senior poverty with the same sense of urgency that drives the CDC in attacking an epidemic," she said. "After all, we know that poverty is the ultimate social determinant of health."
Public Policy Committee Announces Initiative
Benson and ASA Board member Paul Downey, who is President and CEO of San Diego's Serving Seniors, announced that ASA will be investing in its advocacy through a public affairs agency in the nation's capital to bring the organization's message to Capitol Hill, while taking care to ensure that ASA's advocacy work builds on the Society's unique multidisciplinary perspective.
"The board has decided that we need to up our game," Downey said. He pointed out that the objective was not to duplicate the effective advocacy already being done by other organizations, but rather to find the opportunities where ASA's special characteristics can be mobilized to provide distinctive leadership.
While Benson generously pointed out the most recent federal budget contained many positives, he noted that threats to social programs, decreases to SNAP, the lack of a resolution on DACA (the deferred action for childhood arrivals program for children of undocumented Americans who were brought to the United States as children) and a continued immigration reform stalemate, was proof that more must be done if change is to come.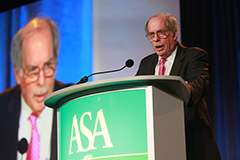 Blancato didn't mince words.
"Another way of looking at this omnibus budget bill is what it should be called: an absolute repudiation of Donald Trump's budget priorities," he said.
The Public Policy Committee and a new advocacy subcommittee will help to direct the initiative. More information on how you can participate will come via ASA Update.