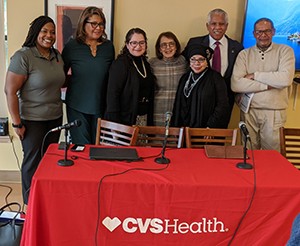 By Ty Johnson
WASHINGTON -- ASA's DC Roundtable event on Tuesday, Barriers to Voting that African American and Hispanic Older Persons Experience, was always expected to include some subtle references to the results of the Iowa Caucus as panelists grappled with the state of elections in 2020.
Instead the "inconsistencies" in the Midwest offered a reminder to NAACP Washington Bureau Director & VP for Advocacy & Policy Hilary Shelton of the value of the ballot box and the unending fight to keep it free to everyone.
"These challenges are very much with us," Shelton told more than two dozen people gathered at the Samuel J. Simmons NCBA Estates Community Room for the latest installment of the regional roundtable discussions in the capital, sponsored by CVS Health.
Barbara Hoenig, Senior Consultant to CVS Health, moderated the discussion, which in many ways contrasted the different election oversight approaches being used by different states across the country and their effects on registration, turnout and policy. Hoenig suggested attendees take a look at a 2017 report released by Sen. Bob Casey, Ranking Member on the Committee on Aging and Sen. Amy Klobuchar (D-MN) which outlined how inaccessible polling places and voting booths, limited access to transportation, insufficient options for casting ballots, and inaccessible voter websites are all obstacles to voting for millions of Americans.
Sindy Benevides, CEO of the League of Latin American Citizens, pointed to declining investment in minority voter organizing in the past decade, as well as a growing hostility toward immigrants as signs that the right to vote was being targeted.
The first Latina to head LULAC, Benevides said she was incarcerated as an infant with her Honduran mother; a policy of keeping families together that now has been replaced by one that separates them.
"As an immigrant, I have never felt so terrorized as I do today," she said before pointing to a renewed sense of civic duty that many in Latin American communities across the United States have experienced over the past four years that she hopes leads to increased turnout.
Karyne Jones, ASA Chair & President of the National Caucus & Center on Black Aging, reminded attendees of Jim Crow relics via stories about her grandmother and mother gathering their poll taxes before heading to vote, talking of literacy tests and gumball jars where want-to-be voters had to guess how many were in it for the right to a ballot.
"Now we have new barriers," Jones said.
Donna White and William Hopkins offered their views, too, as they witnesses firsthand the struggle to vote.
Hopkins, who as a felon in D.C. lost the right to vote, but regained it upon his release, noted the insidious nature of the nation's prison industrial complex and statistics that show 13 percent of African-American men aren't eligible to vote.
"If we split the families up, there's no wisdom to explain the importance of voting," Hopkins said. "It's about leaving a legacy to pass on."
Benevides voiced a similar conclusion as she highlighted the most important action item for organizations seeking to turn the tide against voter suppression by engaging minorities in the political process: "It starts at home."