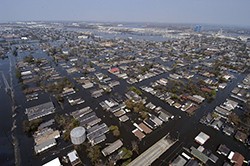 By Kathleen Votava
Disasters can happen anytime, anywhere. Recent years have brought many disaster events, including hurricanes Harvey, Irma, Maria and Michael, as well as wildfires and major flooding. Older adults and people with disabilities who have access needs and functional needs are particularly affected. Recently, the Center for Disaster Philanthropy noted that the major­ity of victims in California's 2018 Camp Fire were older than age 60, and half of Hurricane Sandy's victims in 2012 were older adults.
We build resilient individuals and communities when we adopt a "whole community" and "all- hazards" preparedness approach. This planning includes preparing for natural, manmade and public health emergencies.
A Multifaceted System of Supports
Today's older adults and people with disabilities rely on an interdependent, oftentimes complex system of formal and informal supports and healthcare to keep them as independent as possible in their own homes. People can become at risk if one or more of these supports falls apart. Emer­gency planners need to identify and meet the needs of those vulnerable older adults and people with disabilities who live in their own homes if and when any of these supports become inter­rupted. Available resources and tools to help with planning processes are described below.
People who live with dementia, or who are caring for someone with cognitive issues, are especial­ly challenged during a disaster. The National Alzheimer's and Dementia Resource Center, with funding from the Administration for Community Living (ACL), developed the Disaster Planning Toolkit for People Living with Dementia. This toolkit helps to guide people living with dementia, their family members and caregivers on how to prepare for and understand what to expect in the event of a disaster. The toolkit features tip sheets and check­lists for people living with dementia, their families and others who interact with them. Topics in­clude tips for people with dementia who live alone, strategies for communicating with people with dementia during disasters, how to respond to dementia symptoms and planning for what to do after 
a disaster.
Preparedness Help
People who depend upon electricity to live and maintain their independence at home also present a unique challenge. The CDC Morbidity and Mortality Weekly Report, in analyzing mortality data after Hurricane Irma, found two unique subcategories of heat-related and oxygen dependent–re­lated deaths in which power outages contributed to worsening of existing medical conditions. Without sufficient planning and mitigation, many older adults may seek help at hospitals when these facilities are already overwhelmed. When a disaster hits, it is long past the time for agencies and community-based organizations (CBO) to be handing out business cards. An effective response requires an entire community and an all-hazards approach to planning. Help with this approach also is available through the federal government and state and county agencies.
The U.S. Department of Health and Human Services, Assistant Secretary for Preparedness and Re­sponse (ASPR) developed an interactive map called emPOWER that displays the total number of Medicare beneficiaries at state, county and ZIP Code levels. Users can use it for their own geographic information system applications, too.
State and county governments have accessed emPOWER to reach out to at-risk individuals, including older adults. They have identified gaps in resources and made informed decisions about the locations of emergency shelters. For example, the Florida Department of Health used the map to conduct critical outreach to more than 40,000 at-risk individuals during Hurricane Matthew. Nevada used emPOWER in partnership with the state's Aging and Disability Services Division, a Tribal emergency manager, durable medical equipment suppliers and others to conduct outreach during flood events.
CBOs—and Older Adults—Are Key in Disaster Planning
CBOs that work with older adults and people with disabilities are valuable resources and beneficial partners for local public health and emergency management agencies. They are subject matter ex­perts about the populations and communities they serve. CBOs should work together with local pub­lic health and emergency management agencies to ensure that older adults and people with disabili­ties are included in planning for disasters.
The Capacity Building Toolkit for Older Adults and People with Disasters was developed to guide the aging and disability networks to increase their ability to plan for and respond to emergencies. The toolkit can also help emergency managers and public health officials to understand the capabilities and expertise of these organizations. This toolkit was developed by ASPR, in collaboration with the National Association of County & City Health Officials and the Association of State and Territorial Health Officials. The ACL, in partnership with the Aging and Disability Network, also collaborated on the toolkit.
Older adults and people with disabilities have an important role to play in disaster prepared­ness. They should be aware of any potential hazards in their communities; is there a history of flooding, tornadoes, hurricanes or wildfires? The website Ready.gov provides many resourc­es, including guidance on building disaster kits specifically for older adults and people with dis­abilities. The site also provides information on planning for pets' welfare and how to be financially prepared in an emergency.
People responsible for disaster preparedness must adapt planning to meet the needs of those who rely on critical support services. Planners who are proactive and address changing environ­ments can better serve older adults and people with disabilities to continue to live independently in their communities.
Kathleen Votava is an Aging Program Services Specialist in the Office of Regional Operations, Administration for Community Living, U.S. Department of Health and Human Services, in Wash­ington, D.C.