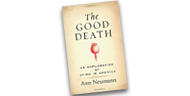 Interview by Alison Biggar
Ann Neumann, age 47, felt "broadsided" by her experience of caregiving for her father while he was in hospice, and wanted to address both the medical and non-medical aspects of end-of-life care. A visiting scholar at the Center for Religion and Media at New York University, and a contributing editor to the Center's review on religion and media, The Revealer, Neumann is committed to changing how patients are treated at the end of life—especially those with limited resources. She is the author of a new book, The Good Death: An Exploration of Dying in America (Boston: Beacon Press, 2016).
Aging Today (AT): How did you first become interested in exploring death, specifically the idea of a 'good death' in the United States?
Ann Neumann (AN): Like many people who take up this issue in a research capacity, it was because of personal experience. After 10 years of living with non-Hodgkin lymphoma, my father entered hospice and went home to have calm and quiet for his last few months. I took a leave of absence from my job, and found caretaking responsibilities to be both challenging and beautiful. But there was in me a kind of anger at how misinformed I'd been about what was taking place with him, so I decided to do something about it. I became a hospice volunteer, and the interest grew from there.
AT: Why did you write The Good Death?
AN: At first, it was to work out this anger and emotion. I had to get close enough to people who were dying to figure out if my father's death had been good—to find out if I had done everything I could. The more I researched, and met people and fell in love with patients, I realized [death] was something we had to face more directly, that others were not doing. The only work [on end-of-life issues] was coming from the medical community and from bioethicists, and I wanted, as a nondoctor—a person without those medical resources—to address [death] in a practical way. The book tells stories of people I met along the way—as a way of [enumerating] the larger ethical and religious challenges we face. We must [confront] the greater systemic challenges our country faces, which include racial and economic disparities in healthcare.
AT: Are doctors now more aware of the overtreatment problem in elders, and if so, what are the impacts of this 'new' perception?
AN: Yes, we're seeing a lot of shift and change. But there's a big difference between awareness and action. For example, doctors outside of urban areas are not encouraged to have [end-of-life] discussions. I think we should start requiring doctors-in-training to spend a semester as hospice volunteers. That would educate them as to what patients need and want.
AT: Please describe the biggest surprises you encountered while you have been volunteering for hospice.
AN: I was shocked by the visceral nature of caretaking. We live with these bodies, we think we have intimate relationships with the people in our lives, but when you're constantly engaged with a dying body that's puking, incontinent, literally falling apart, it's incredibly humbling and profoundly mind-changing about human nature, human status, humanity. To be able-bodied—that definition has completely changed for me now. I can no longer take my body for granted.
AT: How did your conversations with advocates on either side of the right-to-die movement change or cause you to evolve your point of view on the topic?
AN: I was, like so many people, shamed by the topic. When my father was ill and I first went home to care for him, my dad said, 'I think I'll just shoot myself behind the shop, or hang myself.' As his daughter, the last thing I wanted was that [kind of ] end for my father. I thought it was a dirty little secret we shouldn't talk about. But the more I researched Montana, Oregon, Washington, California—all states where legal aid in dying is now possible—individual advocates and desperate patients taught me the real meaning of Death with Dignity laws. How it can be a great benefit and comfort for these people.
AT: About your chapter on disability rights activist Bill Peace: could you restate how he would lay out his opposition to assisted suicide?
AN: I don't want to speak for Bill, but I think he sees American society as discriminating against the disabled. He sees the disabled as neglected and shunned by the medical community, left outside social services, not properly addressed or accommodated, 25 years after the Americans with Disabilities Act passed. I'm very clear that his fear is legitimate. But when you start pulling apart those fears and applying the regulations of Death with Dignity laws, his is an emotional reaction, one of very sincere fear that his life doesn't matter as much as anyone else's life.
AT: Do you continue to volunteer for hospice? And how has this experience influenced your thinking about your own death?
AN: My last patient, who I wrote about at the end of the book—I was with her and her family every week for four years. She died on Dec. 2 (the 10th anniversary of my father's death), and I sat with her husband as he waited for his daughter to arrive. I have continued going to see him—he is 91, has all sorts of ailments and is lonely as hell. After he dies, which I hope is not for a while, I will take a little break.
I never see myself as being too far away from the hospice experience: I love it—to care unconditionally without expectation, overlooking all vagaries of personality, [to witness] all the things elders experience as they're dying—all of this is so rewarding. Death is the most natural thing in the world, and we need to remember that when discussing death and dying—it's not unnatural. It's the most human of experiences.
Has hospice work changed the way I think about my own death? Well, I really appreciate my days, and I have a greater appreciation for my physical abilities and my time here on earth.
---
Editor's Note: This article appears in the May/June 2016 issue of Aging Today, ASA's bi-monthly newspaper covering issues in aging research, practice and policy. ASA members receive Aging Today as a member benefit; non-members may purchase subscriptions at our online store or Join ASA.