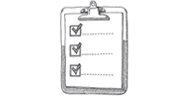 By Catherine Anderson
There's a saying that "You manage what you measure." Whether you're a program administrator within a state agency, a CEO of a health plan or a healthcare provider, what we choose to measure dictates where we focus our time and resources. That's why identifying the right set of meaningful measures is so important—especially when it comes to the development of programs that serve individuals in need of long term services and supports (LTSS).
As you know, Medicaid is the largest payer for LTSS in the country according to spending reports by Centers for Medicare & Medicaid Services. Increasingly, states are contracting with managed care plans to administer these LTSS benefits. According to the National Association of States United for Aging and Disability, nineteen states have implemented managed long term supports and services programs (MLTSS) as of December 2016. As this trend continues, states, advocates and health plans are looking to measure the impact on quality outcomes.
Currently, there is no comprehensive, national blueprint for assessing the quality of the highly- individualized services and supports central to the well-being of individuals served by LTSS programs. Each state has developed its own set of measures—some more specifically designed to the population and others more broadly defined similar to other populations in managed care. This inconsistency state-to-state and year-to-year makes it challenging to see how program changes impact outcomes or to evaluate program design from state-to-state.
Over the past year, I have had the pleasure of working with key leaders in the aging and disability community to develop a recommended set of quality measures for MLTSS. I am particularly excited about this work because the framework developed:
Goes beyond the traditional healthcare measures to consider individual goals and needs; and the social, functional, behavioral and clinical supports uniquely meaningful to the individuals we serve.
Focuses on outcomes and seeks to assess the effect on health status, employment, routine tasks, and quality of life.
Is practical and built on measures that states and health plans can implement with the data systems and tools they already have in place.
This work is important because of the potential to positively impact individuals served by MLTSS programs. At UnitedHealthcare we have begun to implement these measures and have plans to leverage the frameworks across the thirteen markets where we manage LTSS benefits. We hope that others serving people in need of LTSS will use these frameworks as a tool to measure progress and outcomes.
I encourage you to take a moment to look over the framework. Then consider how this work could strengthen the work you are doing in your community. For more information about this topic or the frameworks developed by NAB, please contact: MedicaidQuality@uhc.com.
Catherine Anderson is Senior Vice President, Policy & Strategy, UnitedHealthcare Community & State.