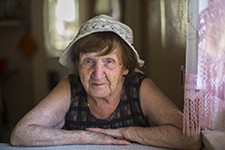 By Erin Long and Vijeth Iyengar
The population of older adults age 65 and over in the United States continues to rise, projected, according to the National Academies of Science, Engineering and Medicine's 2016 Families Caring for an Aging America report, to reach an estimated 72.8 million by the year 2030.  This growing population segment is comprised of individuals from a broad range of demographics, including, among other things, ethnicity, race, and geographic location. In particular, the populations of both minority and rural older adults are expected to increase at a pace that will equal or exceed that of the general aging population.
The Administration for Community Living's 2016 Profile of Older Americans predicts that, by 2030, the population of ethnic and racial minority older adults will comprise 28 percent of our older population. Grantmakers in Aging's calls attention to rural aging concerns in their paper entitled New Frontiers for Funding: An Introduction to Grantmaking in Rural Aging. The paper asserts that older adults residing in rural areas are aging faster than the rest of the nation, with one out of every four of them calling small towns or rural areas home.  Combined, these two estimates support the critical need for services and supports to reach these growing, but historically underserved, communities.
Since its inception, the Administration on Aging (AoA), within the Department of Health and Human Services' Administration on Community Living, has demonstrated a longstanding commitment to serving minority older adults and those who reside in rural areas. The language contained within the agency's authorizing statute, the Older Americans Act, reflects the commitment to vulnerable populations asking states to pay "particular attention to low-income older individuals, including low-income minority older individuals, older individuals with limited English proficiency, and older individuals residing in rural areas." 
The AoA has a long track record in the provision of home and community-based services and supports to assist underserved or vulnerable populations in remaining in their homes and communities.  Programs designed to support individuals living with Alzheimer's disease and related dementias, and their caregivers, continue to benefit from the Agency's discretionary monetary resources.
The Alzheimer's Association's 2017 edition of Alzheimer's Disease Facts and Figures reports that, in the United States, an estimated 5.3 million individuals age 65 and over are living with the disease. Addressing the needs of both persons with dementia and their caregivers is crucial given their projection that, without medical breakthroughs, the number of individuals with dementia is projected to increase to 13.8 million in 2050.  AoA funds grants to city and county governments, institutions of higher education, non-profits, small businesses, among other organizations via its Alzheimer's Disease Supportive Services Program (ADSSP) and the Alzheimer's Disease Initiative-Specialized Supportive Services (ADI-SSS) program. Through these programs, AoA supports access to a sustainable, integrated long-term services and support system capable of meeting the needs of persons with dementia, and their caregivers, allowing them to remain independent and healthy in their communities.
ACL is excited to host a half-day session at the upcoming ASA conference in San Francisco. This session will focus on the efforts of ADI-SSS and ADSSP grantees building dementia-capable service initiatives for persons with dementia and caregivers living in rural and minority communities. There is limited knowledge as to the prevalence, incidence, and specific community needs of minority and rural communities impacted by Alzheimer's and related dementia (ADRD), given that these communities are often underserved. The upcoming session will provide a unique opportunity for attendees learn about the implementation of innovative ADRD programs targeting these underserved populations programs in six different communities across the United States.  This unique learning opportunity is intended build awareness of tools and techniques ACL grantees have created and/or used in the delivery of dementia-capable home and community-based services.
The ACL session will draw on what current ADI-SSS and ADSSP grantees learned through structured community dementia capability needs assessments.  These assessments informed the development and/or expansion and implementation of dementia-capable programs and systems in the communities they serve.  The array of diverse institutions and professions represented on the panels will demonstrate the depths to which Alzheimer's and related dementias impact all levels of states and communities. 
This interactive session will include experts from programs in Florida, Hawaii, South Carolina, Texas, West Virginia and Wisconsin, all of whom will present strategies and lessons learned from each of the programs developed with ACL funding.  The panels will also include ACL staff to provide an overview of the successes and challenges in reaching underserved communities. Additionally, there will be a moderated discussion towards the future with respect to how to improve the deployment of these services to these communities.
Please join us at our session, Reaching Minority and Rural Individuals With Dementia: Strategies, Experiences and Successes From Administration on Aging Grantees, on Tuesday, March 27th from 1-4 pm.  Pre-registration is required and 3 CEU credits are available.
Erin Long, MSW, is an Aging Services Program Specialist in the Office of Supportive and Caregiver Services with the Administration on Aging/Administration for Community Living. Vijeth Iyengar, Vijeth Iyengar, PhD, is an Aging Services Program Specialist and the Presidential Management Fellow (PMF-STEM) at the Administration for Community Living/Administration on Aging.