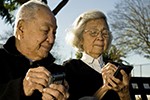 An update from ASA's Network on Environments, Services and Technologies (NEST)
By Philip B. Stafford, PhD, Chair, NEST
For NEST, this has been the year of co-design. We have tried to introduce ASA members to the idea that environments, services and technologies can be improved and innovated for a better fit with the lifestyles of older adults when older adults themselves are deeply involved with the design process. This implies a more egalitarian design process that relies less on experts and more on users. And deep involvement implies that design is based on an in-depth understanding of the lifeworld of elders. This is drawn from participatory methods, ethnography, and storytelling rather than survey and one-shot focus group studies. Following the metaphors of Steinar Kvale (1996), research with older adults is a journey, not a mining operation.
To learn about participation and co-design methods, attend AIA17 next March in Chicago (
www.asaging.org/aia
), where the NEST program day will include multiple sponsored sessions and events organized around the subject of co-design—of environments, services and technologies—the EST of NEST (
www.asaging.org/nest
).
Nearly 20% of the population of the U.S. has one or more disabilities. Of the 57 million individuals living in the community with a disability, 52% are age 18-64 and 40% are over the age of 65. By 2050, the 65+ group will comprise 20% of the entire population. Following two steps behind, the millennial segment is even larger than the baby boomer group. Needless to say, the aging of our society will undoubtedly bring about significant social change. A dreaded "silver tsunami" view of change remains ubiquitous, yet, a ripe opportunity to turn this so-called catastrophe on its head provides a much more optimistic picture. As Marc Freedman writes: "Our enormous and rapidly growing population–often portrayed as a burden to the nation and a drain on future generations–is in fact a vast potential social resource." 
The explosion of the older adult population will spawn a massive shift in the corporate world as it comes to its senses. It portends a booming population of consumers ready to take up innovations in products, services and technologies. This is not a bad thing, but it limits our view of the potential for design to promote social, not merely technical innovation. Viewing this massive group as producers rather than merely consumers will speed change and promote resilience in the face of the changing demographics, as Freedman suggests. The goal is not so much to design for as to design with older adults and people with disabilities. 
While co-design has its roots in and established practice in Europe and Canada, called Living Labs, the field remains in its infancy in the U.S. Within the international association of institutional practices (ENOLL—the European Network of Living Labs) there are nearly 400 member institutions, only two of which are found in the United States. Italian designer Ezio Manzini, founder of DESIS social innovation labs suggests that "favorable environments and enabling solutions are the results of articulated co-design processes in which final users, local institutions, service providers, and dedicated product manufacturers are all actively involved." (2015). Co-design studios around the world are not ignoring work with vulnerable populations.
To whet your appetite for the NEST day at Chicago, plan to attend the upcoming
February 9 ASA webinar on co-design and participation methods
with Kristin Bodiford, Laura Keyes and Esther Greenhouse, all experienced practitioners and researchers in the field. The presenters will offer an overview of the philosophy of co-design, discuss the process and practice and illuminate the subject with actual case studies, along with the standard Q and A. Save the date!
Kvale, S. 1996. InterViews: An Introduction to Qualitative Research Interviewing. Thousand Oaks, CA: Sage. 
Manzini, E. 2015. Design, when Everybody Designs. Cambridge, MA: MIT Press.