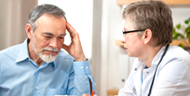 By Sue Halliday
Diagnosing dementia in the family practice setting has always been a challenge. Join us March 24th from 9:00 to 10:30 AM and learn how medical imaging and cognitive testing is being used today to diagnose the different types of dementia.
We are so excited to be presenting at this years Aging in America Conference! This is our second year to present and we have created an engaging workshop titled, "Diagnosing the Different Types of Dementia: The Evolution of Cognitive Testing and Medical Imaging." We will provide a comprehensive program because there are some serious questions to be answered when it comes to knowing what testing is available and how it is being used. Nearly fifty percent of individuals are not given an appropriate dementia diagnosis until it is too late for available treatment options, or to participate in clinical trials.
Ruth Tesar will begin our workshop with a detailed update on the status of routine and advanced medical imaging for dementia, including PET and MRI. What are the newest imaging agents and what is in the pipeline? Ruth will discuss which imaging tests are appropriate and available, as well as help you understand what role they play in getting to a diagnosis, answering the question, "what is the right test at the right time?"
Sue Halliday will discuss the development of diagnostic algorithms and help you understand how they are used in routine clinical practice. Sue will provide updates on private payer and Medicare guidelines for routine cognitive testing as well as coverage guidelines for diagnostic imaging. What tests are covered and paid for by the different payers and Medicare? She will also provide an update on the status of medical imaging within the large clinical trials.
Andrew Dougherty will discuss the role of cognitive testing in the primary care and neurology practice setting. What are the different tests, what do the results tell your physician and when is it appropriate to obtain more comprehensive tests? Andrew will give an overview of all the primary forms of dementia. The talk will cover screening for areas of cognitive function including: executive function, verbal fluency, visual-spatial, memory, attention and orientation and why it is imperative to test each domain. Andrew will also focus on specific preventative treatment options for each cognitive domain and how it can improve overall cognitive function. Also included will be a brief review of recent studies on diet/nutrition and physical exercise as preventative measures to delay the onset of dementia.
Handouts will be provided to include copies of the presentations and a sample of our recently published Better Brain Health book.
---
Sue Halliday, CNMT, is President and Co-founder of MI-COG, LLC.  At the 2015 Aging in America Conference, she and her colleagues will present "Diagnosing Different Types of Dementia: Cognitive Testing and Medical Imaging" on Tuesday, March 24, 9-10:30 AM in Soldier Field at the Hyatt Regency Chicago. You can search the entire program via our website and get the conference app.