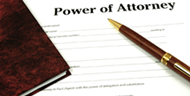 By Murray D. Scheel
As people age, they face the challenge of planning for the possibility that in the future they may have diminished or non-existent mental capacity to manage finances, healthcare and other personal care. Many states and jurisdictions offer individuals the ability to appoint an agent to have power of attorney over their financial affairs and healthcare decisions. The agent can have legal authority to make decisions and take action on that individual's behalf in the event of mental incapacity.
Many older LGBT individuals (particularly gay men), however, report having no close friend or family member they could appoint to have power of attorney for them. Many are single or widowed, and have no children. Their long-time friends often have died, moved away, or may be in the same predicament. Furthermore, older LGBT individuals frequently report not being close to blood family members. As a result, such individuals have no one to perform the sometimes arduous duties of a power of attorney agent. Such individuals are known as "unbefriended elders." This post describes a model by which such elders may nominate a guardianship attorney to serve as their agent or guardian in the event of loss of capacity.
If an unbefriended LGBT elder loses mental capacity to handle his or her affairs and/or to make healthcare decisions, any interested person can file a petition for appointment of a guardian/conservator over the elder. If the court finds that the individual has lost capacity, and there is no less restrictive alternative, the court will declare the individual to be a "ward" of the court, and appoint a guardian and/or conservator.
The law sets out a hierarchy of preferred individuals to appoint: 1. the person nominated by the ward in a durable power of attorney; 2. the ward's spouse or domestic partner; 3. an adult child of the ward; 4. another willing family member of the ward. If the ward has no power of attorney (for lack of a suitable agent), and no spouse, child or willing family member, then the court may appoint "[a]ny other person." This is typically a private attorney from a panel maintained by the court for the purpose of appointing guardians where none has been nominated or is willing to serve. Under these circumstances, the ward has little to no control over who is appointed his guardian.
As a result, an unbefriended LGBT elder could end up with a guardian with whom the elder has no prior personal connection, and who may have little to no LGBT cultural competency or interest in protecting the elder's LGBT identity and relationships. In fact, the guardian could be insensitive or even hostile to that identity. The elder could be condemned to living his or her final days with his or her LGBT identity ignored or even suppressed.
A better model would be for a legal services agency to help unbefriended elders preselect members of the existing guardianship bar, who have been screened for LGBT cultural awareness. Washington, DC's Whitman-Walker community health center uses such a model. Whitman-Walker serves greater Washington, DC's diverse urban community, including individuals who face barriers to accessing care, and has special expertise in LGBT and HIV care. Whitman-Walker also has a legal services department that assists its patients and members of the community with legal issues arising out of their health.
Whitman-Walker has pre-screened several members of the existing guardianship panel in Washington, DC. When a client has no one to appoint with power of attorney, we arrange a meeting between the client and one or two of these attorneys. The client and the attorney interview one another, and if the client is comfortable with the attorney, we draft either a limited or general power of attorney in which the client nominates that attorney to serve as his or her guardian/conservator if he or she were to ever lose mental capacity. We also assist the client in providing the attorney with a detailed inventory of all the information that could be relevant to managing their affairs. The client and the attorney then check in once a year, to ensure the arrangement still works, and that the attorney has current information about the client.
In the event the client loses mental capacity and needs a guardian/conservator, the attorney he or she selected can then file a petition with the court to be so appointed. Because the client executed a power of attorney nominating that attorney to be his or her guardian, the law gives preference for the appointment of that attorney, over against other potential petitioners. That way the client has some assurance that his or her affairs will be managed by a person he or she vetted and chose, rather than by a stranger.
The attorney would be paid out of the client's own funds, unless the client's funds were not sufficient. In that case, the District of Columbia has a special court fund from which to pay the attorney. This pre-selection model allows an unbefriended elder to have some choice and control over how his or her affairs will be managed if and when he or she loses mental capacity.
Each jurisdiction (state or county) has its own rules and procedures for guardianship, so such a model would have to be adapted to the relevant local practice. One initial step in deploying this model would be to reach out to attorneys in the local jurisdiction who practice estate planning or guardianship law, and who have an interest or experience in serving the LGBT population. This model can then be discussed with them to see how applicable it could be in that area, and they can be asked for referrals to fellow attorneys they think would be appropriate to involve.
For more information about this model, please contact Murray D. Scheel, 202-939-7695, mscheel@whitman-walker.org.
Murray D. Scheel, J.D., is senior staff attorney with Whitman-Walker Legal Services in Washington, DC.