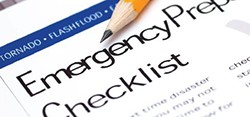 By Lisa M. Brown
During 2017, 15 major natural disasters occurred in the United States. Differences exist be­tween these types of disasters in terms of extent (e.g., timing, duration) and impact (e.g., loss of life, loss of community). The interaction of extent and impact influences how peo­ple prepare for future disasters, how they evacuate and how they experience and recover from such events.
Because the media in 2017 was filled with sobering news stories and accounts of officials urging the public to prepare for such events, one might expect that people would be motivated to develop a disaster plan, learn the location of their nearest public shelter and prepare a simple "go bag" with essential items. However, because the occurrence of a major disaster still is a relatively rare event, most people remain inadequately prepared.
Given that age-related vulnerabilities such as diabetes, hypertension, vision or sensory deficits, im­paired mobility, cognitive decline or mental health conditions such as depression or anxiety are more common in late life, policymakers, program managers and care providers should learn optimal prac­tices for serving older adults' needs during all stages of a disaster.
Citizen Preparedness—Not Prepared
To encourage disaster readiness, a number of government and nonprofit organizations have devel­oped and disseminated detailed instructions to family and paid caregivers of older adults. These materials describe how to prepare for disasters, secure safe shelter, cope with adverse events, ob­tain services and begin the recovery process. Despite a significant increase in these educational efforts, older adults still remain the least prepared subgroup of the population at greatest risk for adverse outcomes,
according to a 2009 FEMA study
.
Why have these potentially lifesaving educational endeavors failed to improve the disaster read­iness of older adults and their caregivers? The answer is complex, but the reason policymakers, di­saster planners and older adults who are care providers should be deeply concerned is simple.
At present, the vast majority (96 percent) of older Americans
live independently in their own homes
with some assistance from family, friends and care provided by an aging ser­vices network (e.g., home-delivered meals, home healthcare). Of this group,
approximately 95 per­cent
receive some type of health-related services delivered to their home.
A healthy caregiver may be constrained during all phases of a disaster by the care recipient. An older person with a physical or mental impairment may depend upon his or her caregiver to read and act on the disaster preparedness materials and respond in a timely way to disaster warnings. Physically, it may be difficult to shop for supplies or to quickly move out of danger with the care recipient. Slowness, lack of transportation and the need for specialized supplies (such as medica­tions or a walker) may place the healthier and faster caregiver in peril while she or he is assisting the care recipient.
Other disaster preparedness challen­ges include limited financial resources for buying supplies; difficulty lifting and storing heavy items; lack of space to store the recommended three-day supply of food, water and personal needs in a small living space; and immediate health concerns per­ceived as more pressing than disaster-preparedness activities.
A national survey of 13 million people ages 50 and older
revealed that nearly half would need assistance from someone outside of their immediate household during evacuation and relocation. After a disaster, many people may find themselves without the usual ser­vices and supports that maintain their health and independence; this can then result in a further decline in physical and mental health functioning.
Disaster Care Systems: Not One-Size-Fits-All
Despite researcher's adeptness in identifying risk factors for poor post-disaster outcomes, change may be slow in improving existing care systems because most disaster-related policies and plans consider all people older than age 65 to be a homogenous subgroup. For all ages, the same disaster may be experienced very differently due to race, class, previous experiences, health status and avail­able financial and social resources. Moreover, few disaster plans distinguish between the needs and abilities of older adults who are aging robustly from their less-well-functioning counterparts.
Because vulnerability to disasters is determined by a person's age, it is not feasible to target re­sources and services to those with greatest needs. This age-based approach also results in older adults who could serve as volunteers being overlooked as a vital resource. Although a small but significant group will develop enduring physical or psychological problems post-disaster, many older adults are resilient and can effectively cope during disasters and recover over time.
All agencies responsible for disaster preparation and response should be encouraged to use a disaster literacy approach when developing and evaluating materials for the general public. Many existing materials are not written at a sixth-grade reading level—the norm for disaster materials—nor are they easily understandable, actionable by the intended audience (e.g., lifting and storing heavy supplies) or readily accessible. Most materials are developed by a knowledgeable team of experts, but are not fully tested for effectiveness in real-world settings before and after disasters. What can be done to change the current situation?
Thinking Ahead to the Next Big One
Senior centers, assisted living facilities, faith-based organizations and neighbors could offer physi­cal space where local older adults could stockpile the three days' worth of water, food and supplies. Ideally, these supply centers should be within walking distance. If roads are blocked, a plan needs to be put in place with alternative modes of transportation to reach people who are mobility impaired or caregivers. In areas where citizens have horses, boats or regularly hike, these people could be enlisted to deliver supplies in a worst-case scenario. Even with space to store supplies and a devel­oped delivery system, many older adults may not be able to pay for disaster-specific supplies or be physically capable of carrying gallons of water and cans of food.
Beyond organizations providing financial and physical support in obtaining, storing and deliver­ing needed supplies they could offer assistance in developing disaster plans relevant to the geo­graphic region.
Older adults involved in these organizations could also identify community members who are homebound or socially isolated and would need assistance during a disaster. Finally, most existing di­saster preparedness documents stress the importance of social support during disasters. Disaster plans should identify members of the older adult's social network who could be called upon to pool resourc­es if water and food become scarce, offer support, share caregiving responsibilities and assist in clean up and the recovery process.
Older adults who live independently may not consider themselves as having special needs or being at greater risk during a disaster. However, the situation can change rapidly when electrical power is not available. Without backup generator power, elevators for high-rise buildings would be non-functional, as would refrigeration, heating and air conditioning systems and myriad other supports (e.g., electric scooters/devices, etc.), all of which places older adults' health and well-being in jeopardy.
To be clear, disaster preparation is not the sole responsibility of government agencies or non­profit organizations. It is everyone's responsibility to reach out to family members, friends and neighbors who could help in planning for a disaster.
As Benjamin Franklin once said, "By failing to prepare, you are preparing to fail." The time to prepare for a disaster is well before one occurs.
Lisa M. Brown, Ph.D., A.B.P.P., is professor and director of the Trauma Program in the Risk and Resilience Research Lab at Palo Alto University in Palo Alto, Calif.