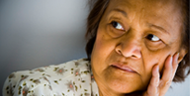 As assisted living evolves, there are many challenges—from equitable access to remaining true to original design principles.
By Mauro Hernandez
Since the late 1980s, states have considered assisted living (AL) a key home- and community-based service (HCBS) option for rebalancing their systems of long-term services and supports (LTSS). Assisted living has also been a solution for millions of older adults and their family members when increased frailty
makes remaining at home unmanageable.
Early AL proponents viewed it as a supportive housing model preferred by consumers, and one that should be available to all those who need LTSS. In reality, the AL concept has evolved into highly differentiated organizational models with often contradictory structures, practices, and values orientations. These contradictions lend support to critics who say the AL industry has fallen short of its early promises, first because some AL residences resemble institutions, and second because access to AL is often limited by income, race and ethnicity, and geographic area.
Characteristics of Assisted Living 
Using a broad definition of AL for elderly people, there are about 31,100 licensed AL providers in the United States with a capacity to serve almost one million residents (Park-Lee et al., 2011). Generally, AL communities are defined as non-nursing home residential settings providing room, board, assistance with activities of daily living, and twenty-fourhour staff. The physical features of AL communities differ between and within states. About half are small homes serving four to ten residents in private or shared bedrooms, which are either licensed under distinct adult foster home rules or allinclusive AL rules. In
terms of resident capacity, larger communities serve a majority of AL residents (See Figure 1). These include newer residential care homes built as assisted living and older board-and-care homes with a mix of private and semi-private rooms. The most recently developed AL type comprises studios and one-bedroom apartments that can be shared or not, depending upon the resident, and have full private bathrooms and kitchenettes. 
Assisted living organizations offer a varying scope of services. Core services tend to include some level of assistance with personal care, medication supervision, social and recreational activities, meals, and housekeeping. The greatest variation is in the intensity and frequency of personal care assistance provided by the organization, and the availability of specialized health and behavioral services. Recent industry figures show that 24 percent of providers do not provide therapeutic diets, 12 percent do not provide nursing services, and 48 percent lack wandering or behavior management (American Association of Homes and Services for the Aging, 2009). Without these and similar services, some AL settings may only partially substitute for nursing homes.
Can Assisted Living Be Part of HCBS?
Pioneers in AL imagined their communities as blending selected elements of traditional elder housing and long-term care. Settings would be residential and apartment-like, and staff would be able to directly provide or arrange for the maximum range of services one could receive at home. To distinguish themselves from nursing homes, some AL leaders used terms like "tenant" rather than "resident" and "move out" rather than "discharge." A few states and many affordable housing projects have adopted "housing with services" AL models in which services are coordinated with outside providers rather than using in-house staff.
In affordable AL settings, "base" or "room and board" charges may be calculated separately from other personal and healthcare services provided or arranged by the AL community; this is in order to accommodate public-lending requirements and Medicaid waiver restrictions. Specifically, Medicaid
waiver dollars can only be used to pay for services in non-institutional settings. This unbundling of housing and service costs is considered one of the features distinguishing AL from nursing homes.
The notion that AL is housing is at the heart of its acceptance as an HCBS service under Medicaid waivers. When AL is covered under HCBS waivers, states establish the conditions for provider participation. Eligible residents must meet the state's nursing home–level of need criteria. In turn, AL providers decide whether they will accept Medicaid residents. Most states allow (but do not require) AL providers to maintain the service capacity needed to serve very frail residents. To the contrary, many states specify that AL cannot retain consumers once they incur certain types or levels of disability. As noted further on in this article, when AL settings adopt practices restricting freedom of movement and lifestyle choice, they become more institutional.
When Does Assisted Living Deserve HCBS Designation?
In 2011, the Centers for Medicare & Medicaid Services (CMS) proposed redefining AL residences that could qualify as HCBS under Medicaid waiver rules. Such rules could potentially disqualify many elders living in AL from receiving Medicaid-funded services, and they met with strong opposition from provider groups, consumer advocates, and state policy makers. Specifically, proposed rules would exclude non-apartment–style AL, which have historically served low-income residents under state Medicaid waiver programs. Other disqualifying criteria included being designed for specific disabilities or being located in a "custodial care" facility, which is what most AL settings essentially provide. Less controversial conditions included having individual leases, lockable units, freedom to receive visitors and leave the residence, ability to age in place, and personcentered service planning. These draft rules represented the CMS' attempt to address reported inconsistencies found in AL, particularly in more institutional settings.
Variability in the Assisted Living Environment
In their ideal form, AL settings provide a normalized environment with residential features and more services, designed to support privacy, autonomy, dignity, and individuality. However, many AL communities diverge from this ideal, partly because industry associations and most states have grandfathered in older board-and-care homes that cannot be easily adapted. And, newer communities may adopt institutional structures and practices, often to address safety and health concerns, or limited resources.
The residential versus institutional nature of an AL community is clear from the physical environment. Numerous publications have provided guidelines for making AL more homelike, accessible, and integrated with the surrounding community. They emphasize minimizing the scale of buildings and common areas; using residential furnishings, materials, and treatments; providing personal living
spaces that maximize privacy and control (e.g., lockable, unshared living space and bathroom); and providing outdoor spaces that can be easily accessed by residents. Yet adopting these basic design practices remains uneven, as one finds AL common areas with large institutional lobbies, clinical reception desks, long corridors, blinking call lights, nursing stations, and so-called companion suites furnished with hospital beds.
Certain internal practices and policies also render AL environments more institutional, like using large medication carts, justifying the practice as being more safe and efficient. To save time, staff may begin using public address systems to make community announcements, and letting themselves into residents' rooms after only a perfunctory knock on the door. Convenience and family pressure also encourage institutional practices such as closing the dining room between meal times, or checking in on residents at night.
Maximizing resident autonomy, choice, and control are the foundations of noninstitutional AL practice (Kane and Cutler, 2009). This includes enabling residents to direct how services are provided according to their preferences and needs. It also involves residents having control over their personal space, as well as how and with whom they spend their time, within and outside the residence. Lack of control over remaining in AL settings has also been proposed as a feature that makes them less community-based. As noted below, state regulations and policies shape AL service capacity and residency criteria. State-to-state variability has continuously raised questions about how effectively AL settings can accommodate consumer preferences to age in place and minimize nursing home moves.
Disparities in Access to Assisted Living
There is growing concern that the same segments of the population facing barriers to quality housing and healthcare also lack equitable access to AL—particularly to the newer, less institutional apartmentstyle
settings. 
Rural access lower to nil
Although most older adults in the United States live in metropolitan areas, older people represent a larger proportion of non-metropolitan and rural populations who are more likely than their urban counterparts to be poor (Colello, 2007). National studies have reported that rural counties have a lower per capita AL supply than do urban counties. Rural areas are also more likely to have no AL settings at all (Stevenson and Grabowski, 2010). One likely explanation is the perceived lack of demand, both in terms of population size and financial resources, for larger apartmentstyle residences. Limited and complex financing options for new projects may also disproportionately hinder rural supply growth.
Fewer older minorities use assisted living
Older people of color are less likely to use AL, both in comparison to their proportion in the national population, as well as to their use of other LTSS options. During the late 1990s, there was a relatively small and possibly declining proportion of racial and ethnic minorities in AL (Spillman, Liu, and McGilliard, 2002). Howard and colleagues (2002) found that racial separation was occurring across and between facility types. Specifically, African American residents were more likely to be found in nursing homes (24 percent) than in all three types of AL, whether smaller (13 percent), traditional board-and-care (5 percent), or newer apartmentstyle models (4 percent). Price may explain some of these differences, given lower income levels and higher poverty rates among older people of color. Plus, AL residences are less likely to be found in counties with a higher proportion of minorities (Stevenson and Grabowski, 2010).
Assisted living residences with a higher proportion of minority residents have different characteristics (Howard et al., 2002; Salmon et al., 2004). Such buildings tend to be smaller, older, have lower monthly charges, and employ minority administrators. Living units are more likely to be bedrooms with shared bathrooms rather than private apartments. Residents are more likely to be younger, Medicaideligible, and have developmental disabilities or chronic mental health issues. Possibly, too, these smaller AL homes serving minority residents face greater hardships related to the growing burden of regulatory requirements (Carder, Morgan, and Eckert, 2006).
Cultural barriers
Addressing racial and ethnic disparities in AL use will require addressing largely unexamined cultural barriers. Lower use of AL by older people of color may be partly explained by a greater preference for family caregiving and a stronger sense of family responsibility among some groups. However, stereotypical views about group preferences may hinder developing effective cross-cultural outreach efforts. Another likely explanation is that typical AL settings lack features that would be considered culturally meaningful or compatible with the values, beliefs, and behaviors shared by some groups. In the healthcare and aging services fields, fostering cultural competency and cultural humility are considered both organizational- and individual-level interventions for ensuring more equitable access to appropriate and high-quality services. Such approaches have received much less attention within the AL industry. As with other HCBS, engaging members of underserved communities and developing constructive working relationships could help build cross-cultural understanding. Collaborative efforts would inevitably help identify opportunities for adapting practices, respecting traditions, and adopting approaches that would be considered more culturally appropriate and acceptable.
Lower income residents barred by cost
Compared to the population of older adults in the United States and to nursing home residents, lower income residents are less likely to be served in AL. Although the AL industry grew rapidly in the late 1990s, the proportion of lower income AL residents shrank (Spillman, Liu, and McGilliard, 2002). High monthly costs and limited financial assistance continue to be the main access barriers. Most older adults have incomes well below what a typical AL community charges. In 2008, the average base annual cost of AL was about $36,000 per year (MetLife, 2008) yet at least 77 percent of adults ages 80 or older have incomes below this amount.
Opportunities to better serve LGBT elders
Few studies have examined AL use by lesbian, gay, bisexual, or transgender (LGBT) older adults, largely because survey instruments rarely ask about sexual orientation or gender identity. Nevertheless, there is
some indication that LGBT elders face negative experiences with and attitudes toward moving into assisted living. Faced with homophobic attitudes and discriminatory behavior from managers, staff, and fellow residents, LGBT elders may either avoid moving into AL or hide their sexual orientation and gender identity once they do move. Efforts to develop LGBT-targeted senior housing and AL settings have had mixed to very limited success due to financing, development, and marketing challenges. Policy- and organizational-level interventions for making typical AL settings more welcoming to LGBT elders include amending housing laws to include LGBT non-discrimination policies and providing cultural competence training (Grant, et al., 2010). In 2010, the National Center for Assisted Living developed a training tool for its members to better serve LGBT residents. And the National Resource Center on LGBT Aging recently launched a training program for aging services providers.
Paying for Assisted Living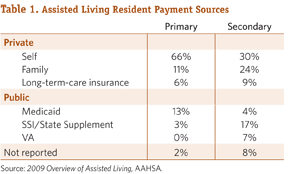 According to industry reports, most residents primarily rely on their personal resources to pay for AL (See Table 1). "Private-pay" options include personal income and assets, family assistance, and long-term-care insurance. It is believed, though not well documented, that low- to moderate-income residents use home sale proceeds to finance AL, along with other savings and investments. Families are the primary or secondary source of payment for a third of residents. Recent economic conditions have made family help more difficult, perhaps partly explaining a reported 23 percent decline in the proportion of residents relying
primarily on family financial support between 2006 and 2009, according to the 2009 Overview of Assisted Living, produced by American Association of Homes and Services for the Aging (now LeadingAge) and four other partner organizations (AAHSA, 2009). Long-term-care insurance benefits are the least common private payment source, likely because of limited coverage among the oldest old. 
Supplemental Security Income (SSI), followed by Medicaid benefits and Veterans (VA) programs are the most common public payment sources for AL. Monthly SSI payments amount to about a third of what the average AL charges, but are the most common source of public payment because other sources may be layered on. Medicaid programs in all but ten states will reimburse some form of AL, although the financing strategy will have different implications for resident eligibility, provider participation, and program size. Although VA benefit supports are even less common, a small and growing number of older AL residents are covering their monthly costs through the Aid and Attendance and Housebound programs, which provide a cash benefit for eligible veterans, their spouses, or dependent parents.
Policy and Organizational Access Barriers
State and, to a lesser extent, federal regulations and finance policies have responded to AL market developments, while generally providing favorable conditions for the industry to grow and diversify. Assisted living residences must adhere to state licensing regulations specifying physical and operational blueprints. State and federal agencies have also provided financing to build new projects and revenues with direct subsidies to eligible residents and service payments to providers. Each state's AL policies are unique, and have evolved with the shifting political and economic landscape.
Licensing regulations specify design requirements that may be more or less residential, and minimum services that may be more or less expansive. Most states specify that ALs should support values, such as privacy, individuality, and a home-like environment, but only eleven of these also require private apartments (Mollica, Sims-Kastelein, and O'Keefe, 2007). Although most AL units are not shared, state regulations in a majority of states allow units or rooms to be shared by two or more unrelated people. Regulations also shape provider decisions about who can move in and under what conditions residents can remain.
Some states provide considerable flexibility and few restrictions about resident needs, allowing providers to determine whether and how they will serve nursing home−eligible residents. Other states enumerate specific physical, cognitive, or behavioral conditions that will trigger an involuntary move (Mollica, Sims-
Kastelein, and O'Keefe, 2007). More common and less objective residency criteria allow providers to move residents when resident needs exceed the facility's service capacity. Over time, state regulations have become more permissive in allowing providers to serve residents with higher care needs, sometimes by asking for individual waivers and rules. However, providers can and do adopt residency policies that may be more restrictive than required by state policies.
An aversion to Medicaid
A key barrier for lower income residents to move into and remain in AL is the provider's unwillingness to become a contracted Medicaid provider. Inadequate payment is the biggest disincentive. The wider the gap between a provider's private monthly rates and the state's reimbursement, the less likely a provider will serve any Medicaid residents. As payment gaps widen over time, particularly due to recent state budget crises and eroding payment rates, contracted providers may limit the number of new Medicaid residents they will accept. Some providers may also choose to terminate their Medicaid contracts. Besides low payment levels, AL providers also report an aversion to Medicaid programs, which they associate with higher operating costs. Despite the rapid overall growth in Medicaid AL during the last decade, program penetration remains modest. In 2010, about four in ten AL residences in the nation served at least one Medicaid AL beneficiary (Park-Lee et al., 2011). However, Medicaid AL beneficiaries likely represent a much smaller proportion of the total AL supply.
Access to apartment-style AL among lower income residents varies by state because Medicaid AL policies vary by program size, reimbursement adequacy, and eligibility criteria for providers and residents. Unless the state provides a higher reimbursement rate for apartment-style AL (as Oregon does), lower income residents will have less access to the more recently developed AL apartments that have targeted a middle- and upper-income resident population. In Florida, older AL residences may have units shared by up to four unrelated persons, while newer ones are limited to two.
The Evolution of Assisted Living
Assisted living represents a growing and evolving form of LTSS that has historically been considered a key HCBS option. The prevalence of more institutional features in some AL has led various stakeholders to begin proposing more personcentered approaches and policies. Their widespread adoption will likely be gradual, given the decentralized policy environment and the structure of the AL industry. More challenging will be addressing the root causes of limited access for segments of the older population. The current period of fiscal austerity provides little hope that most states will adopt policies designed to expand the supply of and access to affordable AL in the near future. Yet restrictive residency policies and uneven service capacity can further undermine efforts to expand Medicaid AL funding, particularly when increased frailty among residents results in avoidable nursing home placement. Assisted living will likely continue evolving in multiple directions over time. Both government and organizational policies will determine to what extent segments of the industry remain HCBS settings that become more accessible for all elders, or whether they become more restrictive, both in terms of how they operate and who they serve.
---
References
American Association of Homes and Services for the Aging (AAHSA). 2009. 2009 Overview of Assisted Living. Washington, DC: AAHSA.
Carder, P., Morgan, L., and Eckert, J. 2006. "Small Board-and-Care Homes in the Age of Assisted Living." Generations 29(4): 24–31.
Colello, K. 2007. Where Do Older Americans Live? Geographic Distribution of the Older Population. Washington, DC: Congressional Research Service. 
Grant, J. M., et al. 2010. "Outing Age 2010: Public Policy Issues Affecting Lesbian, Gay, Bisexual and Transgender Elders." Washington, DC: National Gay and Lesbian Task Force Policy Institute.
Howard, D. L., et al. 2002. "Distribution of African Americans in Residential Care/Assisted Living and Nursing Homes: More Evidence of Racial Disparity?" American Journal of Public Health 92(8): 1272–7.
Kane, R. A., and Cutler, L. J. 2009. "Promoting Homelike Characteristics and Eliminating Institutional Characteristics in Community-Based Residential Care Settings: Insights from an 8-state Study." Seniors Housing & Care Journal 17(1): 15–37.
MetLife. 2008. The MetLife Market Survey of Nursing Home & Assisted Living Costs. New York: MetLife Mature Market Institute.
Mollica, R. 2009. State Medicaid Reimbursement Policies and Practices. Washington, DC: National Center for Assisted Living/American Health Care Association. 
Mollica, R., Sims-Kastelein, K., and O'Keefe, J. 2007. Residential Care and Assisted Living Compendium. Washington, DC: Office of the Assistant Secretary for Planning and Evaluation, U.S. Department of Health and Human Services.
Park-Lee, E., et al. 2011. Residential Care Facilities: A Key Sector in the Spectrum of Long-Term Care Providers in the United States. Washington, DC: Centers for Disease Control and Prevention, National Center for Health Statistics, U.S. Department of Health and Human Services.
Salmon, J. R., et al. 2004. Florida Assisted Living Research Study: Facilities, Residents, Staff, Training and Liability Insurance. Tampa, FL: Florida Policy Exchange Center, Center for Housing and Long-Term Care, University of Florida.
Spillman, B. C., Liu, K., and McGilliard, C. 2002. Trends in Residential Long-Term Care: Use of Nursing Home and Assisted Living and Characteristics of Facilities and Residents. Washington, DC: U.S. Department of Health and Human Services.
Stevenson, D., and Grabowski, D. 2010. "Sizing Up the Market for Assisted Living." Health Affairs 29(1): 35–43.
Wilson, K. B. 2007. "Historical Evolution of Assisted Living in the United States, 1979 to the Present." The Gerontologist 47(Special Issue II): 8–22.
---
Mauro Hernandez is the chief executive officer of Concepts in Community Living in Clackamas, Oregon.
Editor's Note: This article is taken from the Spring 2012 issue of ASA's quarterly journal, Generations, an issue devoted to the topic "30 Years of HCBS: Moving Care Closer to Home." ASA members receive Generations as a membership benefit; non-members may purchase subscriptions or single copies of issues at our online store. Full digital access to current and back issues of Generations is also available to ASA members and Generations subscribers at Ingenta Connect. For details, click here.