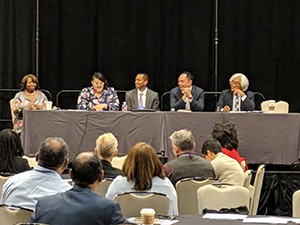 By Ty Johnson
The 2019 Diversity Summit, sponsored by Senior Service America, gave Aging in America Conference attendees a crash course in the challenges minority populations are facing as they age, as well as how even the most well-meaning efforts to bring about equality can fall short if there isn't significant buy-in from the community.
Joyce Walker, Vice President of Community Development at PK Management, moderated the session, which featured multiple panels and was based on content included in the summer issue of Generations, "Land of the Unequal? Economic, Social Inequality in an Aging America."
Karen Lincoln, Associate Professor at the Suzanne Dworak-Peck School of Social Work at the University of Southern California, presented statistics showing wealth gaps by race and gender that paint a stark contrast between wealthier white households and those of low-income people of color.
She noted that participation in the labor force can be particularly difficult for black men, who represent 40 percent of the nation's prison population, but only 6 percent of the nation as a whole. Not only are they removed from the labor force while serving time, she explained, but their wages remain stagnant if they manage to find gainful employment at all.
"Everyone is aging; in prison as well," she said.
Manuel Pastor, Professor of Sociology and American Studies and Ethnicity at the University of Southern California, centered his discussion on the changing demographics of the country, which he noted is expected to mimic the shifts in California that have made it one of the most diverse states in the nation. Some estimates predict that by the 2040s people of color will make up the majority of the U.S. population.
"They think what's driving that is immigration," he said. "It's actually slowing down. What's driving it instead is a change in the youth population."
Pastor also noted that among undocumented Californians, most have lived in the United States for more than a decade.
Pastor suggested some of the shifts can be explained by changes in how people identify themselves, giving as an example the growing prevalence of those who identify as biracial or multiracial, terms sometimes eschewed in past decades.
But he added that it's not just California.
"Diversity is coming to a theater near you," he said, drawing laughter from the Celestin Ballroom crowd.
Following a short intermission, Lincoln introduced a second panel, which included Sadiya Abjani, Manager of Training and Online Learning at SAGE.
Abiani led off discussing the depression that comes with isolation among older adults, which she explained could be especially difficult for LGBTQ older adults, who may feel they must hide portions of their identity or risk being ostracized. These issues, she added, have led communities to create support mechanisms at the grassroots level, but some who serve seniors aren't aware of the resources and best practices available to them.
One remedy she suggested: "If there's a community you want to serve; hire from that community."
Joon Bang, President and CEO of National Asian Pacific Center on Aging, said while we are operating in a broken system, there are also examples of squandered opportunities, noting one anecdote in which he was asked to speak publicly in support of the opening of a homeless shelter in Koreatown last spring. It was the first he, or most in the community, had heard about the project.
Despite Bang's warnings that it should be postponed until the community was onboard, the City of Los Angeles rolled out their plans as scheduled anyway, leading to widespread protests.
Bang penned a column in the Los Angeles Times about the ordeal, explaining that "these protests were a direct response to being left out of the process."
City officials have since acknowledged they could have done better to engage the community, but Bang suggested the cautionary tale could have been avoided if those officials had treated their neighbors in Koreatown the way they would want to be treated.
"The golden rule still applies," he said. "I want to be treated with respect."
Larry Curley, Executive Director of the National Indian Council on Aging, expanded on Bang's points about recognizing communities and involving them in the creation of programming.
Curley explained that while there are more than 560 federally recognized tribes, the U.S. Constitution refers to all collectively as American Indians.
"We're not going anywhere. We are American Indians and that's the way the Constitution refers to us," he said, adding that some organizations that reach out to American Indian communities don't seem to understand that in those regions, trust is as important a currency as dollars.
"Trust is absolutely critical out in Indian country," he said. "They're measuring your commitment. If you only show up once, you're just doing it for the reports because that's more important than finding out the needs of the population you are working for."
He noted understanding the term limits of tribal governors, council members and other representatives is another important consideration, since the leadership partnerships you make may change over the course of long-term projects, just as it does in municipalities across the states.