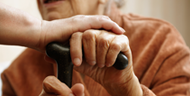 By Andrew Capehart
If you work in the aging field, it's likely you are familiar with adult protective services (APS) programs. APS programs exist in every U.S. county and state. Programs vary by state in location in government and specific populations served, but they all share the goal of investigating abuse, neglect and exploitation of older adults and/or adults with disabilities.
As our aging population increases, so will the number of allegations fielded by APS programs. In a report the National Adult Protective Services Association (NAPSA) and the National Association of States United for Aging and Disabilities issued, Adult Protective Services in 2012: Increasingly Vulnerable, some APS programs reported more than 100 cases of abuse per investigator. This is an exceptionally high number. The majority of states (49 percent) reported caseloads averaging 21 to 40 cases per investigator.
Because there has been no comprehensive study of APS caseloads completed in the United States, it is difficult to put this issue into perspective. From my personal experience as an APS investigator, I can say with confidence that more than 100 cases is a completely unmanageable caseload. APS investigations are intensive, requiring multiple home visits, collecting information from and coordinating with family members, as well as the medical, legal and mental health systems and beyond.
Funded by the Administration for Community Living, NAPSA received a grant to coordinate the National Adult Protective Services Resource Center (NAPSRC). Funding for that Center ended earlier this year, but during the funding period, I was fortunate enough to make site visits to several APS programs that culminated in the report Doing More with Less: Replicable, Innovative and Cost-Saving Measures in Adult Protective Services. I visited programs from New York City to Sacramento that have enacted unique ways to intervene and prevent abuse, and detailed them in this report.
Some examples include: a financial exploitation–based taskforce at the Philadelphia Corporation for Aging, a joint project between a hospital and APS that helped stabilize the health of vulnerable adults covered through the Sacramento County Department of Health and Human Services, and a prevention program that stabilizes cases that would otherwise enter the APS system at the New York City Human Resources Administration. I urge you to read the report and sign-up for my webinar on July 28, 2016 at 10 a.m. PST if you'd like to hear more about these promising practices.
Faced with the problem of increasing reports of abuse and ever-dwindling or static resources, APS has been forced to get creative with how they deal with cases. While it is helpful to examine these creative projects and programs, it is important to be mindful that creativity alone will not sustain the system we rely upon to help some of our most vulnerable citizens. Advocacy at the local, state and federal level is needed to assure that APS continues to provide the life-sustaining services they provide. Sign-up for NAPSA's email list to stay informed on how you can help.
---
Andrew Capehart has been assistant director at NAPSA since 2011. He is a former APS investigator and supervisor and a former staff member at the National Center on Elder Abuse.