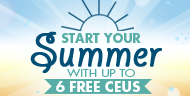 Start your summer off on the right foot with SIX new webinars from ASA that include complimentary CEUs! ASA members can always attend ASA webinars for free and earn complimentary CEUs, while select webinars are open to everyone at no charge, thanks to our generous sponsors. 
If you are not a current member of ASA, click here to join ASA and gain complete access to all upcoming webinars.
June Webinars:
Updates to the Criteria for Diagnosis of Alzheimer's Disease and Mild Cognitive Impairment
Thursday, June 5, 2014
Presented by MindAlert
  
Taking Back Time: Delaying the Aging Process Through Lifestyle Choices
Tuesday, June 10, 2014
Sponsored by the California Walnut Commission
  
Caring for Someone with Alzheimer's
Wednesday, June 11, 2014
Part of the Family Caregiver Support Series, sponsored by Home Instead Senior Care
  
Multimorbidity: The Next Challenge of the HIV Epidemic
Thursday, June 12, 2014
Sponsored by the LGBT Aging Issues Network (LAIN)
Not a member? Join ASA now to attend this member event
  
Brain Health: A Use-It-Or-Lose-It Strategy
Thursday, June 19, 2014
Presented by MindAlert
When Parkinson's Disease Interferes with Gastrointestinal Function
Tuesday, June 24, 2014
Presented by the Parkinson's Disease Foundation as part of their Parkinson's Disease ExpertBriefings series.