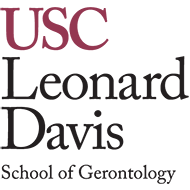 ASA and the USC Leonard Davis School of Gerontology, the oldest and largest school of its kind, continue their collaboration to offer a series of five-week courses in gerontology, in a convenient online format. Upon successful completion of each course, USC and ASA award a Certificate of Completion. 
A foundational education for ASA members who are new to the aging services sector and at any education level, the series also introduces plenty of new material specific to aging and relevant to people who have advanced degrees. All courses are online and are taught by USC professors. The cost is $500 for ASA members and $650 for non-members; each course lasts five weeks and each is worth 10 CE Credits.
Beginning in late August, ASA and USC are adding a new five-week course to the series: "Advanced Concepts in an Aging Society." This course is ideal for those who have already completed the other coursework in the series or for those who want to explore topics complimentary to the Fundamentals of Gerontology course. This course debuts Aug. 26 and runs through Sept. 27.
Fundamentals in Gerontology
Dr. Pinchas Cohen, Dean of USC's Leonard Davis School of Gerontology, guides the first week of "Fundamentals in Gerontology," answering the question: Why Study Aging? and covering demographic trends and projections around our aging society.
Each week focuses on a different facet of aging, from sociology to psychology and biology, and ending with policy and programming for older adults. All modules are taught by a stellar group of USC professors.
As one recent graduate of the Fundamentals course said, "Having an M.S.W. already, and having worked with [older adults] for 13 years, made this [information] very easy to understand and assimilate into my life−work experience, and also greatly enriched my knowledge." Learn more.
Managing Health and Chronic Conditions in Older Adults
"Managing Health and Chronic Conditions in Older Adults," delves into the demography and epidemiology of aging, as well as the all-important social factors that affect health and longevity, self-care management, chronic disease, dementia and medication management. These topics cover the critical challenges older adults currently experience, as well as some of the thorniest issues aging services professionals face on a daily basis.
Participants learn why the older adults they work with may be struggling, and be able to identify programmatic solutions that might help them, as well as the unique challenges affecting underserved communities when community members must cope with dementia and other mental health challenges later in life. The course also lays out the landscape around chronic disease and details medication management challenges. Learn more.
Elder Mistreatment: Understanding Abuse and Neglect
The paired five-week course sessions on elder mistreatment have been extremely well-received. In the first, "Elder Mistreatment: Understanding Abuse and Neglect," each session is team-taught by three to four professors and doctoral students, including Dr. Laura Mosqueda, Dean of the USC Keck School of Medicine, an expert in elder abuse and neglect and director of the National Center on Elder Abuse.
Curricula for the first five-week course defines elder abuse and neglect, identifies likely victims and the average perpetrators of abuse and neglect, how to detect when abuse has occurred and an overview of response.
"Any professional working with America's aging population should be encouraged to take courses in gerontology," said a CEO of an aging services consultancy. "All judges, attorneys, paralegals, law enforcement officials, healthcare professionals … should be required to take gerontology courses, and meet annual CEU credits." Learn more.
Elder Mistreatment: Prevention of Abuse and Neglect
The second elder mistreatment course, "Elder Mistreatment: Prevention of Abuse and Neglect," gives a brief summary of the previous class, as well as general prevention efforts. Instructors then cover what could be borrowed from other fields, how abuse might better stopped through secondary prevention, how to improve well-being following abuse and what to do when abuse cannot be stopped. Learn more.
Advanced Concepts in an Aging Society
The newest offering in the ASA−USC collaboration is "Advanced Concepts in an Aging Society," which covers the epidemiology of aging, including the top 10 chronic diseases associated with aging, older adult wealth distribution and support ratios, the hotly discussed topic of aging in the workplace, the urbanization of older adults and the diversity of America's population. This course explores more deeply the current trends in aging, ensuring students have a firm grasp on the most critical knowledge to have as they progress in their work and careers. Learn more.