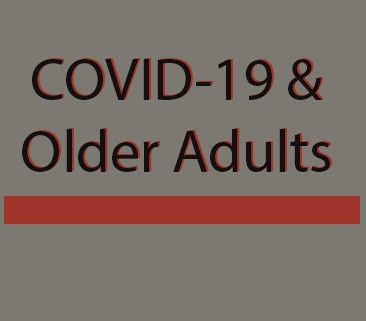 Editor's Note: The American Society on Aging continues to monitor the world's response to the COVID-19 pandemic. ASA wishes to highlight the following resources. (ASA will provide more resources as they become available.)
By John Auerbach and Megan Wolfe
It is now abundantly clear—older adults are at elevated risk for serious health impacts from the novel coronavirus, particularly those who have complex care needs, as many do. Older people need to do the same things the general population needs to do: good hand hygiene, access to health care services as needed (including testing) and stay at home to avoid settings where people could be exposed to the virus. But in planning for how best to prevent infection in older adults, it is crucial to be sensitive to their overall health and well-being—and particularly to avoid unintended consequences that could worsen their health.
Here is what we know about the elevated risk for older adults, meaning those ages 60 and older, with risk increasing with age. Many of the early deaths in the U.S. occurred in patients at a skilled nursing facility in Seattle. At least four other such facilities in Washington state are known to have cases as well. As with seasonal flu, care facility residents diagnosed with coronavirus are particularly vulnerable for more serious illness, because many have complex underlying conditions, including respiratory conditions/illnesses. Even so, the mortality rate in nursing facilities is, as Mark Parkinson, the president and chief executive officer of the American Health Care Association, says, "shocking." The mortality rate in China for people over 80 years old who were infected by COVID-19 is reported to be 15 percent. The mortality rates for older adults who are in good health are much lower, although still higher than the general public.
So far, the most effective step to prevent further infections is to limit exposure. Nursing homes and assisted living facilities are taking unprecedented action to limit visits, even by family members. Churches are scaling back their in-person services. Some senior day programs have been shut down.  And other formal and informal group social and recreational activities are canceled.
While such measures are important to limit disease spread, they will also cause further isolation for the "protected" residents, exacerbating loneliness and elevating the possibility of illness, injuries, and deaths from other causes.
Social isolation among older adults was already a problem before the coronavirus outbreak. According to a recent National Academy of Science recent report, an estimated 25 percent of older adults are socially isolated, with more than 40 percent reporting loneliness. This loneliness elevates the risk of dementia, heart disease, and even premature death. Also, some older adults rely on community organizations for food assistance, help with seeking housing, and even completing their taxes. Fear and uncertainty can elevate stress and anxiety, contributing to sleep problems, low appetites, and elevated blood pressure. It can lead some to alcohol abuse or the more frequent substance misuse.
In addition, the most vulnerable older adults are likely to be dealing with poverty, racism, and other forms of discrimination. They are more likely to live in settings that foster poor health because of sub-par housing, fewer economic opportunities, and limited transportation. Racism and discrimination also take a toll on overall health. Older adults who are immigrants may fear that if they seek medical or other services, they will threaten their immigration status or put themselves or family members at risk of being deported. The combination of these social and economic conditions has led to higher rates of chronic disease including the kinds of illnesses (such as heart disease, diabetes and HIV) that elevate the likelihood of death from COVID-19.
For all of these reasons, the core coronavirus response for older adults must incorporate prevention measures for unintended harmful outcomes. Several action steps would help:          
Streamline and improve access to screening and health care services and prioritize venues older adults can reach. Explore creative approaches such as drive-through testing sites and testing venues at elder services locations as well as locations like churches and grocery stores. Waive all financial barriers to testing and treatment, including co-pays and deductibles.

Expand telemedicine options and ensure they are comprehensive – not focused solely on the risk of coronavirus. Community agencies should offer computers and technical assistance to older adults.

Provide support to family caregivers who may have additional responsibilities for homebound individuals. They may require assistance and respite care themselves. And if the caregivers become sick, they will need others to care for their family member.

Government policymakers at the federal, state and local levels should convene meetings with elder services organizations – such as the Area Agencies on Aging - to assess the elevated risks of social isolation and to identify those who are most vulnerable.

Policymakers at all levels of government should consider the use of a portion of the $8.3 billion in federal coronavirus supplemental funding for specialized services to overcome the risks associated with isolation. For example, there may be a need for additional resources for Meals on Wheels programs to provide not only food but face-to-face interactions, and for programs that offer regular telephone or computer check-ins.
State and local public health agencies should identify personnel who are tasked with supporting the health and well-being of older adults, with a special focus on optimal ways to protect their health both during and after the pandemic. This would be a highly worthwhile use of the federal supplemental funding, but Congress should also invest in public health generally and annually as a way to build the system's ability to promote healthy aging. Doing so would add value to the growing movement to develop age-friendly public health programs as a standard part of the sector's work. 

Members of the public should check in regularly with isolated older adults to keep them informed about efforts to combat the outbreak.
As the public health and health care sectors mobilize to protect older adults from COVID-19 infection, they should be sure to remember that there is more risk to consider than exposure to the virus. The overall health and well-being of older adults requires a "whole person" approach to ensure that we don't protect older adults from coronavirus only to put them at risk of other illnesses and injuries.  
 John Auerbach is the President and CEO of Trust for America's Health; Megan Wolfe is a Policy Development Manager at Trust for America's Health.