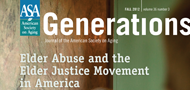 By Robert B. Blancato
The Summer 2000 issue of Generations focused solely on the problem of elder abuse, but since then, much has evolved in this area of concern. Now there is a movement to broaden the focus from elder abuse prevention to the promotion of elder justice—a term first introduced in the Elder Justice Act, which became law in 2010. The term "elder justice" is defined by law to mean: "From a societal perspective, efforts to prevent, detect, treat, intervene in, and prosecute elder abuse, neglect, and exploitation, and protect elders with diminished capacity while maximizing their autonomy; and from an individual perspective, the recognition of an elder's rights, including the right to be free from abuse, neglect, and exploitation" (U.S. Congress, 2009).
I am proud to present this issue of Generations that focuses on elder abuse and elder justice as a measured response to abuse. Three sections contain an array of articles that reflect the multi-disciplinary nature of the elder justice field. The longer feature articles speak to the wide breadth of the emerging field of elder justice, while a series of shorter articles spotlight aspects of a range of topics—from XinQi Dong's article on elder abuse in diverse communities and an ombudsman's perspective by Mark Miller on abuse prevention in long-term-care facilities, to Laura Rath's description of how a California-based initiative is taking powerful steps to end elder abuse and neglect.
I am honored to be joined by Kathy Greenlee in introducing this issue of Generations. As the Administrator of the Administration for Community Living, Greenlee is a fervent elder justice champion within the Obama Administration: she succeeded in securing the first official White House recognition of World Elder Abuse Awareness Day, inaugurated this past June. I am continually inspired by Greenlee's commitment, and her impassioned "call to arms" to take a stand against elder abuse.
A New Look at Elder Abuse—and the Elder Justice Response
This issue of Generations comprises three sections that examine current aspects of elder abuse in our nation, the actions that are now being taken against this widespread abuse, and an overview of the challenges and opportunities faced by the emerging Elder Justice Movement. We begin with an overview article on the nature and scope of elder abuse by Georgia Anetzberger, a legend in the field of elder abuse study. Immediately following, Jeannie Jennings Beidler tells a dramatic, tragic—and true—story of her struggle to protect her grandparents from their son's neglect and abuse. This editorial dynamic—presentation and support of facts and data complemented by personal stories of elder exploitation and abuse—is, I believe, a compelling quality of this issue of Generations: it is truly through story that the tragedy of and challenges presented by elder abuse hit home.
Sheri Gibson and Sara Honn Qualls offer a family systems perspective on elder financial abuse, and attorney Kerry Peck highlights some "infamous" cases of the financial exploitation and abuse of some high-profile persons. Bonnie Brandl and Jane Raymond follow with their feature article that seeks to debunk the notion that caregiver stress is a primary cause of elder abuse.
Section two explores how elder justice advocates and practitioners are taking action against elder abuse, and offers seven articles, starting with an excellent narrative from Marie-Therese Connolly and colleagues on sexuality and aging—and how a refusal to acknowledge an older person's need for physical intimacy and closeness can endanger well-being and lead to abuse. Also included is a crucial discussion on Adult Protective Services (APS) and the importance of the Elder Justice Act to APS, presented by Kathleen Quinn and my longtime colleague William Benson.
Recognizing that solutions to elder abuse are local in nature is the focus of the feature article co-written by two experienced leaders in the field, Bonnie Brandl and Page Ulrey. Another component of elder abuse is sexual abuse in care facilities, the subject of another feature article by two nationally recognized authorities, Holly Ramsey-Klawsnik and Pamela Teaster.
In section three, six articles focus on the Elder Justice Movement and the opportunities and challenges of this emerging field of advocacy. The discussion about the interrelated topics of elder abuse and the criminal justice response that were covered in the 2000 issue of Generations is updated in an opening feature article by renowned expert Candace Heisler. Immediately following is an article, co-authored by Lisa Nerenberg, Molly Davies, and Adria Navarro, on the importance of coalition- building in elder justice—especially at the state level. Finally, wrapping up this issue of Generations is another "call to arms": an examination of the federal role in taking action against elder abuse is addressed by three congressional champions on elder justice, Senators Herb Kohl, Bernie Sanders, and Richard Blumenthal.
Conclusion
Great progress has been made in recent years in enhancing the federal response to elder abuse. A landmark law on elder justice has been enacted and is now being implemented and provided with initial funding. We have a first-time, federally funded National Adult Protective Services Resource Center, and an updated National Center on Elder Abuse. The Department of Justice has a new elder abuse roadmap project and agencies such as the Federal Trade Commission and the Securities and Exchange Commission are working to combat elder financial abuse.
In order for elder justice to be achieved, it requires the kind of sustained advocacy that the nonpartisan Elder Justice Coalition has been engaged in for the past decade. We offer this issue of Generations as a document to both educate and motivate people to seek expanded policies and practices that will promote elder justice and prevent elder abuse in America.
In this Issue
Take a Stand Against Elder Abuse
By  Kathy Greenlee
read on AgeBlog
Elder Abuse and the Elder Justice Movement
By Robert B. Blancato
read on AgeBlog
A Look at Elder Abuse in America
An Update on the Nature and Scope of Elder Abuse
By Georgia J. Anetzberger
read on AgeBlog
We Are Family: When Elder Abuse, Neglect, and Financial Exploitation Hit Home
By Jeannie Jennings Beidler
read on AgeBlog
A Family Systems Perspective of Elder Financial Abuse
By Sheri C. Gibson and Sara Honn Qualls
Lifestyles of the Rich and Famous: Infamous Cases of Financial Exploitation
By Kerry R. Peck
Policy Implications of Recognizing that Caregiver Stress is Not the Primary Cause of Elder Abuse
By Bonnie Brandl and Jane A. Raymond
Culture Diversity and Elder Abuse: Implications for Research, Education, and Policy
By: XinQi Dong
read on AgeBlog
Taking Action Against Elder Abuse
The Sexual Revolution's Last Frontier: How Silence About Sex Undermines Health, Well-Being, and Safety in Old Age
By Marie-Therese Connolly, Risa Breckman, Jean Callahan, Mark Lacks, Holly Ramsey-Klawsnik, and Joy Solomon
read on AgeBlog
Sexual Abuse Happens in Healthcare Facilities—What Can Be Done to Prevent It?
By Holly Ramsey-Klawsnik and Pamela B. Teaster
Ombudsmen on the Front Line: Improving Quality of Care and Preventing Abuse in Nursing Homes
By Mark Miller
Creating an Elder Abuse Shelter: A Best-Practice Model for Nonprofit Nursing Homes
By Joy Solomon and Daniel A. Reingold
TheStates' Elder Abuse Victim Services: A System Still in Search of Support
By Kathleen M. Quinn and William F. Benson
Collaboration Is Essential: King County's Response to a Case of Elder Abuse and Exploitation
By Page Ulrey and Bonnie Brandl
read on AgeBlog
The Paradox of Adult Guardianship: A Solution to—and Source for—Elder Abuse
By Erica F. Wood
The Elder Justice Movement in America: Opportunities and Challenges
Elder Abuse and the Criminal Justice System: An Uncertain Future
By Candace J. Heisler
In Pursuit of a Useful Framework to Champion Elder Justice
By Lisa Nerenberg, Molly Davies, and Adria E. Navarro
read on AgeBlog
Banding Together: The Work of a Joint Volunteer Committee Yields Much-Needed Resources on Elder Abuse Intervention
By Paula Mixson, Carol Dayton, and Holly Ramsey-Klawsnik
Advancing the Field: The Archstone Foundation Elder Abuse and Neglect Initiative
By Laura Rath
The National Center on Elder Abuse: Helping America's Elders to Live with Safety, Dignity, and Independence
By Elaine A. Chen, Mary S. Twomey, and Stephanie Ehittier Eliason
Elder Abuse: What Is the Federal Role?
By Senators Herb Kohl, Bernie Sanders, and Richard Blumenthal
read on AgeBlog
---
Robert B. Blancato is president of Matz, Blancato & Associates in Washington, D.C., and the national coordinator of the Elder Justice Coalition. He also serves as chairman of the Commonwealth Council on Aging in Virginia.
References
U.S. Congress. 2009. Elder Justice Act of 2009 (PDF). Washington, D.C., 111th Cong., 1st sess. S. 795, April 2. Retrieved August 15, 2012.