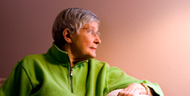 By Kaaren Boothroyd
Self-neglect among the elderly is a growing problem that commonly goes unreported, according to a new survey of elder care experts. The survey which was conducted by the National Association of Professional Geriatric Care Managers (NAPGCM) finds that self-neglect among seniors is the most common form of non-financial elderly abuse/neglect encountered by care managers, far outpacing encounters with physical or sexual abuse or neglect by others.
What is Elder Self-Neglect?
The National Adult Protective Services Association (NAPSA) defines self-neglect as: "an adult's inability, due to physical or mental impairment or diminished capacity, to perform essential self-care…." They make clear that life-style choices or living arrangements alone do not prove self-neglect.
"Elderly self-neglect is a hidden problem in our community," said Emily Saltz, NAPGCM President. "We as care managers want families to know the warning signs and be on the look out to safeguard their elderly loved ones."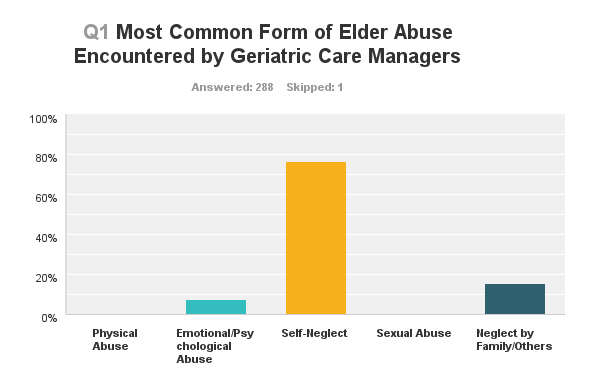 How Common is Elder Self-Neglect?
92 percent of care managers said that elderly self-neglect was a significant problem in their community, with 52 percent saying it is significant and growing problem.
 
94 percent of care managers agreed that elderly self-neglect is a largely hidden problem with cases frequently or mostly going unreported.
 
76 percent of the care managers surveyed reported that elderly self-neglect is the most common non-financial form of elder abuse/neglect that they encounter in their practices. Another form of neglect—that by family or others—was the second most commonly reported form (16 percent), followed by emotional/psychological abuse (8 percent) and physical and sexual abuse (1 percent).
What are Warning Signs of Elder Self-Neglect?
The 6 warning signs of self-neglect most often cited by care managers are:
Signs of poor personal hygiene/not bathing or taking care of hair and nails (92 %).
 
Poor medication management or refusing to take medications (89%).
 
Signs of dehydration, malnutrition or other unattended health conditions (75%).
 
Unsanitary of very unclean living quarters (72%).
 
Signs of unpaid bills, bounced checks or utility shut-offs (64%).
 
Lack of adequate food in house or signs of weight loss (63%).
Tragic Cases Reported
Geriatric Care Managers responding to the NAPCM poll shared over 150 cases of self-neglect encountered in their practices. Typical of the tragic stories:
"…Senior was living alone and unwilling to accept help because she said 'nothing is wrong.' She had weight loss of 40 pounds, mail piled up, and bills unpaid despite saying she was 'going through my papers.' There was wet underwear from urine hung up to dry (not washed out). She was forgetting to take her pills. BUT, THE CAT IS ALWAYS FED!"
"A husband and wife both had dementia. The husband had always been in charge, and at one time had been quite capable. When I met them, his dementia was significant enough that he could no longer effectively and safely run the household and neither one of them realized this. Huge hoarding issue with papers, magazines, books, computers...beautiful house was FULL of stuff, so much that it was challenging to walk through. Husband had frequent falls. Neither was cooking. They were surviving on granola bars and Pepsi."
"78 year-old man with large oozing sores on both shins refused to go to wound care specialist and insisted his podiatrist was handling the problem. We later learned he never went to the podiatrist, instead would sit in his car for approximately the length of time the appointment would have taken, then drive home. He refused to allow son or care manager to accompany him or meet him at physician's office. His legs were usually wrapped in ACE bandages which did nothing to stop the oozing. He later died in a nursing home after refusing wound care."
Where and How to Report Elder Self-Neglect?
The National Center on Elder Abuse provides a listing of resources in every state for reporting and responding to cases of elderly self-neglect. Click here to view now.
A complete set of the survey findings as well as other case examples reported to NAPGCM can be found here.
---
Kaaren Boothroyd is Executive Director of the National Association of Professional Geriatric Care Managers. Connect with NAPGCM on Facebook and Twitter.